YTM's Rims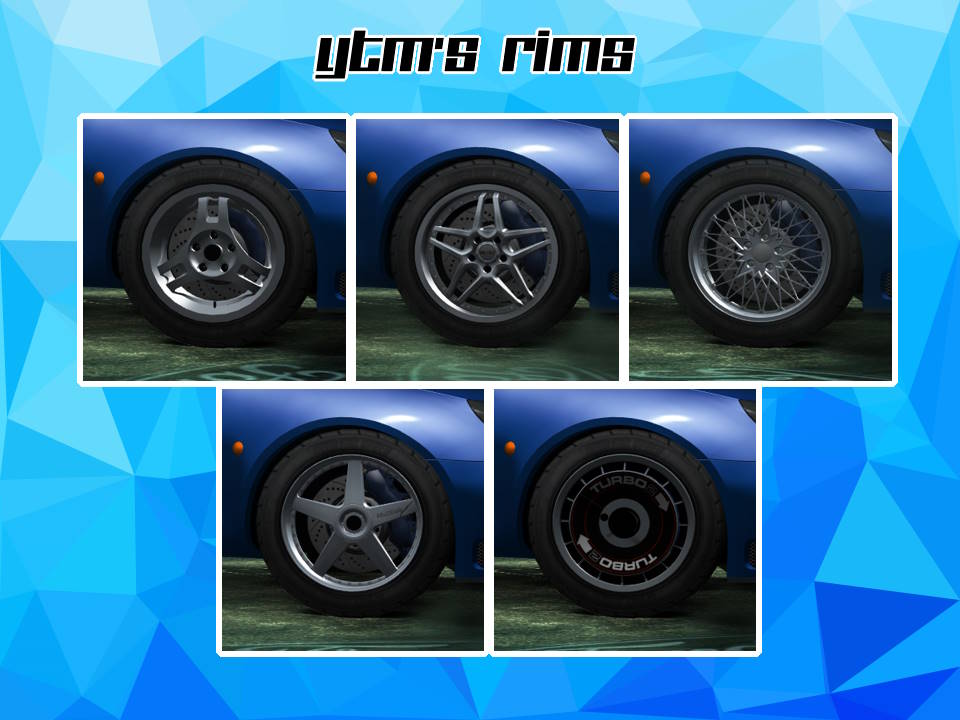 ---
Rim models converted from Forza Horizon 5 (Advan SA3R), Forza Motorsport 2 (Veilside Andrew Racing V, SSR Formula Mesh) and Forza Motorsport 4 (Blitz Technospeed Type 03, Zender Turbo 2).
Replaces:
Concept Hayes rims (WHL_OHL)

Rims list:
- Advan Super Advan SA3R (replaces Concept Hayes MO5)
- SSR Formula Mesh (replaces Concept Hayes MO6)
- Veilside Andrew Racing V (replaces Concept Hayes MO7)
- Blitz Technospeed Type 03 (replaces Concept Hayes MO8)
- Zender Turbo 2 (replaces Concept Hayes MO9)

Requirements:
- Binary v2.8.0 by MaxHwoy: https://nfsmods.xyz/mod/1638

Installation:
- Run Binary as an administrator, click on red (User Mode) icon, then pick Rims.end and look for NFSUC game directory (ignore the errors if there are any)

Credits:
- nfsu360 for making NFS-CarToolkit
- Oleg for making Zmodeler
- Playground Games and Turn 10 Studios for making mesh and textures
- DMN and Chipicao for ripping meshes and textures of FM4 and FM2 rims respectively
- dotPDN for making Paint.net
- YochiThMaster333 (me) for converting these rims

NOTE: The older archive is actually the wrong one (does not contain Endscript to also replace language strings).
---
Comments
---
No comments, be the first one to leave a comment!
Uploaded at: February 17, 2023 @ 05:20