Toyota Supra (JZA80) Extended Customization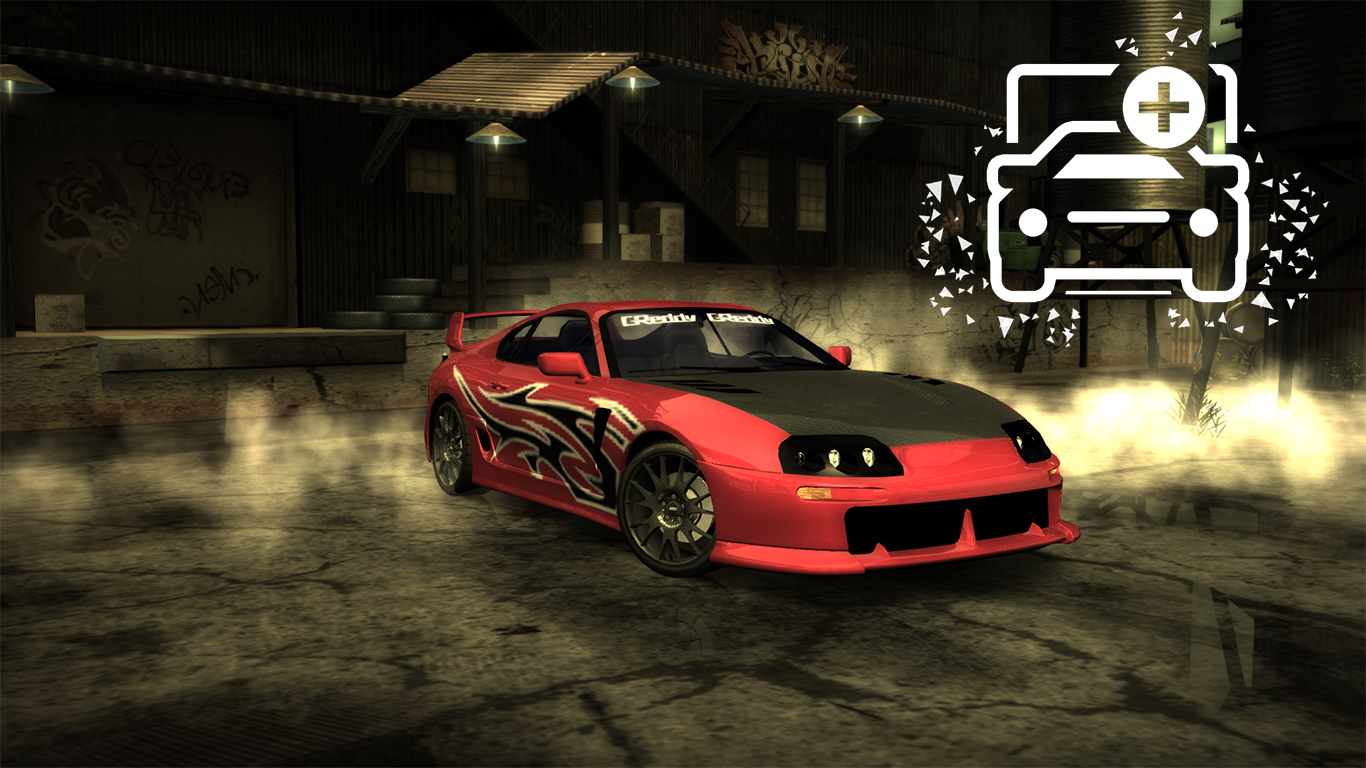 ---
We all know the Toyota Supra. A beast of a car, which is one of the most famous JDM cars in the world, loved by many. This car appeared in NFS Most Wanted, and this mod brings more customization from other games.

Converted from: NFS Most Wanted, NFS Underground 2, NFS Underground, NFS World and more.

Tuning:
Everything from the vanilla car + some goodies:
- Body kits: All vanilla body kits + 9 new kits to use.
- Spoilers: All vanilla spoilers + No spoiler option + TRD spoiler + 13 extra spoilers.
- Hoods: All vanilla hoods + Stock CF option + ALL of the hoods from Underground 2 that didn't appear in MW + Beast hood from World + TRD Hood + 5 other hoods.
- Headlights: Stock + the headlights of the fifth kit available separately + ALL of the headlights from Underground 2 (Including the UG1 version of Lunar).
- Taillights: Stock + the taillights of the fifth kit available separately + ALL of the taillights from Undergound 2 (Includes UG1 versions of Crimson and Reaper as well).
- Mirrors: Stock + 3 new options.
- Attachments (Only 1 Slot): Level 1 Roll Cage from ProStreet and Level 2 Roll Cage from ProStreet.
- Vinyls: Vanilla + JREEL's and Emosen's Saikou vinyl from the Midnight Club II Vinyl Pack.

Features:
- Vanilla driver from Need for Speed Most Wanted
- Working taillights on/off textures (For SOME of the taillights, not all of them)
- Brakes and License Plates sections active if you have mods for those
- Optional Black Edition and Challenge Series Presets modifications so they stay with the headlights and taillights of the fifth kit

Known issues:
- The reverse lights don't appear always. This is because the taillights are structured differently.
- Please report if any other issues are seen.

Installation:
Found at Readme.txt

Special thanks to:
- EA Black Box: Making most of the models used in this mod
- nfsu360: For NFS CarToolKit 3.1
- Oleg Melashenko: For ZModeler 2.2.6
- MaxHwoy: For Binary 2.8.3
- JREEL and Emosen: For making the Saikou vinyl
- Valen2006 (me): For making the mod.
- You: For viewing the page of the mod.

Enjoy!

Changelog:

V1 (12/03/2023): Initial release
V1.001 Hotfix (13/03/2023): Fixed License Plates looking like garbage
V1.1 (19/03/2023): Added some more kits, hoods and mirrors. Also added the option to not replace the presets in case they were modified.
V1.2 (23/03/2023): Replaced kit 12 with a new one, and added two more kits.
V1.21 (16/08/2023): Fixed a small issue regarding UG1 and UG2 taillights and integrated JREEL's and Emosen's Saikou vinyl from their Midnight Club II Vinyl Pack (The vinyl can be found in the Custom Category, only if you have nlgxzef's Unlimiter V4 installed in your game). I also added the option to have 512x or 1024x vinyls because of it, and I also fixed the place of where the exhaust flames come from the exhausts in some of the kits.
---
Comments
---