NFS ProStreet: Pepega Edition (1.1)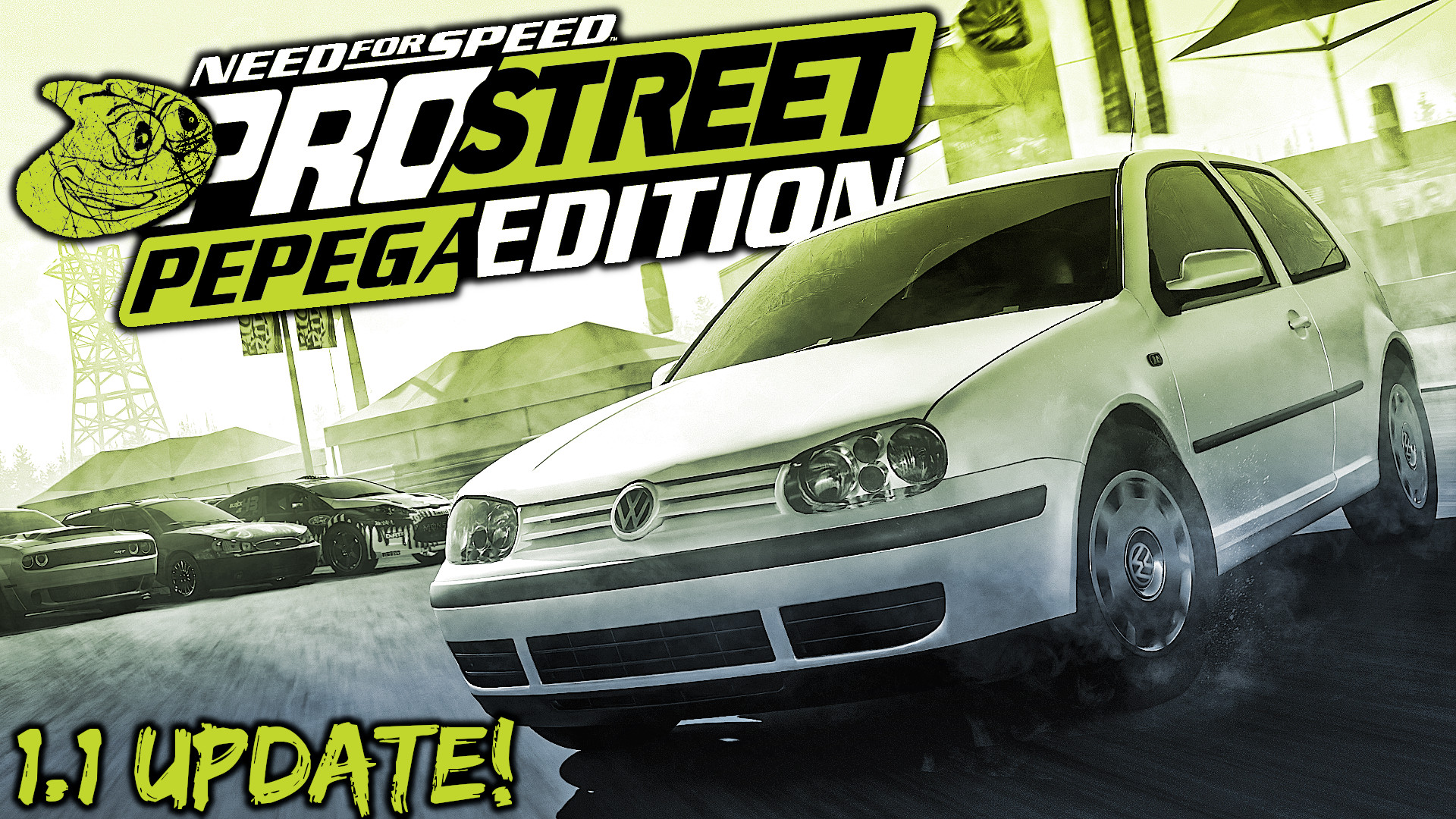 ---
The Ultimate Meme Mod is BACK!
---

The second installment of the Pepega Mod is finally here, taking you straight into the renewed legal street racing scene of ProStreet!
Black Box's underappreciated gem from 2007 has been given a complete overhaul featuring an entirely new story with live action cutscenes, over 80 new cars from various regions and eras, new gameplay mechanics and much more!


In A Nutshell
---

Our design philosophy for this project was to overhaul and refresh the original ProStreet first, then introduce humorous elements second, all while providing a completely new experience. As such this mod's main focus was to bring ProStreet into the modern era with gameplay enhancements, graphics and sound improvements, but also additional mechanics and features typically found in modern racing games. This extends to an entirely new story, which is told exclusively in live action cutscenes akin to Most Wanted, Carbon and 2015. Memes and references this time around only serve as additional flavor for those looking for them.


A Whole New Story
---

Synopsis
After Ryan Cooper's fall from grace you step into the shoes of Nick, his unsuccessful cousin, trying to turn his life around. The racing scene has changed a lot since Ryan's absence - though housing racing legends, a dark underbelly full of corruption has formed. Thankfully you won't be alone - Eden, staff of the festival event, will help you along the way. Will you help Nick uncover the truth of the festival and become a legend of the street?




Meet The Kings
Four new organizers, four dirty secrets. And four men who control them all.

Ravenwest: The new Grip masters. Banished from the GRID World Series, they are trying to take over every festival site using everything at their disposal - even illegal methods. Nathan McKane is the mastermind of them all.

Top Gear: Three blokes, each with a heavy left foot, being the fastest Drag racers around. Somehow, select races evaporate into dust with people going missing. Something sinister is brewing behind the curtains…

Monster Energy: Though a household name in many facets of racing, their main goal at the festival is getting the audience hooked on their new energy drink formula. A little too hooked in fact. You need to help Ken stop them before public health gets affected.

Hotshots: These online content creators want to take their career to the next level. Their leader, KuruHS, is no stranger to shady tactics and schemes. He will do whatever he can to take revenge on his former partner Eden. Who knows what else they could be capable of….

Bringing ProStreet To The Modern Era
---

The Pepega Mod for ProStreet includes many improvements in order to bring the game up to modern standards.

Overhauled graphical treatment, including HD reflections

Overhauled every engine sound

Improved handling and reduced input delay

Rebalanced every car for every race type

Higher resolution UI and HUD

Added customization to EA Trax Jukebox

Rebalanced career races

Improved controller support

Stability improvements

Various bug- and model fixes (no more continue button bug!)

The New Stuff
---

We have added many new game mechanics, features and loads of extra content for you to enjoy!

80 new vehicles to buy, collect and race

Car Wrecks: Collect abandoned cars across various tracks! (as seen in TDU2 and The Crew)

Drivetrain swaps: Turn any car into a wheelie monster with a Stage 3-4 drivetrain upgrade!

Achievements: Over 40 challenges to tackle, which unlock…

Cheats: Over 40 unique effects to enhance, ruin or simply spice up your experience!

Sprint Run: A new Grip event which has you enter three runs to set the best time on a short sprint track!

Drag Challenge: A solo Drag event set on a difficult track with obstacles and uneven terrain!

Sector Knockout: Yet another new Grip event where the last drivers after each sector get knocked out!

New track layouts for Grip, Drag and Speed events

Visually redesigned race tracks

New stage announcers in hubs

More music tracks

New opponents

New HUD elements

Free-look camera

New loading screens

New visual effects

Plenty of additional details

Let's Dive In!
---

Are you ready to become a racing legend? Re-experience NFS ProStreet in a completely new way, the Pepega Mod has plenty to offer for both newcomers and veterans alike!

To get started, make sure you have the original NFS ProStreet (Version 1.1) installed on your PC. Once you have downloaded the mod files, launch the included installer and follow the instructions. The installer will take care of everything else! Have fun!


A Final Note
---

This mod is the result of close to two years of hard work from a dedicated team of independent modders. Our goal was to deliver a truly unique and memorable experience using the base of ProStreet, which we always considered a diamond in the rough. We sincerely hope you enjoy your time with this mod!


Brought to you by Team Pepega

berkayylmao
DustinEden
Edelgaspirat
JamesVariety
KingJackSkellington
Red Fire
The_Unpunished
TurboAnime
Vapordude
Xan
Zyphir

with kind help from

javinitro
KuruHS
w4nn4cryp7

If you would like to support us, you can join our Discord server or donate to us directly.
Official Pepega Mod Discord
Donation Page

Donations will be used to keep up our website and possibly help fund future projects. We will never take any amount of the donation funds for other purposes that do not directly benefit our projects.

Content used

NFSPS HD Reflections by Aero_
NFSPS Generic Fix by ThirteenAG & Aero_
NFSPS HUD Adapter by nlgxzef
[NFSPS] 8K HDRI Skyboxes by BadassBaboon & Aero_
Aero_'s ProStreet Camera Mod by Aero_
Tank Unslapper by ArchonOne
Various Car Models from gamemodels.ru
NFSPS: Handling Overhaul by frannco1099
snrtool by jfwfreo (XeNTaX)
Music tool by Medstar117
Ealayer3 tool by Zench (XeNTaX)
NFS HD Content Support by Aero_
Vinyls Hook by ARCHIE
NFSPS HD User Interface by Madevi
Broken Golf by Meister
Lada 2108, Ford Racing Puma, Honda CRX Del Sol, Suzuki Wagon RR, Nissan Z Proto by Yochi
Mercedes Benz AMG One by Ti-Sonic & hashikemu
Nissan Tsuru by Mundo GTA Chile
Opel Astra Cabrio Bertone by Ortwin
Subaru WRX Sportwagon by club[TH]
VW Golf IV 1.4 16v by SerbianMods
Le Mans Quattro by TWIN_TURBO
Suzuki Escudo Pikes Peak Special by PedroBLR
Trafpizza by TMCharly & nlgxzef
Aston Martin V12 Vantage S by Eclipse72Rus
MW Color Curves and Luminance Vectors by Toru

---
Comments
---