2011 Ford Shelby GT500 Super Snake (Unlimiter v4 Supported Extended Customization)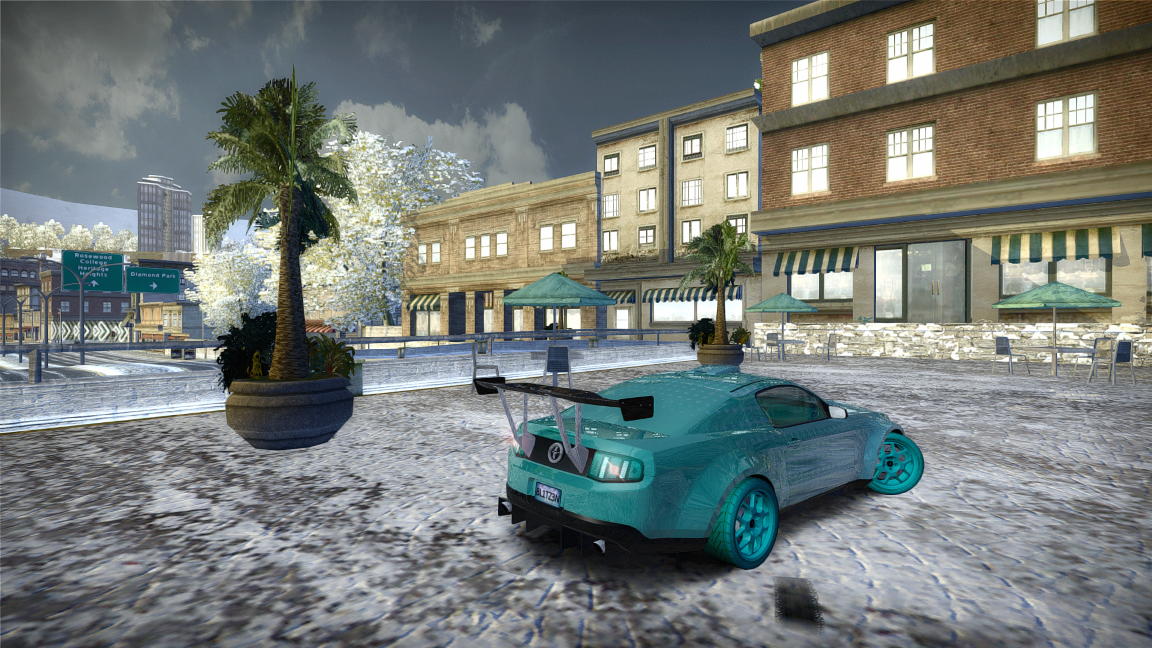 ---
Ford Shelby GT500 Super Snake (Extended Customization) in Sunset Gold Metallic stock paint.

Base model from NFS World base game with parts from Real Racing 3, Forza Horizon 1, NFS World (Sparkserver), and NFS Heat

Customization:
- Body kits (5)
- Spoilers (14 unique + vanilla)
- Rims (5 custom paintables)
- Interior (40) - Color options
- Roof (1) - Change Interior style
- Headlights (15) - Color tints
- Taillights (13) - Color Tints
- Brakes (15) - Caliper colors

- Attachments (2 slots)
Slot 1: Trunk Lid
Slot 2: Rear Window

- Performance
- Paint
- Vinyls
- Window Tint
- Custom Gauges

Permissions Granted:
1. To convert this mod into other games.
2. To improve this mod by adding more customization into the mod or improving performance.
3. To add this car into repacks such as Redux, Remasters, Pepega Mod, etc.

Credits:
EA Black Box - Base Model
Blender - Software used to work with the model and create the mod.
GM25 - Parts from Real Racing 3 models
DMN - Parts from Forza Horizon 1 Model
nfsu360 - NFS CarToolKit software used to export the model and textures into .bin files.
Freeroam SparkServer - Some of the customization parts

Download Link is here below:
https://www.mediafire.com/file/wh6bdosbotcxzyb/Ford_Shelby_GT500_Super_Snake_%2528S197-II%2529_Extended_Customization.zip/file

Note: For this mod to work properly, you must install Viper4K's modder resource/global textures pack first.


---
Comments
---
Tags edited. Thanks for letting me know.
@TiSonic
TiSonic (May 21, 2023 @ 18:17)
Removed comment from @alexdivi96 as it was either a request asked in a non-proper way, or a troll. Also tags you used are wrong, those are from the RS6, you might want to fix these. Have a nice day. :)
Fabri706 (May 14, 2023 @ 03:25)
YEEEEEEEEEEEEEEEEEEEEEEEEAH
FINALYYYYYYYYYYYYYYYYYYYY
MY FAVORITE SHELBY
YEEEEEEEEEEEEEEEEEEEEEEEEEEEEEEEEEEEEEEEEEEEEEEEEEEEEEEEEEEEEEEEEEEEEEEEEEEEEEEEEEEEEEEEEEEEEEEEEEEEEEEEEEEEEEEEEEEEEEEEEEEEEEEEEEEEEEEEEEEEEEEEEEEEEEEEEEEEEEEEEEEEEEEEEEEEEEEEEEEEEEEEEEEEEEEEEEEEEEEEEEEEEEEEEEEEEEEEEEEEEEEEAH
Uploaded at: May 13, 2023 @ 21:23