.R Custom Stuff Minipack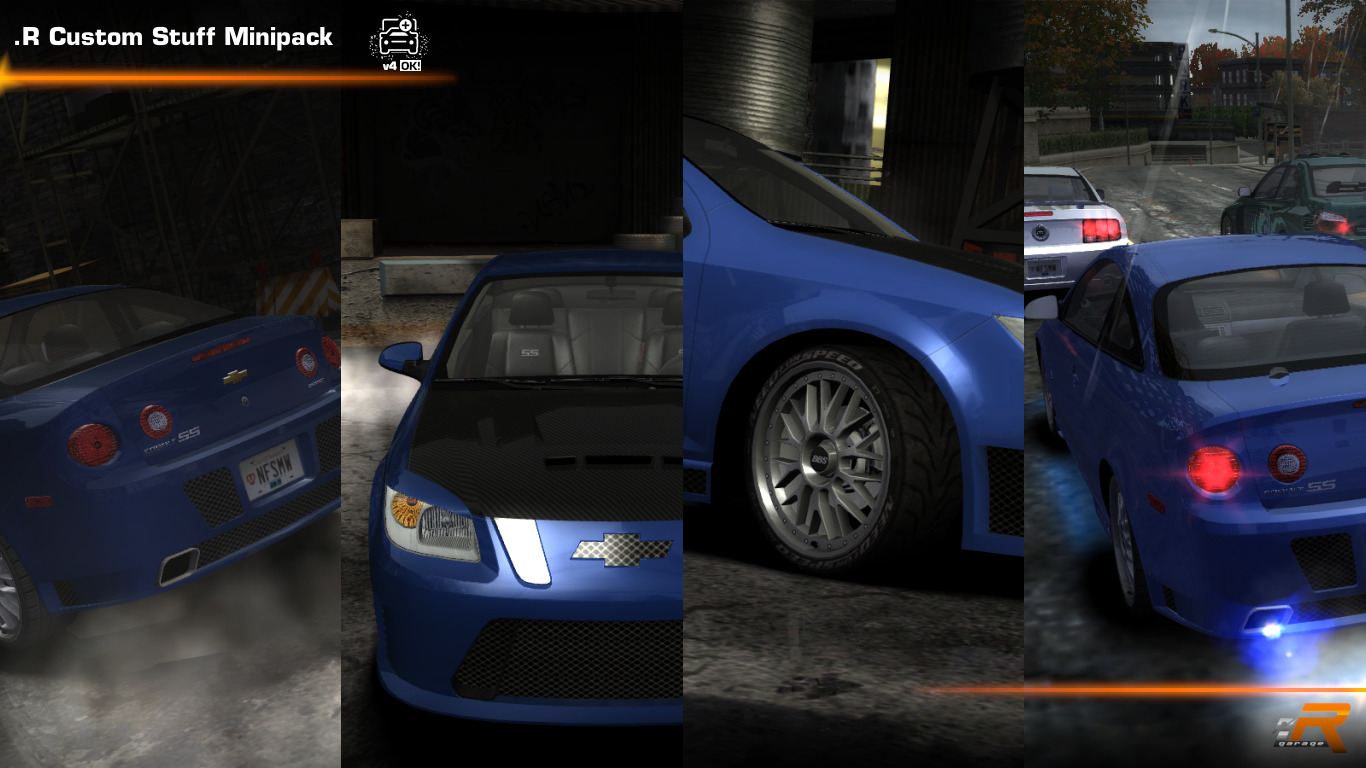 ---
v1.1:
-added 11 new tire styles (exclusive to ULv4 users)
-added 4 new neon colors (exclusive to ULv4 users)


Features:

Includes the following:
New carbon fiber texture (includes 1024x1024px variant and vinyls)
New exhaust flames
Expanded customizations:
Spoiler removal
6 new gauge colors
Exclusive to Unlimiter v4 users:
11 new tire styles (also available for certain mods such as [REDACTED]'s Resource Pack)
4 new neon colors

Installation:

Extract the archive contents to a folder
In Binary 2.5.5 or greater, click on "Launch Binary For Users" (left big button) and open the .R Custom Stuff Minipack for NFSMW Installer.end file. Follow the on-screen instructions and save when prompted.
For the exhaust fx, open NFS-VltEd, go to File > Open, select your game folder, then go to File > Import > ModScript and import the nos_flame.nfsms file
To install the vinyl version of the carbon fiber texture, open any CARS\[carname]\VINYLS.BIN with NFS Tex-Ed, look for the [carname]_CARBONFIBER entry and replace it with the vinyls\cf_vinyl (or cf_vinyl_argb/cf_vinyl_1024 for nlgzrgn's recompiled 512px vinyls or 1024px vinyls, respectively) file provided.

Used tools:
GIMP | DXTBmp | NFS-VltEd | Binary
Copyrights/permissions:
If you would like to modify and/or distribute this mod, please:

keep this readme file without any alterations whatsoever (in case of just sharing this mod around)
give me proper credit (AJ_Lethal) for creating the mod
Seriously, respecting those conditions is not hard at all. Unless you're terminally dumb or a shameless, talentless hack.

---
Comments
---
No comments, be the first one to leave a comment!
Uploaded at: August 13, 2023 @ 18:15