NFSMW - Stock Cars in Car Lot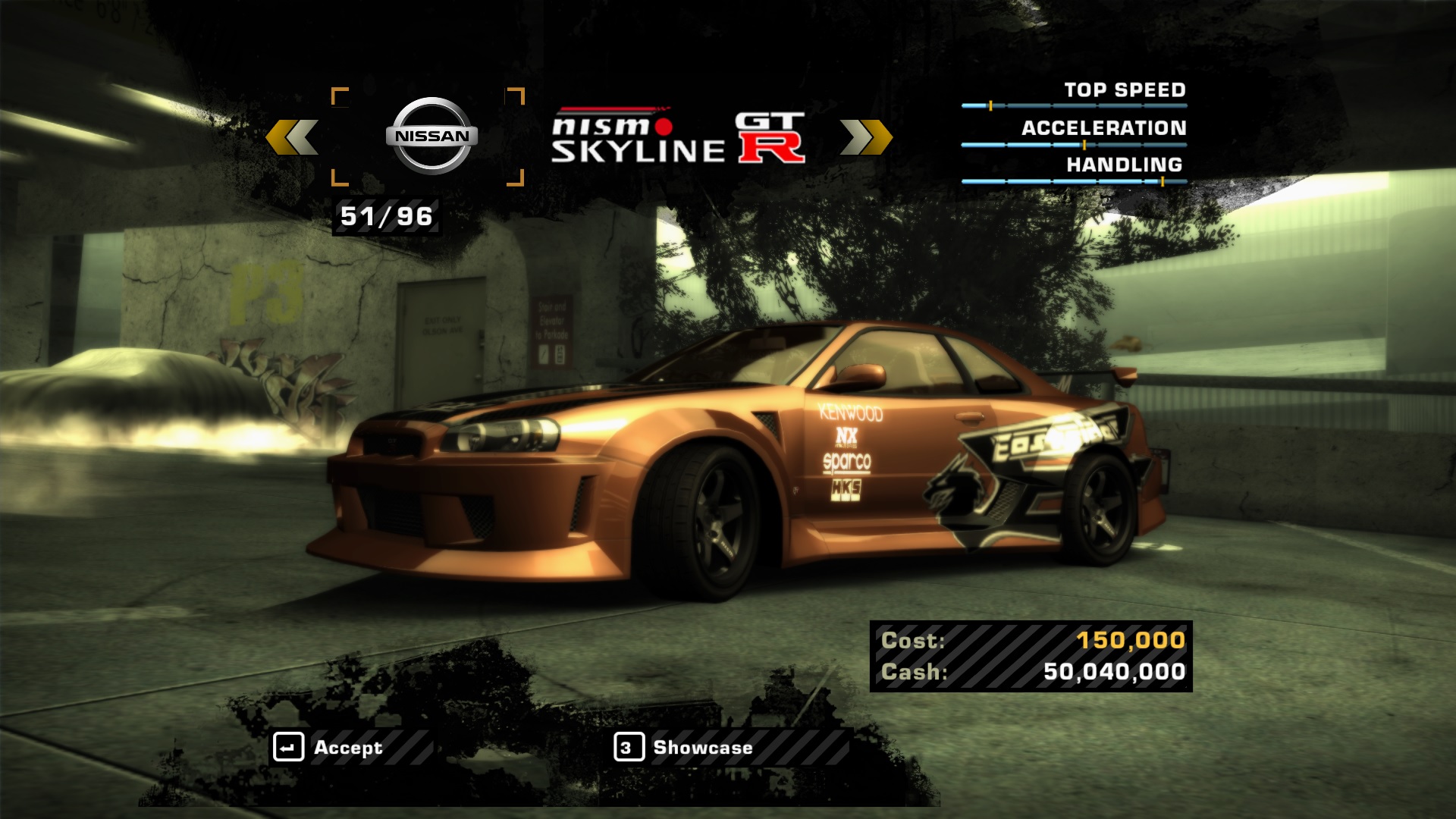 ---
NFSMW - Pre-Tuned cars as Stock.

Have you wondered trying to buy a preset car from a car lot or adding it to My Cars, well, this is the mod for you!

This mod takes advantage of the Unlimiter V4 feature that allows you to define custom stock parts. Imagine the Car Lot selling the Blacklist racer's cars, or even certain special variants or even other NFS legend cars!

This mod contains various Unlimiter configs, including for certain add-on cars. You can uninstall it at a later time, if you want to get actual stock cars back in the Car Lot.

Supported options:

Blacklist Racer's cars: Adds Unlimiter config that sets cars driven by Blacklist Racers to use the Blacklist racer's visuals instead of their OEM parts. (Also has a separate Unlimiter config to use their EC variants instead)

Special Racers: Allows one to set the RX-8 LM Race Car (from Gran Turismo) or the McLaren F1 LM to be the stock model (RX-8 requires Twinsanity mod by Vee; F1 from InfinityMain/Aftermarket Exotics)

1999 Nissan Skyline GT-R V-Spec (R34): Allows one to set the 2005 Nissan Skyline GT-R NISMO Z-Tune (R34) to use regular V-Spec parts instead of the NISMO Z-Tune parts. Also offers a choice of every factory R34 paint. (Requires Yochi's R34 to function)

Racing Stripes: Allows one to force the Viper and Ford GT to be set with their racing stripes instead. Offers a color choice between the said car's factory colors.

NFS Icons: Sets Rachel's 350Z (requires Vee's 350Z), Darius' R8 (requires Hel/Selly's from Palmont Pack) and Eddie's R34 (requires Yochi's NISMO R34) to be sold instead of the stock one.

Uninstall: Reverts all changes by the mod. (Restores the original Unlimiter config that does not force the custom stock parts; or erases if the car is not an EC car)

Known Issues:
One specific rim cannot be painted, nor can tires be changed as long as the "stock" rims are equipped as the game flags it as stock.

Update:
Renamed certain inis to their xname


Binary installation: (Compatible with Binary v2.8.3 and up)
1. Download the latest version of Binary (if you have not done it yet)
2. Extract all of the files
3. Run Binary in Administrator mode, launch it in User Mode (left) and select the Setup.end
4. Select the Need for Speed: Most Wanted directory you want to install the mod.
5. Select which cars you want to install in the Prompt and click OK.
6. Follow the extra pop-ups for the extra options you want for the car to come stock with custom parts.
7. Confirm the Save Prompt.




---
Comments
---
Uploaded at: September 20, 2023 @ 16:55