Mitsubishi 3000GT VR-4 Extended Customization (Extended Customization V3)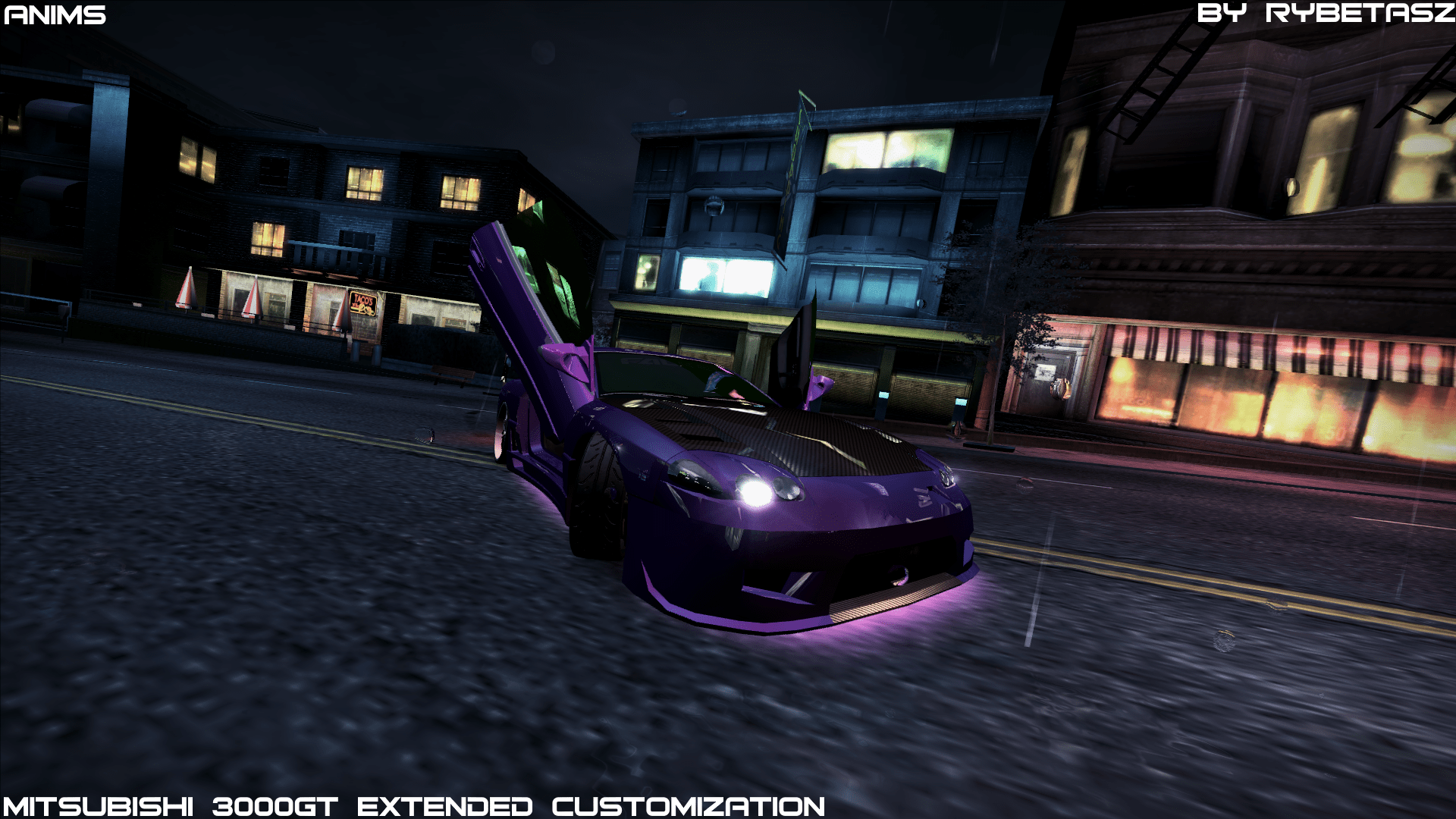 ---
Price: 105.000$

Unlock: Same as Mitsubishi Lancer Evo 9

This mod enables a special feature from v3, so you need Extended Customization V3
Extended Customization: https://nfsmods.xyz/mod/1798


Current Mod Version:

Release V1.021

Changelog:

V1.02
-Fixes and improvements
-Fixed kitw03 uv and fixed lod issue.Dont need use forceloda anymore.

V1.021
-Added bumper 11 string.
-Removed broken auto installation of ec config.It needs to be copied manually now.

V1.022
-Fixed end installation.

MAKE SURE YOU HAVE 3000GT4 FILE IN EXTENDEDCUSTOMIZATIONCARS OTHERWISE DOORS WILL BE DISAPPEAR.


Features:
-Proper Door,Trunk,Hood Anims

-Animated Steering Wheel

-Cutted Aerocraft Kaze kit from Juiced 2

-Customization:

Everything +

Decals

Mirrors

Bumpers

Skirts

Widebodykits

Doors

Engine Swap

Seats

Steering Wheels

Headlights

Brakelights

Trunk Audio

Spoilers

Credits:

converting: rybetasz

Extended Customization V3 by ARCHIE
NFSC Unlimiter by nlgxzef

NFS CarToolKit,VltEd,TexEd,Hasher by nfsu360

Binary by MaxHwoy

Model by Juice Games and EA Black Box

Huge thanks to ARCHIE for his help.

Huge thanks to KryZeePlays.


---
Comments
---
OkuboLL (October 25, 2023 @ 20:27)
Thanks for updating!
Actually I might have spotted the issue regarding to the EC file, I took a look at Archie's RX-7's script (which worked for me perfectly) and noticed the line for copying is slightly different. Followed to it I changed a part of the line from "absolute absolute" to "relative absolute" and now the file seems to be added correctly.
I don't mean to ask for another update, but could you test if it works for you too?
rybetasz (October 25, 2023 @ 18:13)
@OkuboLL Thanks.Idk why but binary doesnt copy the ec file(Maybe 'cause of no file type?).This mod enables a feature from ec v3 when its not enabled doors will be disappear and mod dont work very well.I'm updating the mod now.
OkuboLL (October 24, 2023 @ 17:47)
Could be just my issue, but all the strings and the EC file didn't get added so I had to do it on my own.
Also 11th autoscript bumper's string seems to be missing in the script (I assume it's Overdrive?). Otherwise awesome work and I love it