Nissan Skyline GT-R R34 [ADDON]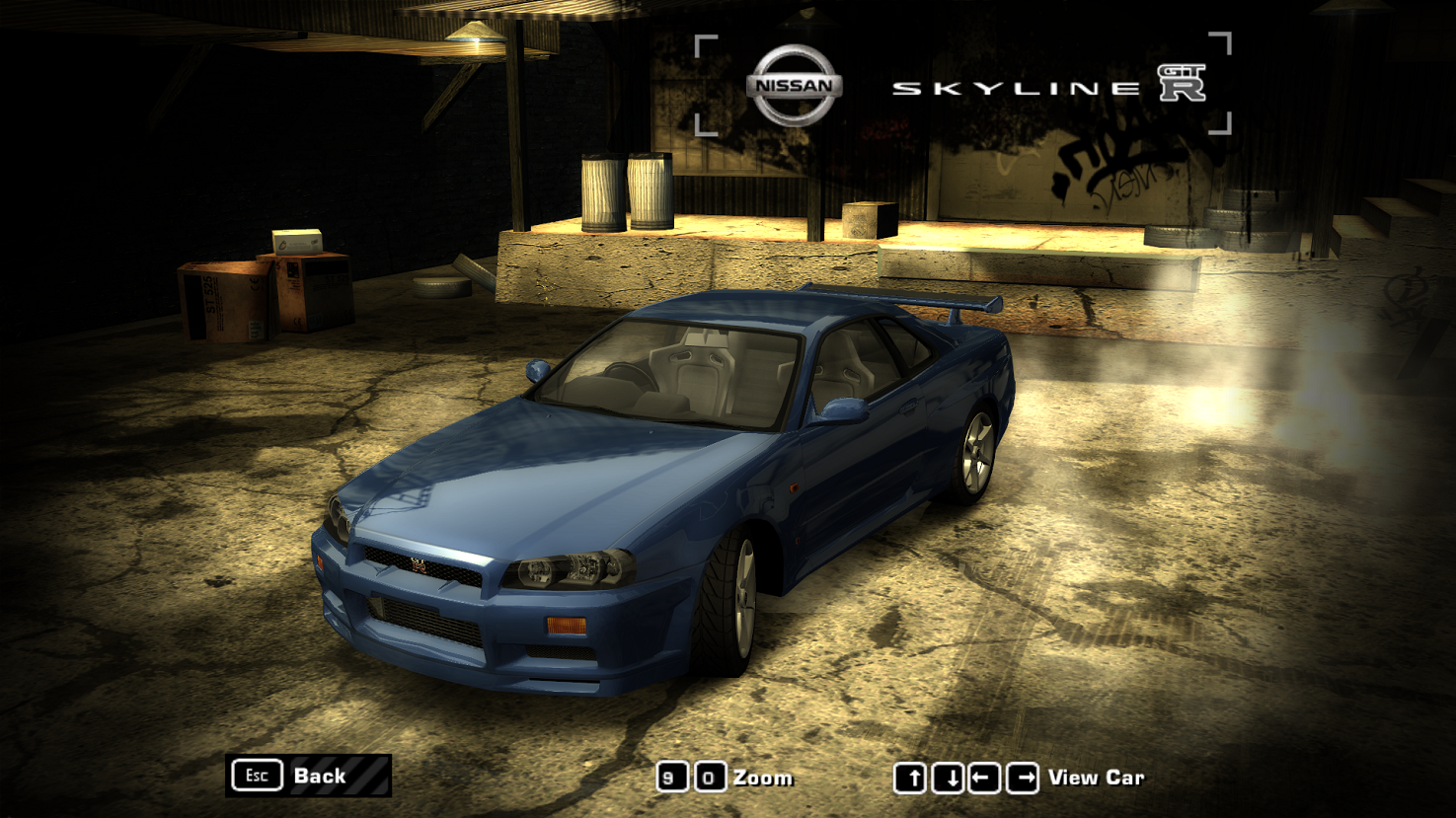 ---
Nissan Skyline GT-R R34 converted from carbon as an addon car, meaning no other car gets replaced.

v1.0
- Initial release.

v1.1
- Added mount points.
- Updated to ReCompiler.

v2.0
- Increased top speed. See 3- down below.
- Fixed issues with brakes clipping with rims.
- Better matched vinyls with the car.
Since original cars of the game have also parts not matching with each other I decided to not to try and fix, instead i made sure that the vinyls cover the car better.
- Included modified SKYLINE 1024x Recompiled Vinyl by nlgzrgn.

v3.0
- Added hoods.
- Added decals.

v3.1
- Brakelight textures working.
- Slight improvements to the meshes.
- Merged all modscripts into one.
- Added 512x vinyls

v4.0
- Added Bodykit.
- Removed some _E lods.

Final_Fix
- Reworked everything. It's as close as possible to Carbon version.
- Added licenseplates to bodykits, only _A lods.

Installation:
1. Copy "CARS" folder to game installation folder
2. Chose the Vinyls version (512x for stock, 1024x for recompiled), copy the "VINYLS.BIN" to "CARS/SKYLINE" folder
3. Open NFS-VltEd and import SKYLINE.nfsms modscript, save and exit
4. Copy "SECONDARY_LOGO_SKYLINE.dds" and "CARSELECT_MANUFACTURER_NISSAN.dds" to "EDTheCarDealer\Resources\NFSMW\FrontEnd\FrontEndTextures\729181AD"
5. Copy "SKYLINE.ini" to "EDTheCarDealer\Config\NFSMW"
6. Open "Ed.exe", click "Main" -> "Open" and search for the game installation folder
7. Click "Tools" -> "Unlock Game Files For Modding"
8. Click "Apply"
9. Create a new save and enjoy

ISSUES

- Tell me if there are issues.

Credits:

- MWInside for ReCompiler.
- nfsu360 for NFS-VltEd/TexEd/CarToolkit.
- nlgzrgn for NFSMW Unlimiter/Ed - The Car Dealer.
- EVERYONE!!!
---
Comments
---