Nissan 240SX [ADDON]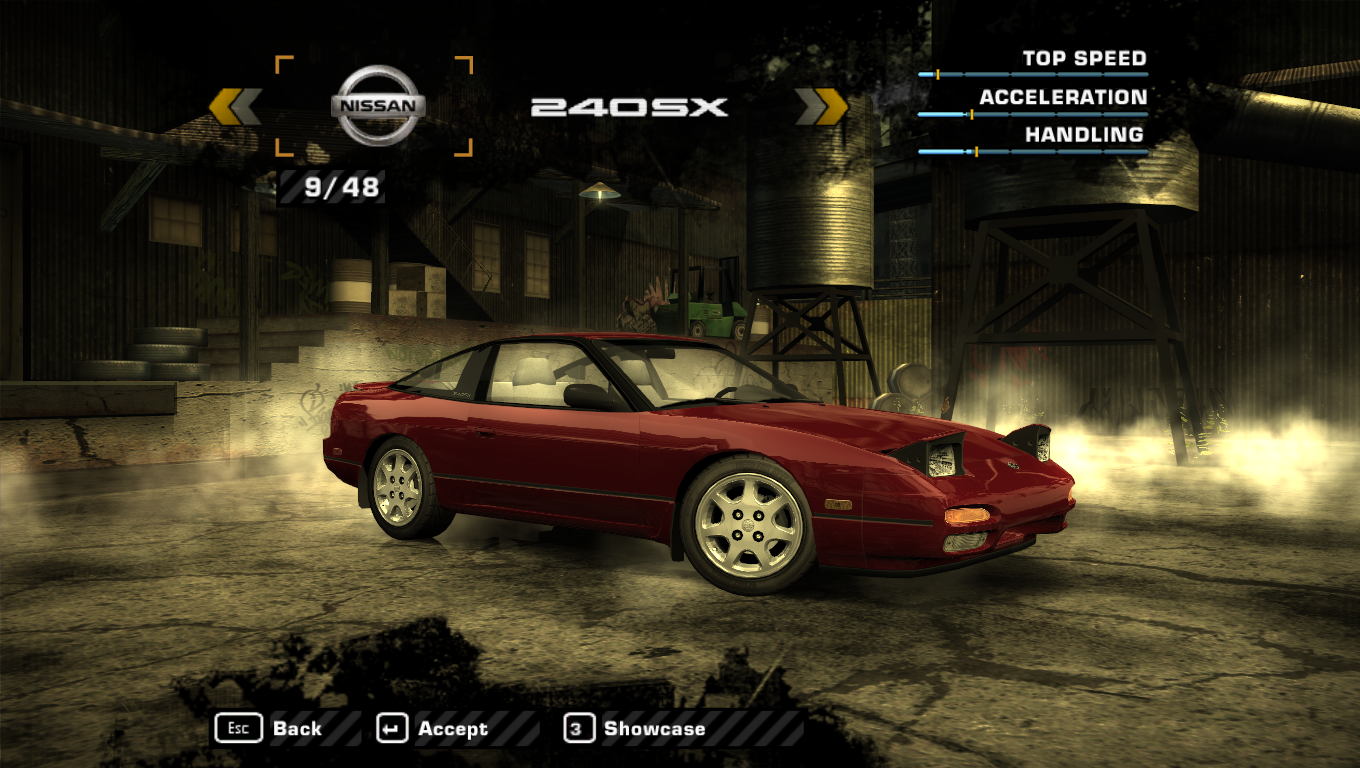 ---
Nissan 240SX converted from carbon as an addon car, meaning no other car gets replaced.

v1.0
- Initial release.

v1.1
- Brakelight textures now work.

v1.2
- Minor improvements to meshes.
- Fixed height: car floating. Import height_fix.nfsms in NFS-VltEd.

v2.0
- Added 5th Bodykit.
- Added new engineaudio.
- Fixed an issue with 1024x vinyls.

HOW TO INSTALL
Manual install:
1- Copy the contents of "CARS" folder in the game installation folder.
2- Copy the contents of one folder (1024x or 512x) depending on which version of vinyls you have. If you have stock vinyls, 512x should be fine.
3- With NFS-VltEd: File, Import -> ModScript. Select 240sx.nfsms and height_fix.nfsms.
4- Open NfSMW - ReCompiler.exe (located in "ReCompiler" folder) and run: FRONTEND -> FRONTEND, GLOBAL ->GLOBALB, LANGUAGE.
5- Copy FrontA.BUN to "FRONTEND" folder. Copy GlobalB.BUN and GlobalB.lzc to "GLOBAL" folder. And all the language files to "LANGUAGES" folder of the game installation folder.
6- For those who want the 350Z and Skyline together with the 240SX do the same steps (for the others too) but merge the contents of the ReCompiler folders of the respective cars and run as explained in section 4. Example: the folder "ReCompiler\FRONTEND\Add\1" should have the files of the three cars "CARSELECT_MANUFACTURER_NISSAN" "SECONDARY_LOGO_240SX" "SECONDARY_LOGO_350Z" "SECONDARY_LOGO_SKYLINE". The folder "ReCompiler\GLOBAL\GLOBALB\Add\Cars" should have "240SX.ini" "350Z.ini" "SKYLINE.ini". The folder "ReCompiler\LANGUAGE" should have "CARNAME_NISSAN_240SX.ini" "CARNAME_NISSAN_350Z.ini" "CARNAME_NISSAN_SKYLINE.ini"
7- Make sure you don't have ModLoader. Run the game and make a new save.
Or you can use SavePatcher by MWInside here https://www.youtube.com/watch?v=6Tp3YO1sn3w&ab_channel=MWinside

ISSUES

- Tell me if there are issues.

Credits:

- Arushan for NFSMW Mod Tools.
- MWInside for ReCompiler.
- nfsu360 for NFS-VltEd/TexEd.
- nlgzrgn for NFSMW Unlimiter.
- EVERYONE!!

---
Comments
---
Uploaded at: November 25, 2018 @ 22:45