Nissan 240SX [ADDON]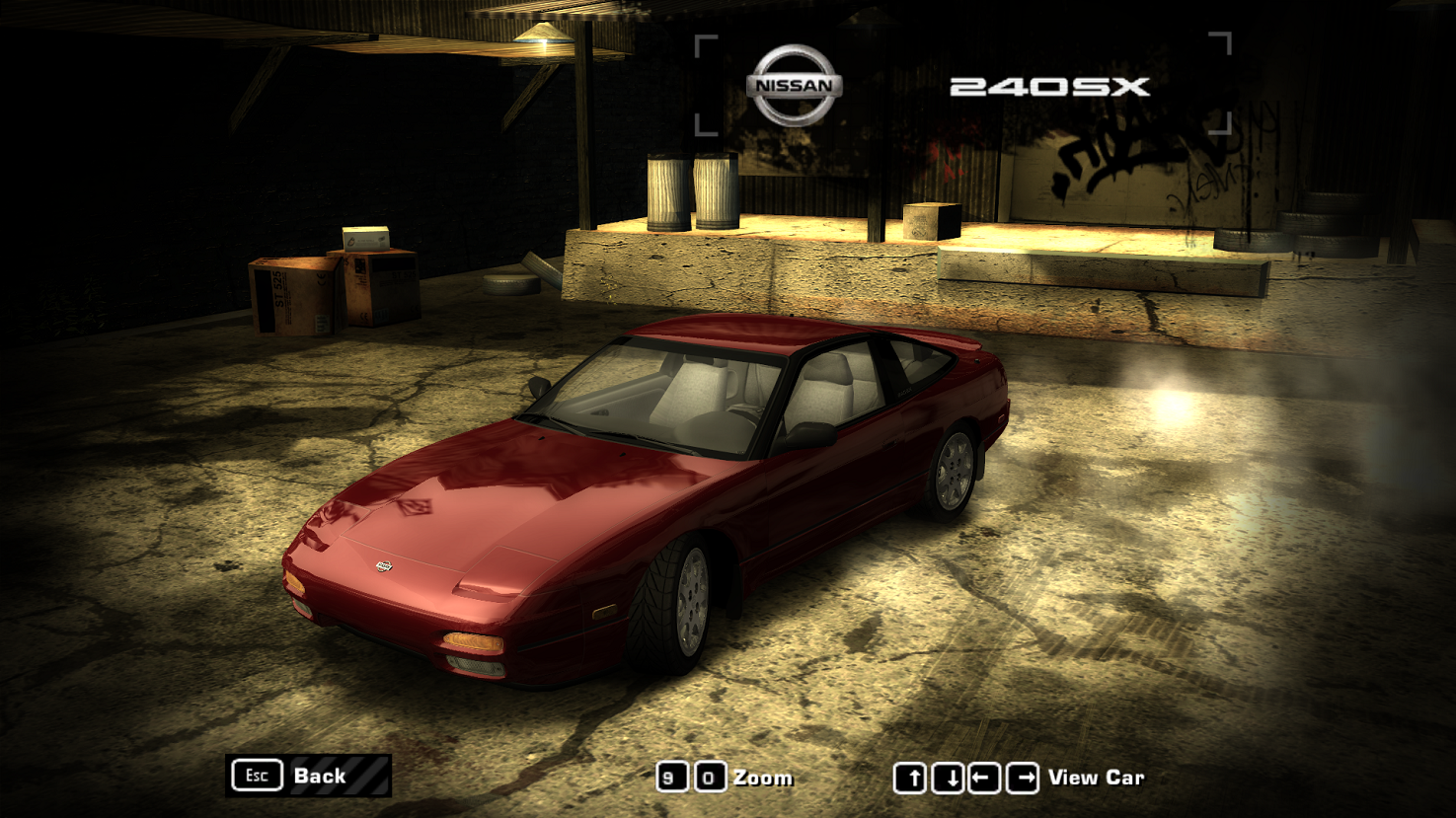 ---
Nissan 240SX converted from carbon as an addon car, meaning no other car gets replaced.

v1.0
- Initial release.

v1.1
- Brakelight textures now work.

v1.2
- Minor improvements to meshes.
- Fixed height: car floating. Import height_fix.nfsms in NFS-VltEd.

v2.0
- Added 5th Bodykit.
- Added new engineaudio.
- Fixed an issue with 1024x vinyls.

Final
- Reworked everything. It's as close as possible to Carbon version.
- Licenseplates only on _A lods.
- Fixed car unlock order. Now it should be purchasable from the start.

Installation:
1. Choose which version you want(Headlight OFF or ON) and copy its "CARS" folder to game installation folder
2. Choose the Vinyls version (512x for stock, 1024x for recompiled), copy the "VINYLS.BIN" to "CARS/240SX" folder
3. Open NFS-VltEd and import 240SX.nfsms modscript, save and exit
4. Copy "SECONDARY_LOGO_240SX.dds" and "CARSELECT_MANUFACTURER_NISSAN.dds" to "EDTheCarDealer\Resources\NFSMW\FrontEnd\FrontEndTextures\729181AD"
5. Copy "240SX.ini" to "EDTheCarDealer\Config\NFSMW"
6. Open "Ed.exe", click "Main" -> "Open" and search for the game installation folder
7. Click "Tools" -> "Unlock Game Files For Modding"
8. Click "Apply"
9. Create a new save and enjoy

ISSUES

- Tell me if there are issues.

Credits:

- MWInside for ReCompiler.
- nfsu360 for NFS-VltEd/TexEd/CarToolkit.
- nlgzrgn for NFSMW Unlimiter/Ed - The Car Dealer.
- EVERYONE!!!
---
Comments
---
Uploaded at: November 25, 2018 @ 22:45