Nissan Skyline GT-R (BNR32) [+Add-on]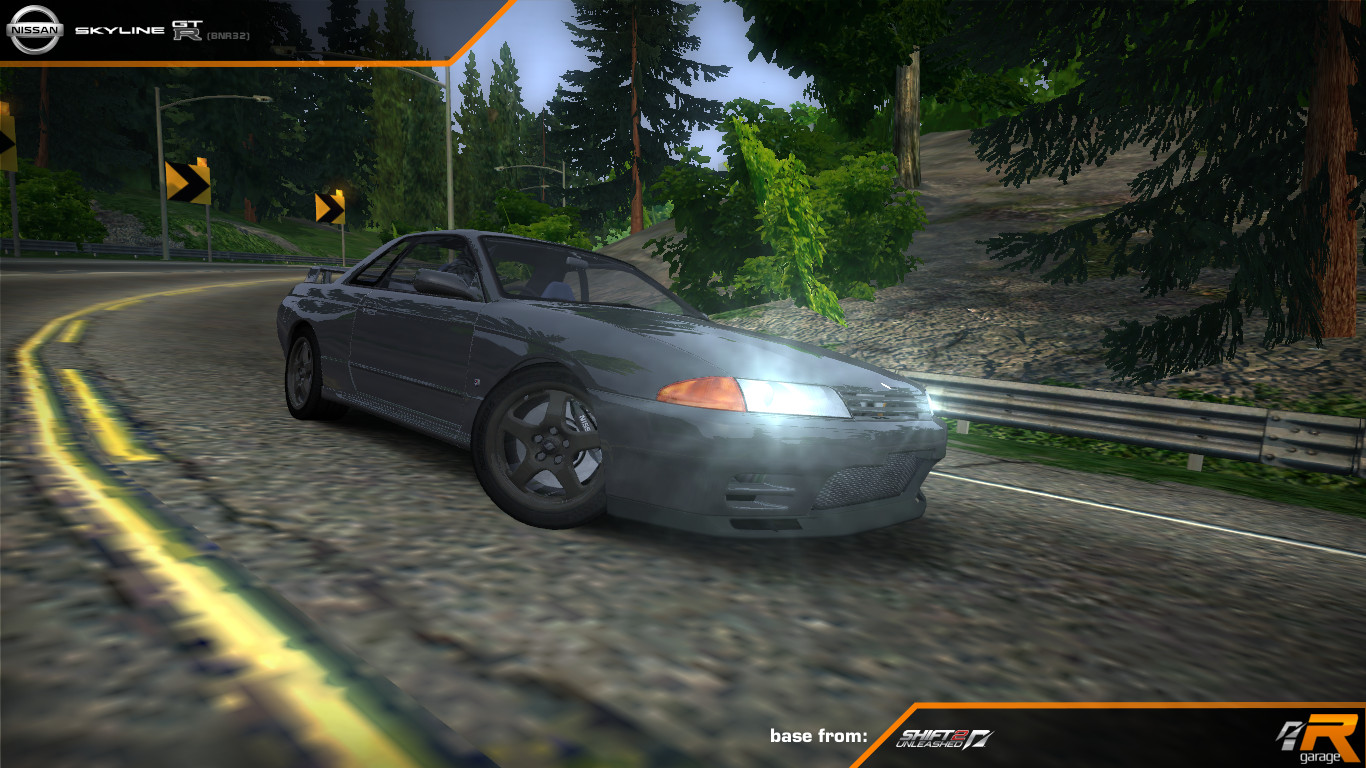 ---
v1.0 Rev A: minor tweaks to bodykit 1

base from Shift 2: Unleashed, with some parts from Forza 4 / Modloader version replaces Monaro / Add-on version incompatible with Modloader

Features:
Can be customized with:

Bodykits
Spoilers
Hood/lip spoiler/rollcage combo
Rims
Paint
Vinyls (debug map included)
Decals
Tinted windows

Other features:

Performance: +173 mph (+280 km/h) top speed -stock- / 232 mph (373 km/h) -upgraded-
LOD0 interior
Custom driver (werewolf girl)

Installation:
Modloader version:

Make sure you have the NFSMW Modloader installed
Move the ADDONS folder to your NFSMW folder. Delete any mod replacing MONARO first.

Add-on version (make backups first!):

Make sure you have NFSMW Unlimiter installed first
Move the SKYLINE32R folder into NFSMW's CARS folder
In the Texture Compiler by MWInside folder, run the NFSMW-Recompiler program and run the FRONTEND>FRONTEND, GLOBAL>GLOBALB, and LANGUAGES options with it to generate new compatible files
Delete all the .bin files except for the one that corresponds your game's language from the LANGUAGES folder beforehand.
If you're using custom textures with your GlobalB.lzc file, you can use that file in place of the one provided to avoid re-importing textures. Just copy it, rename it to GlobalB.bun and move it to the GLOBAL/GLOBALB folder to use it. Do not use a GlobalB that was recompiled with this tool, your game will crash. Same thing with the FrontA file (a renamed FrontB.lzc file)
Using NFS-VltEd, import the the skyline32r.nfsms file and save
Move the newly generated files to their locations in the game folder:
FrontA.bun: FRONTEND folder
GlobalB.lzc/.bun: GLOBAL folder
Language file: LANGUAGES folder
To use add-on cars you should either create a new savefile or patch your existing savefile with the Save Patcher and Save Editor tools. Patch the save first then open the save with the save editor and save it.
If you want to install this car alongside other add-on cars you can put the other cars' configuration files in the following texture compiler folders and generate new files as described above:
<XNAME>.INI: GLOBAL\GLOBALB\Add\Cars. There is also another <XNAME>.INI file in the savepatch folder, that one is for patching an existing savefile
Manufacturer and secondary logos DDS files: FRONTEND\Add\1
CARNAME_<MANUFACTURER>_<XNAME>.INI: LANGUAGES folder


Used tools:

Zmodeler 1.07b & 2.2.6 | Forza Studio | GIMP | NFS TexEd | DXTBmp | NFSMW ModTools (with nlgzrgn's custom geometry compiler) | NFSU2 Texture Compiler (including ASC custom ARGB/DXT5 variant) | BinViewer | Notepad | NFS VLTEd | MWInside Model Recompiler

Copyrights/permissions:

If you would like to modify and/or distribute this mod, please:

keep this readme file without any alterations whatsoever (in case of just sharing this mod around)

give me proper credit (AJ_Lethal) for creating the mod

Seriously, respecting those conditions is not hard at all. Unless you're terminally dumb or a shameless, talentless hack.
Show More
---
Comments
---
No comments, be the first one to leave a comment!
Uploaded at: November 29, 2018 @ 16:54
---
YouTube Video
---