Fiat Coupe 20V Turbo [ADDON] [DISCONTINUED]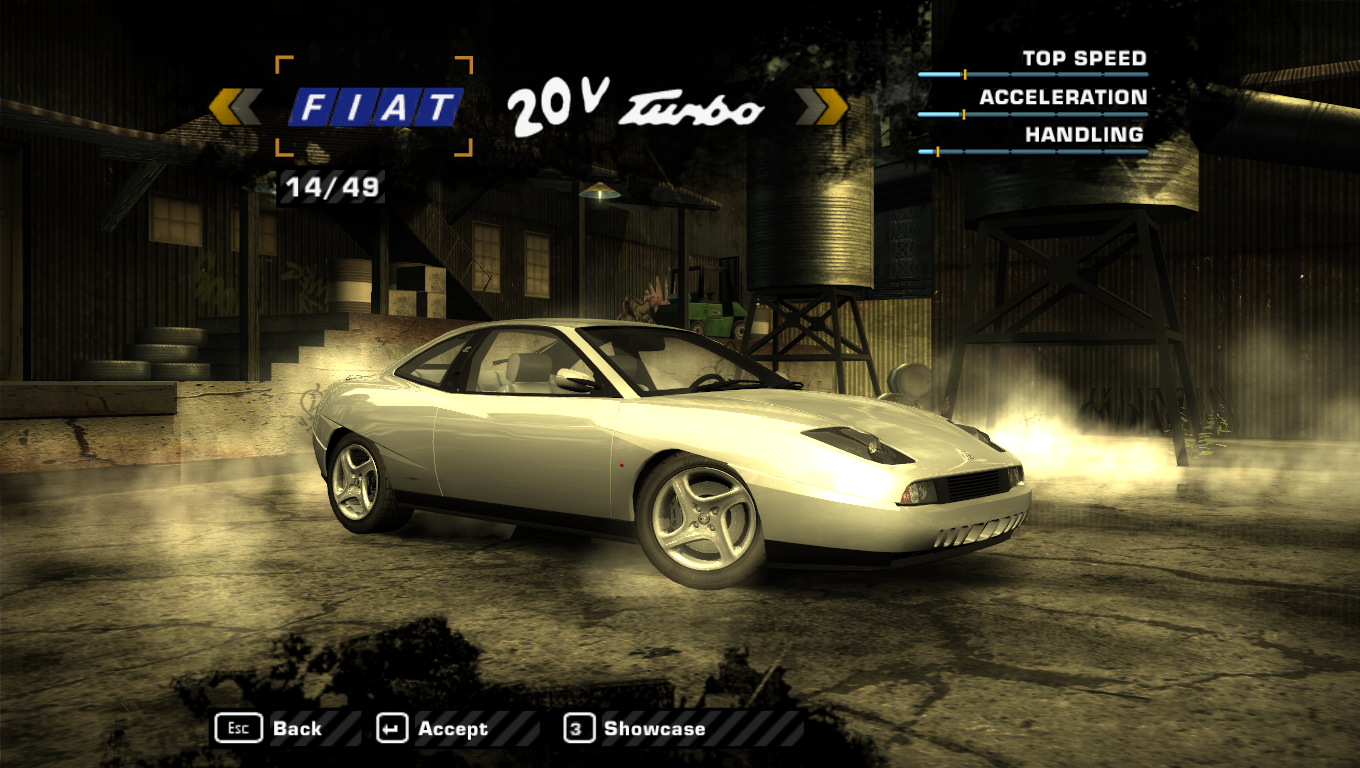 ---
Fiat Coupe converted from Forza Motorsport 4 as an addon car, meaning no other car gets replaced.
Requires NFSMW Unlimiter by nlgzrgn.
Download it here: https://mega.nz/#F!FKIgRSbb!iAEw2sf2u0cJyD7tClSeSQ

v1.0
- Initial release.
v1.1
- Fixed interior lods. you need previous version

CONTAINS
- Stock + 5 Bodykits.
- xNAME: FIATCOUPE.
- Lights, exhaust flames, spoilers(1) and roof scoops.
- Vinyls, Decals.
- Debug vinyl inside.
- ED the "car dealer" inside also with ReCompiler

HOW TO INSTALL
Manual install:
1- Choose if you want Spoilers (stock NFSMW spoilers) or No Spoilers (Bodykits spoilers), and the version of vinyls (512x or 1024x) Copy the folder "Cars" contents to NFSMW installation folder.
2- With NFS-VltEd: File, Import -> ModScript. Select fiatcoupe.nfsms.
3- Open NfSMW - ReCompiler.exe (located in "ReCompiler" folder) and run: FRONTEND -> FRONTEND, GLOBAL ->GLOBALB, LANGUAGE.
4- Copy FrontA.BUN to "FRONTEND" folder. Copy GlobalB.BUN and GlobalB.lzc to "GLOBAL" folder. And all the language files to "LANGUAGES" folder of the game installation folder.
5- Add "57 = OLDFIAT" to "NFSMWUnlimiterSettings.ini" located in NFSMW/scripts.
You can also not do it but you will not have the manufacturer logo
6- Make sure you don't have ModLoader. Run the game and make a new save.
Or you can use SavePatcher by MWInside here https://www.youtube.com/watch?v=6Tp3YO1sn3w&ab_channel=MWinside

ISSUES

- Tell me if there are issues.

Credits:

- Arushan for NFSMW Mod Tools.
- MWInside for ReCompiler.
- nfsu360 for NFS-VltEd/TexEd.
- nlgzrgn for NFSMW Unlimiter/ED.
- EVERYONE!!!
---
Comments
---
Uploaded at: February 13, 2019 @ 17:00