NFSMW Remastered UI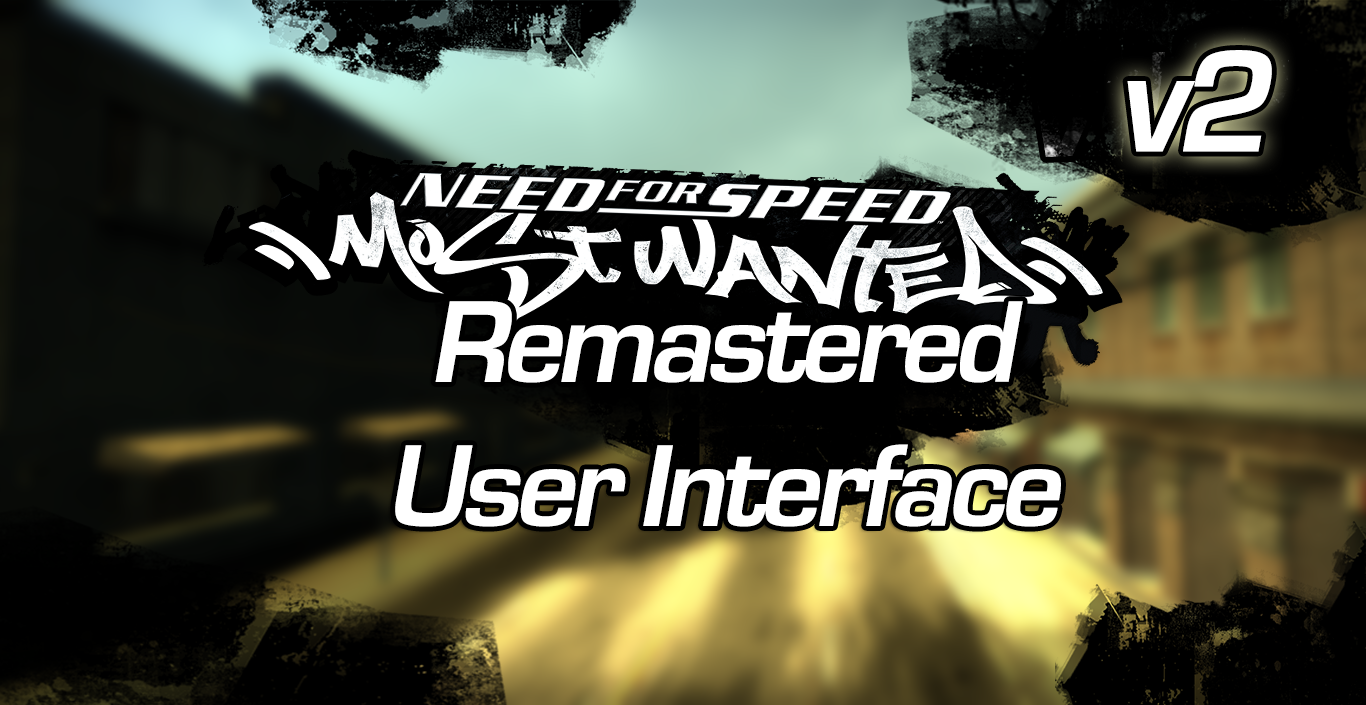 ---
NEXT UPDATE COMING END OF AUGUST DUE TO INTERNET PROBLEMS



MAKE A BACKUP OF "GLOBAL" AND "FRONTEND" FOLDER BEFORE INSTALLING

As we all know Most Wanted is getting pretty old but there's also no way to have a HD UI without that TexMod crap so I re-scaled most of the icons and other things and more stuff is coming soon! Just make sure to read the "Readme.txt" file if you don't know how to install it but should be pretty simple. If you have any problems with this mod let me know either at discord(edoo1#6471) or write a
comment...

Known issues:
-Needle of the tachometer is not showing correctly in cars that have 9000RPM

OLD




NEW


----------------------------------------------------------------------------------------------------
INSTALLATION:
Unzip the file and put "GLOBAL" and "FRONTEND" in NFSMW main Folder but make a Backup of those two first!
----------------------------------------------------------------------------------------------------
Changes in v1.0:
-HUDS_CUSTOM_00
-HUDS_CUSTOM_01
-HUDS_CUSTOM_02
-HUDS_CUSTOM_03
-HUDS_CUSTOM_04
-HUDS_CUSTOM_05
-HUDS_CUSTOM_06
-HUDS_CUSTOM_07
-HUDS_CUSTOM_08
-HUDS_CUSTOM_09
-HUDS_CUSTOM_10
-HUDTEXTURESPHOTOFINISH
----------------------------------------------------------------------------------------------------
Changes in v1.1:
-HUDTEXDRAG
-HUDTEXRACE
----------------------------------------------------------------------------------------------------
Changes in v1.2:
-GLOBALB
-InGameA
----------------------------------------------------------------------------------------------------
Changes in v1.2.5:
-Half of FrontB.lzc converted to HD
-failed to change car logos
-failed to change Font
----------------------------------------------------------------------------------------------------
Changes in v1.3
-FrontB.lzc fully converted to HD
I'm trying to fix the bug with the needle of the speedometer not showing correctly on some cars the reason could that TexEd 1.x doesn't override textures properly. The fonts were not possible to do because if they are re-sized by x2 they don't show correctly and look buggy.
I will try to keep the mod as updated as possible.
----------------------------------------------------------------------------------------------------
Changes in v1.4
-EA TRAX tab is now HD
-PC keyboard icons at the bottom are now HD

----------------------------------------------------------------------------------------------------
Changes in v1.6
-couple bug fixes
-car logo's are now HD(check car lot)
-the minimap has some slight changes
-rearview mirror border is a bit thicker and the edges are more softer making it look more like a graffiti style
-backings for positions and so on are now HD
----------------------------------------------------------------------------------------------------
Changes in v1.7
-just bug fixes this time..
----------------------------------------------------------------------------------------------------
Changes in v1.8
-FrontA.bun changed by @Zenturo
----------------------------------------------------------------------------------------------------
Changes in v1.9
-loading siren, splash screen logo, skybox textures by @BadassBaboon
----------------------------------------------------------------------------------------------------
Changes in v2
-minimal changes in FrontB.lzc








































---
Comments
---
ModMax (April 23, 2019 @ 17:39)
Happy i found this.
edoo1 (April 21, 2019 @ 12:03)
the whole point of this mod is that we should have a HD UI without running any external programs for it like TexMod. you just start the game from the original speed.exe and it all looks HD without any kind of extra program
HarGabt (April 16, 2019 @ 16:37)
Thanks for the mod!
I'd like to point out the problem with converting fonts to HD: maybe you should try nfsu360's NFS Mod Manager instead of replacing files in GLOBAL folder. I had the same problem with vinyls from Xbox 360 version - they were oversized also when i tried to replace vinyls.bin. Try that :)