Need For Speed Most Wanted - DB9 Fix + Unused Engine Sounds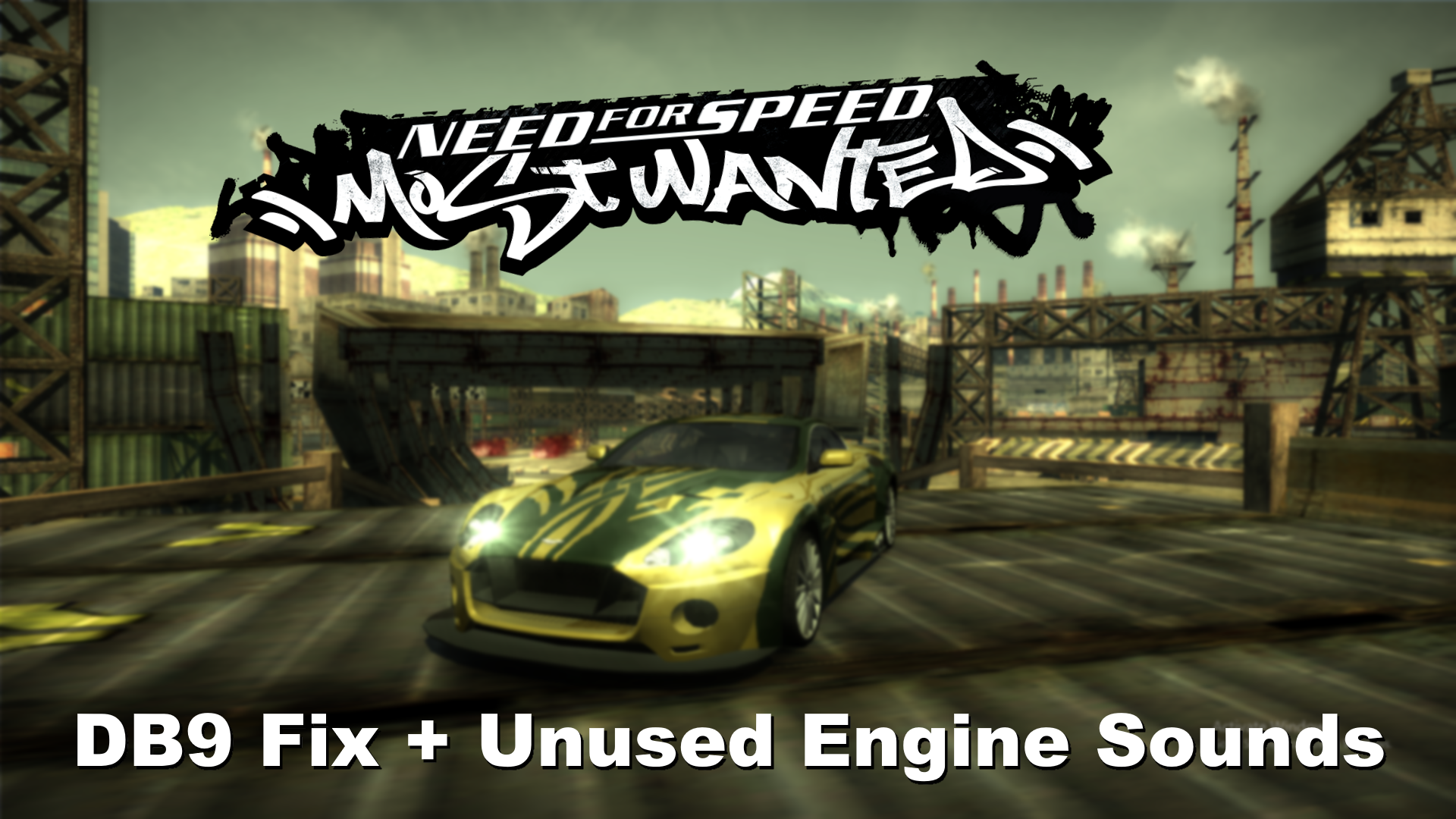 ---
This lightweight VLT script fixes the Aston Martin DB9 sounding like a Ford Mustang when fully upgraded, and also adds several unused GINs to VLT-Edit for personal use and modding purposes alike.


Features
---
Fixes the Aston Martin DB9 incorrectly using the "for_mus_b" audio when fully upgraded. It now uses its own unique sound.

Adds several new engine sounds, created from unused GINs within the game's files.

Adds an alternate version of the BMW M3 GTR engine sound without the iconic transmission whine, named "tvr_chim".

OPTIONAL: Includes alternative engine sounds for the CLK500, CAMARO, 997S, and COPSUV.

Installation
---
Download and extract the .zip file on this page.

Open VLT-Edit (by nfsu360).

Click on "File -> Open" and navigate to your game's root folder. The game's database will load onto the screen.

Click on "File -> Import -> ModScript" and navigate to the extracted mod folder.

Import the ModScript (.nfsms file).

Be sure to read all information provided at the installation menu.

Check bonus boxes if you want extra features.

Once the script loads, click "File -> Save".

Run the game and enjoy!

Known Issues
---
When using vehicles with the unused sounds, some tachometers may display incorrectly.

Nothing else. Please report bugs, flaws, or improvements in the comments or contact me on Discord (@Avalanche#1103)!

Changelog
---
11/22/19 @ 12:15 - v1.0.0, initial release.

11/22/19 @ 12:35 - v1.0.1, fixed an installation bug in the modscript.

6/13/20 @ 10:28 - v1.1.0, revised modpage and modscript, split alternate engine sound options into individual checkboxes.

Credits
---
nfsu360 - VLT-Edit.

You - Supporting me and my work!

Screenshots
---
---
Comments
---
Is for_mus_gt_a, not for_mus_b
r1tavratask1 (November 28, 2019 @ 08:16)
Activate Windows xDD