Mitsubishi Lancer Evo 8 MR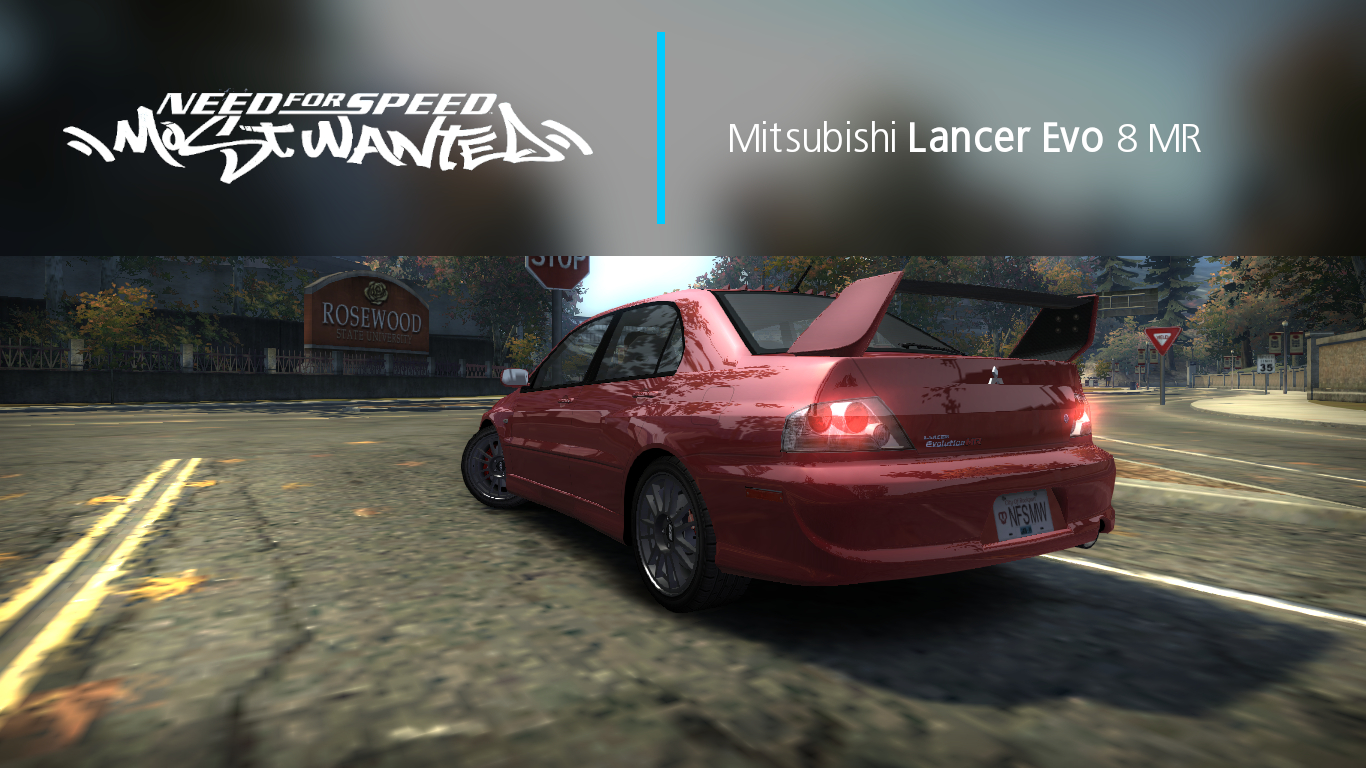 ---
Mitsubishi Lancer Evo 8 MR
v1.5
__________________________________________________________________________________
For NFS Most Wanted 2005
by CovRETA37

[INFO]
- Model from NFS Most Wanted 2005 & NFS Carbon
- Modloader // XName = LANCEREVO8
- Addons // XName = LANCEREVO8MR

[FEATURES]
- 88% accurate perfomance.
- Full customizable like vanilla NFSMW.
- Working brakelight textures.
- Working window & body damage textures.
- Unlocked after beating Baron (Blacklist 10)

[CHANGE LOGS]
> v1.0
- Initial release.
> v1.1
- Added addons version.
- New body 1 (Converted from NFSC)
- Fixed brakedisc position.
- Added minor detail MR stuff.
- New handling data (Copied from NFSC Evo IX MR)
- Added realistic stock final gear feature (Available for addons version)
- New Price car.
> v1.2
- Fixed some exhaust mount points for some bodykits (Known from FarrelPrayoga157's report)
> v1.3
- Improved perfomance data (Included gear ratio, engine, & handling)
- New body 2 (Converted from NFSC // by trackmaniamatt)
- Updated kit wheel offset.
- New tire texture with NFSMW style (By nlgzrgn)
> v1.5
- Added binary installation.
- Fixed a bit UV map of some bodykits.
- New Earl's Vinyl (Available for addons version)
- Smol improved some bodykits minor detail like NFSC Evo IX MR.

[KNOWN BUGS]
- No perfectly uv map for some bodykits (I did my best for it)
- If you found other bug, lemme know.

[GUIDE FOR INSTALL MOD]
> Modloader Version :
1. First, make sure your NFSMW already installed with modloader.
2. Copy all files in "Main files" folder to your NFSMW directory.
3. Run copy_vinyls.bat.
4. Enjoy! start game with modloader.
> Addons Version :
1. First, You required to have
- NFSMW Unlimiter // Make sure your NFSMW installed with this.
- NFS VltEd (Required v4.5 or later)
- Ed the car dealer or Binary v2.1.0 // Just choose one which you like.
a) Via Ed the car dealer
a1. Put "Ed" folder to where you will install it with Ed.
a2. Run Ed.exe, click Main > Open > Browse to your NFSMW directory.
a3. Click Tools > Unlock Game Files For Modding.
a4. Click Apply & close it.
b) Via Binary
b1. Run Binary.exe, launch binary for user > Browse to Install.end.
b2. Then select to your NFSMW directory.
b3. Click Ok, and then click Yes.
b4. Close the binary.
2. Run NFS-Vlted.exe, click File > Open > Browse to your NFSMW directory.
3. Click File > Import > ModScript > Browse to "Install.nfsms".
4. Install it, save it, start game with new savegame! (You still can add new car on your old savegame if you know to do it)

[SOFTWARE USED]
- ZModeler 2.2.6
- NFS CarToolKit
- NFS TexEd
- NFS Perfomance Calculator
- NFS VltEd
- GIMP
- Blender

[CREDITS]
> CovRETA37 (me)
- Main this project (Major work for this project)
- Convert to NFSMW
- Set up perfomance data
- Make a New Earl's Vinyl
> EA Blackbox
- Original model & textures
> Arushan
- For Modloader
- For MWPS Template
> FarrelPrayoga157 a.k.a FLP
- Make an Ed config
- Convert some MWPS data to Vlt data (For addons version)
- Make a Binary script
> trackmaniamatt
- Convert body 2 from NFSC to NFSMW
> nlgzrgn
- For his tire texture with NFSMW style
- For his Ed & NFSMW unlimiter make it possible to make addons car
> The people who made tools for easily modding.
> And other people may forgot write in here.

[FINAL NOTE]
- Don't use both replace (With modloader) & addons, because modloader doesn't work with modified by NFS VltEd (v4.2 or later), just choose one which you think best.




Youtube video https://youtu.be/R5Fdwu3dw7I (v1.1)



---
Comments
---
Uploaded at: April 20, 2020 @ 11:09