Need For Speed Carbon - Modern Police Pack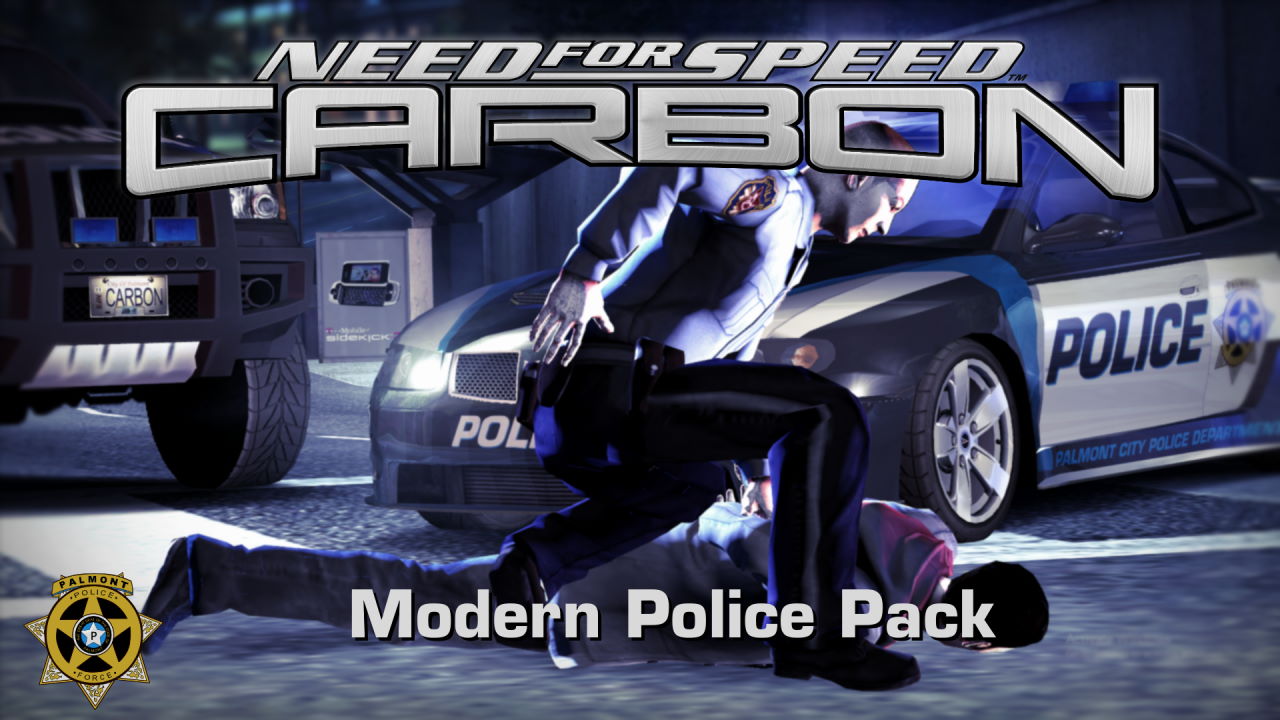 ---
Description
---

Do you hate how Carbon simply copy-pasted its cops from Most Wanted? Do you prefer the cleaner, modern look of NFS World? This pack's for you. It completely overhauls and updates the look of all police vehicles in the game (with the exceptions of Cross* and the Helicopter) to the blue and grey color scheme seen in World. All vehicles included now have a consistent design with all-blue police lights and several scratch-made 2048px skins.


Features
---
Completely redesigns all police vehicles, with the exceptions of Cross* and the Helicopter.

All vehicles now feature a custom new neon blue and charcoal grey design, inspired by NFS World.

All police assets, logos, and skins have been remade from the ground up in high-definition, new livery textures in 2048px with help from Ariso.

Various new high resolution textures have been applied to minor details such as better taillights for Corvettes, and grey interiors for GTOs.

Fixed interior textures on all vehicles, borrowing textures from the NFSUC versions of the Midsizes and SUVs.

Various car geometry improvements and tweaks, courtesy of 379Felipe's Improvement Mod and Red_Fire's RPD Corvette C6s.

*Cross is not included in this pack, as I have a separate mod that completely replaces his glitched RPD cruiser with the "bounty hunter" Z06 seen in-game: https://nfsmods.xyz/mod/1511

Compatible with most, if not all other mods.

Installation
---
Download and extract the .zip file on this page.

Navigate to and open VLT-Edit (by nfsu360).

Click on "File -> Open" and navigate to your game's root folder. The game's database will load onto the screen.

Click on "File -> Import -> ModScript" and navigate to the extracted mod folder.

Import the ModScript (.nfsms file named "InstallMe").

Be sure to read all information provided at the installation menu.

Check bonus boxes if you want extra features.

Press "Install" in the lower right corner.

Once the script loads, click "File -> Save".

Close VLT-Edit and return to the mod folder.

Copy the "CARS" folder included with the mod.

Paste it into you game's root folder.

If file explorer asks to replace files, make sure to confirm the action.

Run the game and enjoy!

Known Issues
---
The rear bumper of the COPSPORTHENCH is slightly improperly mapped, but I have been unable to correct the model's UVs. This will be fixed eventually.

COPMIDSIZE and COPGHOST currently suffer from blue quarter panel indicators, as the model originally mapped them to the red police lights. This will be fixed eventually.

Nothing else. Please report bugs, flaws, or improvements in the comments or contact me on Discord (@Avalanche#1103)!

Version History
---
6/11/20 @ 15:16 PST - v1.0.0, initial release.

6/14/20 @ 14:04 PST - v1.1.0, added support for COPMIDSIZE and COPMIDSIZEINT, added some higher res textures, fixed awkward "911" compression.

12/23/21 @ 10:55 PST - v2.0.0, completely redesigned everything in high definition, now featuring model work by Red_Fire and 379Felipe, as well as texture work by Ariso.

Credits
---
nfsu360 - Tex-Ed and CarToolkit.

Avalanche - Development and implementation.

Red_Fire - Improved NFSMW models of police Corvettes, feedback and guidance.

Ariso - Development of 2048px livery textures for COPSPORTHENCH, feedback and guidance.

379Felipe - Improvement Mod COPGTO and COPGTOGHOST models as well as permissions to use them.

GrishiCat - Assistance with mapping COPGTO livery textures, feedback and guidance.

Splash45 - Playtesting and feedback.

You - Supporting me and my work!

Screenshots
---
---
Comments
---