Need For Speed Carbon - World Style Police Pack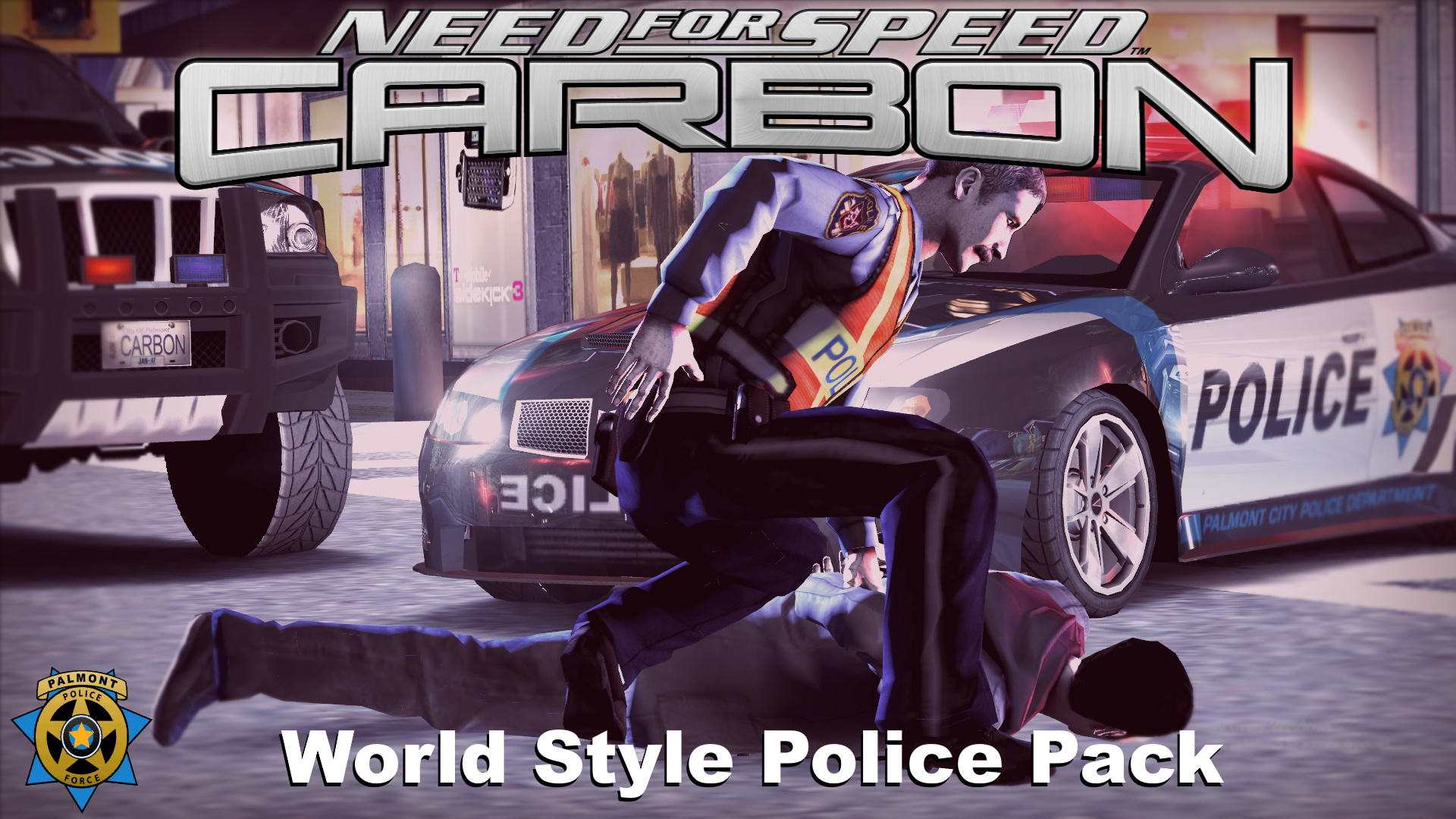 ---
Do you hate how Carbon simply copy-pasted its cops from Most Wanted? Do you prefer the cleaner, modern look of NFS World? This pack's for you. It updates the look of all police vehicles with the exception of the Federal Cruiser*, Cross†, and Helicopter to the blue and grey color scheme seen in World.


Features
---
Subs out the inconsistent blues and blacks of the undercover vehicles with a charcoal grey, seen in World.

Replaces vanilla blue cloth police GTO interiors with a spliced together black leather alternative.

All-new original livery for the State Cruiser, designed by yours truly.

New higher resolution interior texture for the Federal Undercover Cruiser, taken from NFSMW.

Higher resolution wheel and light textures for Civic Cruisers and Civic Undercover Cruisers, taken from NFSMW.

*I did not include the Federal Cruiser in this pack, as it has already been created by Swooning. Link here: https://nfsmods.xyz/mod/1573

†Cross isn't even supposed to spawn in normal gameplay, so I did not bother to do a reimagining of his livery. However, I do have a mod that replaces his glitched RPD car with the Z06 seen in-game: https://nfsmods.xyz/mod/1511

Compatible with most, if not all major mods.

Installation
---
Download and extract the .zip file on this page.

Open your game's root directory.

Open the folder named "CARS".

Paste the extracted mod folders into it.

Windows will ask if you are sure you want to replace files, click "Yes".

Run the game and enjoy!

Known Issues
---
The right door of the COPGTO's custom livery may invert itself upon being crashed into. This is a vanilla bug and I do not intend to fix the vehicle's geometry.

Nothing else. Please report bugs, flaws, or improvements in the comments or contact me on Discord (@Avalanche#1103)!

Changelog
---
6/11/20 @ 15:16 - v1.0.0, initial release.

6/14/20 @ 14:04 - v1.1.0, added support for COPMIDSIZE and COPMIDSIZEINT, added some higher res textures, fixed awkward "911" compression.

Credits
---
nfsu360 - Tex-Ed and CarToolkit.

Grishi - Assistance with mapping COPGTO texture.

Splash45 - Testing and feedback.

You - Supporting me and my work!

Screenshots
---
---
Comments
---
Uploaded at: June 11, 2020 @ 22:15