Revamped Pursuits (Undercover)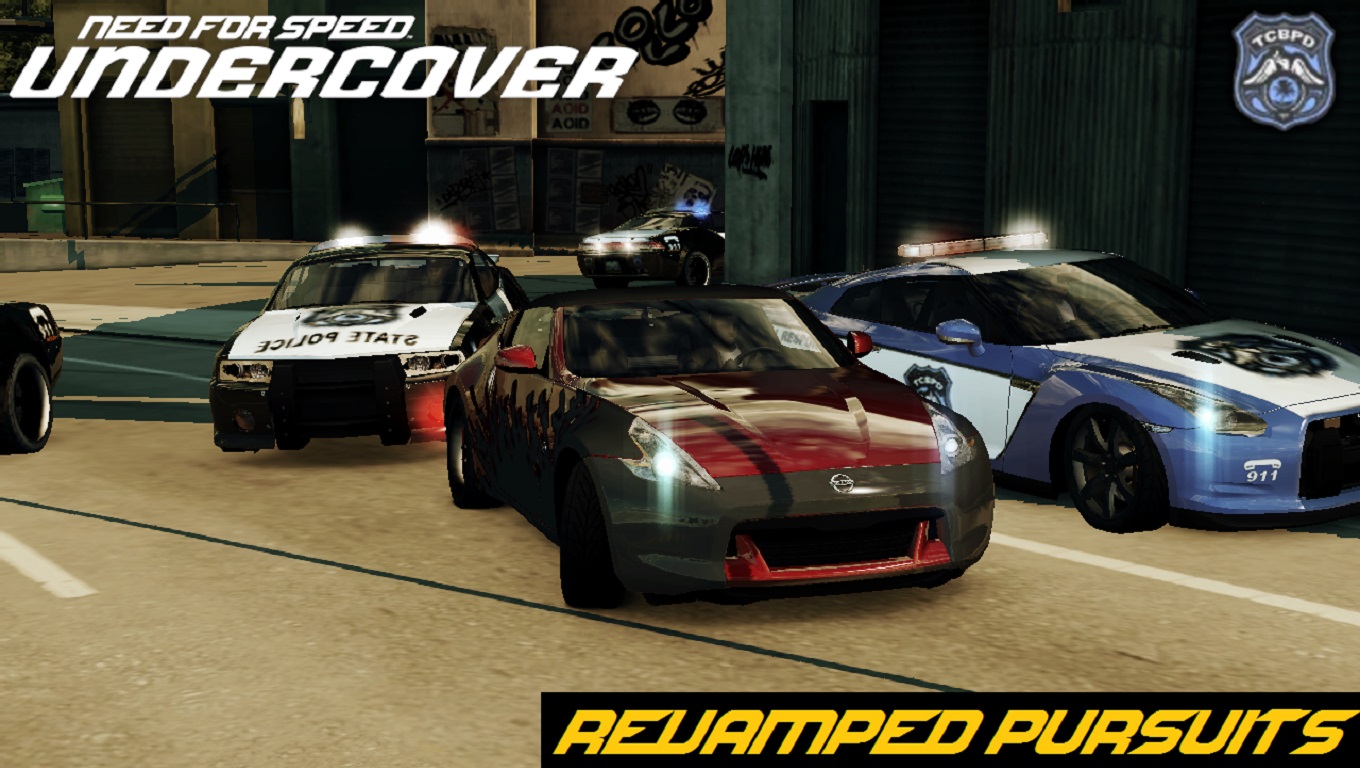 ---
Let's admit it. Cops in Undercover, even in higher heat levels, are pretty much a joke as they can be easily be evaded in matter of seconds. They're even worse than the vanilla cops of MW/Carbon in lower heat levels, so I decided to create this mod. It aims to enhance its pursuit system vastly in Free Roam, Job missions, some Racing Events and Cop Events. Difficulty is increased as you gain wheelman and heat level throughout the story so take note of that.

You can install Wurf's Pursuit Events Overhaul if you find them too hard to complete.

As of v1.2.5, the mod script will be split into 2 according to handling:

Racer Performance- vehicle performance swap implemented in the main script. You can read more on the changelog below on which cars are swapped.

Cop Performance- default handling and performance for the cops.

If you wish to switch between them, you can do so by simply Uninstalling the mod within its script and installing the other one.

I advise backing up your GLOBAL folder before installing this, despite this mod having an uninstall option on the script.

Features:

Faster response time upon starting a pursuit.

Aggressive A.I., especially in higher heat levels.

Longer fuel time for Air Support and longer duration of cooldown.

Pursuits will last much longer than usual before the cops call it off.

Modified spawnrates.

Increased cop patrols in the city.

Frequency of roadblocks and Spike strips increased
and more!


Heat Levels: (Free Roam)
Note: The game depends highly on Wheelman level so expect each of them to be the max as you progress through the story.

1: Civic Cruisers.
2: Muscle Cruisers assisted by Civic Cruisers.
3: GTR Units and Air Support assisted by Muscle Cruisers
4: 911s, SUVs and Air Support
5: 911s, GTRs, SUVs and Air Support

Vlted 4.6 is required for installing the mod.
Mod tested in Retail Version of the game, patch v1.0.1.18.

Known bugs:

In races, the amount of cops will be reduced due to game limitations.


Changelog:
1.3:
- Improved Box-in tactics of cops, even at low heat levels.
- They will no longer disperse when cornering you.
- Tops speed of cop cars adjusted
- Increased costs per infraction (higher than MW)

1.2.5
- Main script split into two versions; Racer Performance and Cop Performance.
- No other additional changes for the script itself. Still uses the same values as previous updates

1.2.2
- Tweaks to their top speed.
- Fixes made for the vehicle swap performance. (Thanks JackJohnson for letting me know)
Note: Ignore the errors when updating the mod from 1.2 to v1.2.2. Also compatible for users still at v1.1

1.2
- Adjustments made to their reaction times.
- Backup timer reduced in heat level 5, also applied in exclusive heat levels i.e. Cop missions.
- Minor tweaks to their support values.
- Swapped their performance values with ones from racer cars: (Credits to JackJohnson)
Civic Cruiser: Shelby GT500

Muscle Cruiser: Shelby GT500KR

GTR Cruisers: Nissan GT-R R35(Racer Version)

Porsche 911 Units: Carrera GT

Rhino SUV: Corvette Z06

1.1
- Merged the install and uninstall script for the mod into one.
- Minor fixes to some areas of the pursuits.
- Roadblocks modified during cooldown mode.
- Changes made to the support values.

1.0
- Initial Release
- Readme included.

Screenshots:



Credits:
nfsu360 for Vlted
Neon and ElectroShark1999 for testing and feedback.
Legsolo for the useful suggestions and insights.
JackJohnson for the performance swap for cop vehicles.

Video demonstration by ElectroShark1999 (v1.0). Watch it here

Other mods in screenshot:
- Prologue 370Z as Starter Car by Kai.
- Improved Pinkslips by Boxout.
- TCPD REFRESH by Darth Ditto

If you experience any issues with the mod, message me here or find me thru Discord and DM me there. Splash45#7455
---
Comments
---
JackJohnson (July 21, 2020 @ 03:47)
This mod makes the game pretty intense than it was before, Good One.
JackJohnson (June 29, 2020 @ 11:30)
@splash45 Thanks for look into my mod, by the way, to have helicopter and roadblock on race, you need to enabled pursuitrace on each cop enabled events(by game default) and need to modified the threat level minimum and maximum by decimal number(0-9 instead of 1-10).
It's tricky. But It will work as i tested by myself. Proof in the screenshots of my mod(outrun,checkpoint, and even highway battle). I Will allow you to look my code in /nfsms/events.nfsms. You can inspect it from there.
Johnlong (June 16, 2020 @ 23:07)
I Wait This Day So Long