Ultra+ Graphics [DISCONTINUED]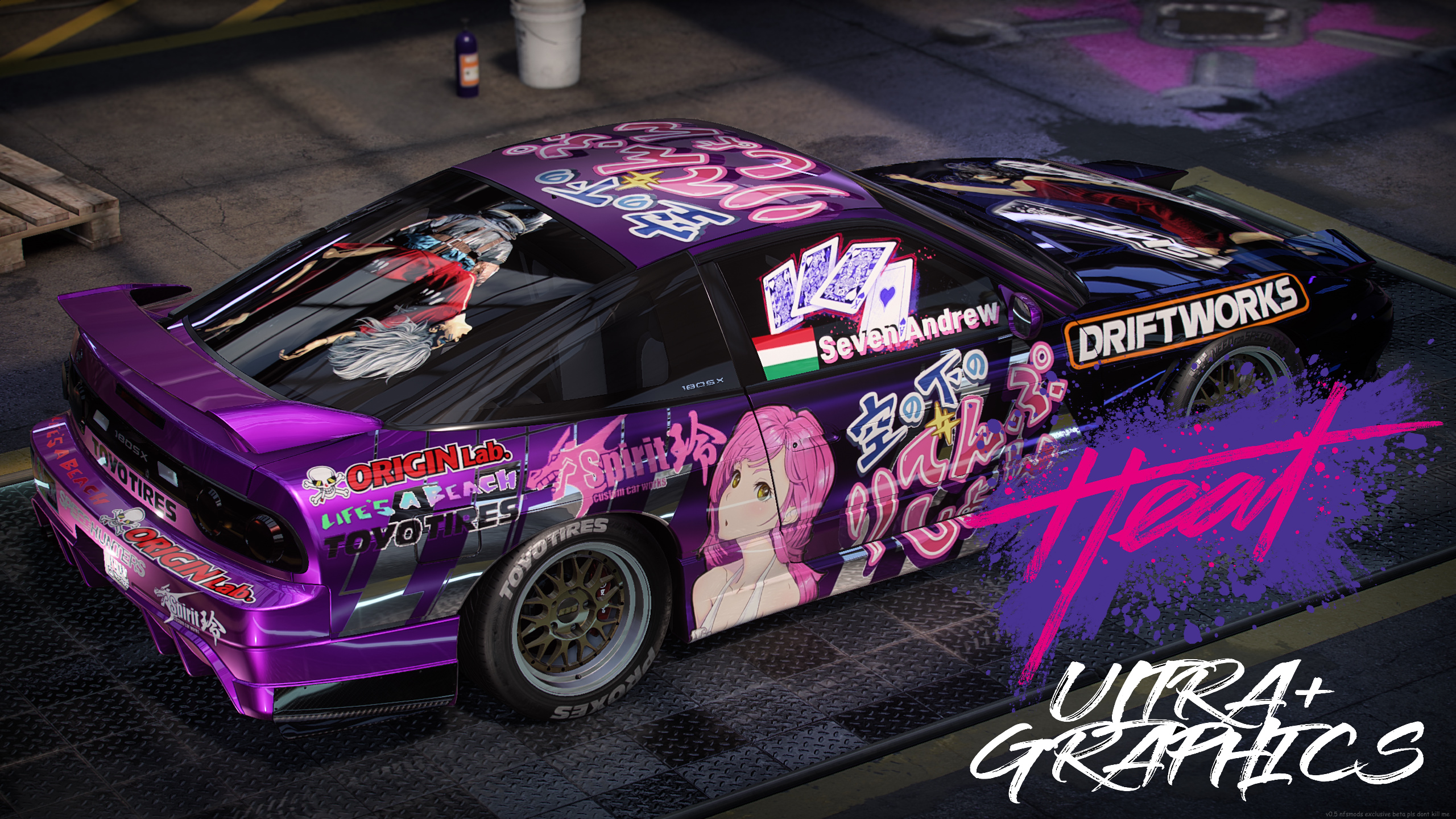 ---
Quick edit #2 as of 02/02/2022: This mod shall remain unfinished as Konix_PY did a much better and actually finished version of what this mod originally aimed to be. I recommend downloading his mod instead. I will keep mine up for the 4096x Wraps only.
Quick edit as of 10/27/2021: I've been getting messages if this mod is abandoned because I never updated it. Y'all are right, I never did, because uni doesn't allow me to, nor do my ongoing mental health issues. That being said, the mod is not "abandoned", I do have plans of updating it, LATER.

NFS

Heat

- Ultra+ Graphics v0.5 BETA
By

7

n

d

r

e

w



Trailer: trailer link here when 1.0 is out

Changelog:

Requirements:
a preferably legitimate copy of NFS Heat

Frosty Mod Manager 1.0.5.10 (05092021) - minimum version


Usage guide:
Open Frosty Mod Manager (not the Editor!)

If you have not yet created a profile for NFS Heat, click on "Scan for games" and click on NFS Heat once it's finished

If that doesn't work, click on "New", locate NFS Heat's ".exe" file and open it



If it tells you that the SDK is outdated, follow the on-screen instructions

If it asks you for the encryption key: https://pastebin.com/VTejKgiN

Click "Import Mod(s)" and select the ".fbmod" files

You can also drag and drop these files on FMM's window



Click "Launch", and the game should launch with the applied mods


Contains:
-4096 WRAPS

This mod increases the resolution of all wraps in the game by 4 times - from 2048x2048 to 4096x4096.




-DYNAMIC SHADOWS

This mod re-enables dynamic shadows cast by most streetlights and other light sources.

Note: I am aware that there are still some lights which don't cast shadows. I plan to improve upon this in a future update, but for now, this will do.


Future plans:
-SSR IMPROVEMENTS

-DYNAMIC SHADOWS V2

-8192X WRAPS

-PCSS SHADOWS AND INCREASED RESOLUTION

-2X/4X LOD DISTANCE


Frosty Toolsuite Discord server: discord.gg/nrq7G5Q

Report bugs on my blog: blogpost here when 1.0 is out

Want to contribute? There's still plenty of room for improvements in Heat's graphics!
If you are interested, contact me on Discord: 7ndrew#3232



---
Comments
---
Uploaded at: August 19, 2021 @ 20:53