Pro Handling Overhaul Package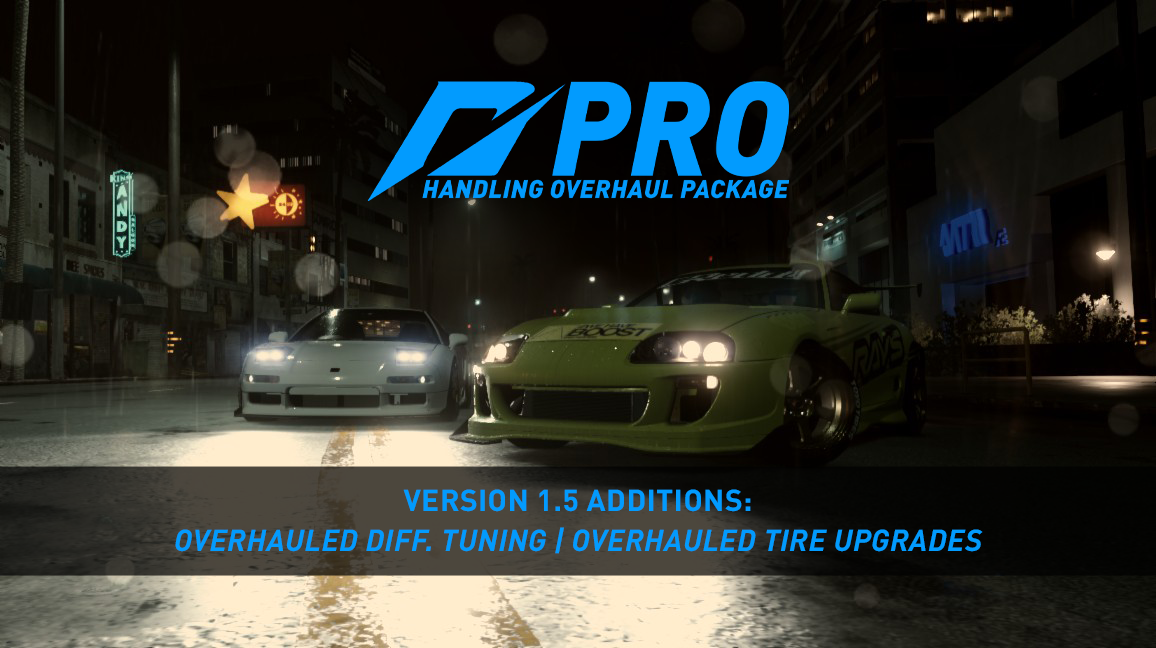 ---

The Pro Handling Overhaul Package includes 9 mods that improves the default NFS16 physics by removing artificial attributes. The end result is a fun, predictable, glitch free handling model, that brings out the best of the original physics designed by Ghost.

Update 1.5 overhauls differential tuning & tire upgrades. Again noticeable improvement to handling. Have fun!
**[Reinstall tire upgrade, differential & reset your tune so that previous values don't interfere]**

How to install & use:
1. Download Frosty Mod Manager
2. Download the mod
3. Extract the zip files
4. Open Frosty mod manager > Select NFS16 > Click on import Mod(s) & import the .fbmod files from the downloaded mod zip > Select all Mods > Click Apply Mod(s)
5. Make sure all the mods are ticked in the Applied Mods section > Click Launch Game from Frosty Mod Manager

**[Requires Frosty 1.0.6.0 Alpha 2 or above]**

Bugs/Quirks:
1. By default, newly purchased cars will have shortest gear ratio & Lowest Torque. Tune your cars before heading out.
2. To enable manual gears, put slider all the way to the right (on) (all other 10 options on the left are same=automatic)
Report bugs on the comment.

Mods in the package:
1. [CORE] NFS16_No Assists + Extended Tuning
Removes Brake to Drift Activation
Removes Stability Control (Drift Stability Assist)
Removes Performance Modifier Assists
Adds Gear Ratio Tuning
Adds Torque Tuning
[Set manual gear slider all the way to the right to activate manual gears]

2. [ESSENTIAL] NFS16_Updated Drift Config
Fixes auto-steer/steering lag on some cars. Improves Scandinavian flick.

3. [IMPROVEMENT] NFS16_Crash Sequence Remove
Removes crash cam sequence.

4. [IMPROVEMENT] NFS16_Zero Tumble
Removes artificial tumble. Makes crashes more realistic. May reduce crash.

5. [IMPROVEMENT] NFS16_Remove Crashing Rules
Removes racer crashing rules & health profile. Might reduce crashing. Requires Testing.

6. [IMPROVEMENT] NFS16_Default Assists Config Remove
Removes default ESC & TCS Config. May improve handling. Not as noticeable. Requires Testing.

7. [IMPROVEMENT] NFS16_Traffic Collision Update
Updates traffic collision to be same as player/racer.

8. [ESSENTIAL] NFS16_Overhauled Differential Tuning
Overhauled differential tuning to actually tune differential settings.

9. [ESSENTIAL] NFS16_Overhauled Tire Upgrades
Overhauled tire upgrades to actually tune grip level, instead of just drift angle.

[Update 1.1]
Added Update to Crash Component - Disables Crash Cam
[Update 1.2]
Optimization - Removes unnecessary changes
[Update 1.3]
Adds - [Beta] Delete Default Assists Config - deleting ABS, ESC, TCS configs that all cars use. This effectively disables them. Not sure if it changes the handling in any noticeable manner. Included as optional for peace of mind.
[Update 1.4] - Major
Remade all mods.
Removed performance modifier assists
Improvements to drift config - Reduces/fixes auto-steer/steering lag on some cars, improves Scandinavian flick
Improvement to remove crash sequence
Updated default assists config remove
Updated crashing rules remove
Added traffic collision update
[Update 1.5]
Nerfed Torque Tuning
Added - Overhauled Differential Tuning: Now it actually tunes differential values
Added - Overhauled Tire Tuning: Now it adjusts tire grip levels too

*Requires Frosty Mod Manager 1.0.6.0 Alpha 2 or above.





---
Comments
---
No comments, be the first one to leave a comment!