Need for Speed: Hot Pursuit Challenges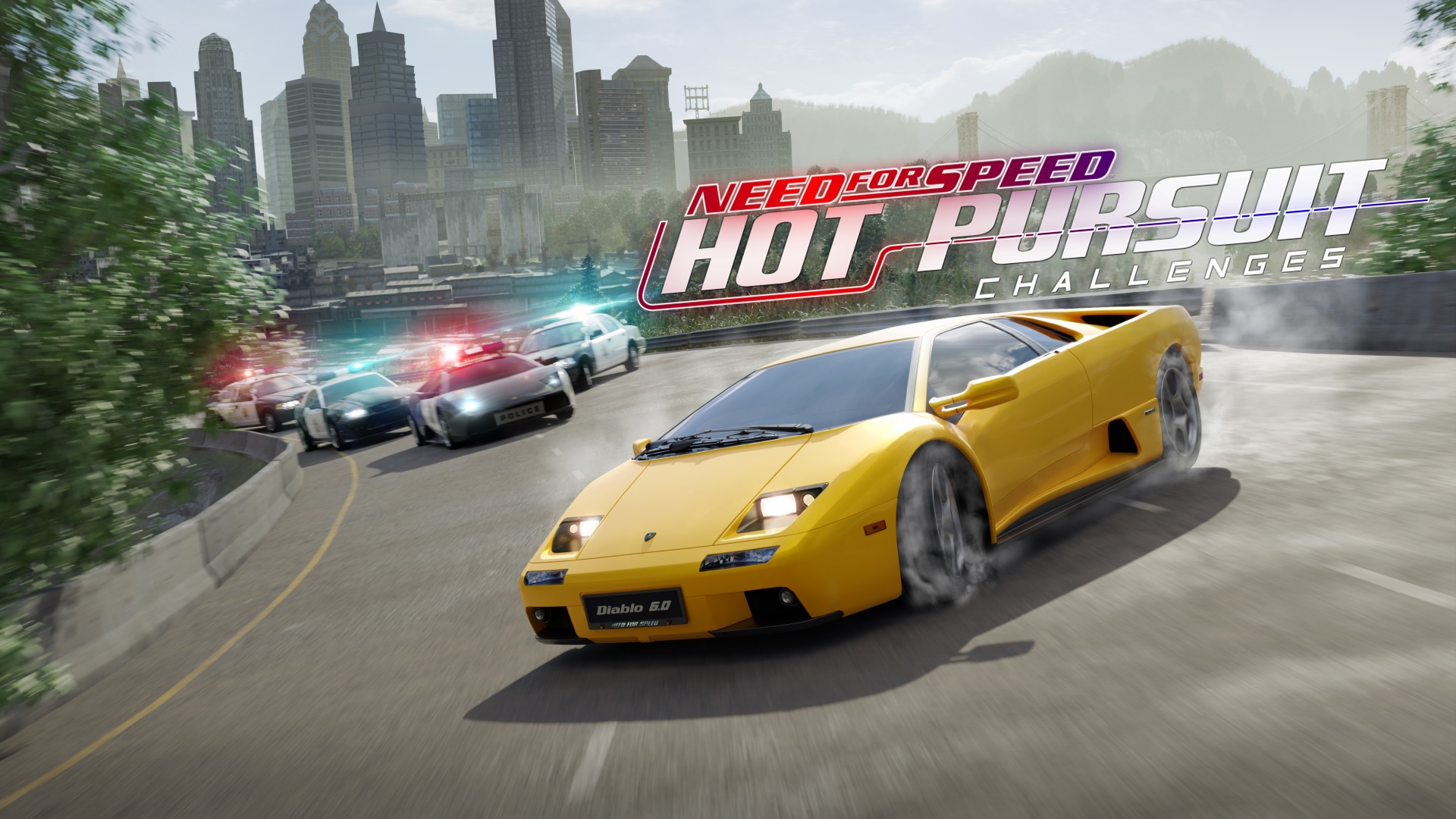 ---
NEED FOR SPEED: HOT PURSUIT CHALLENGES
---


Rule Urban Tropics and Win The Grand Race

Get your expensive car ready and go race in the new sun-shiny Rockport, full of palm trees and dangerous cops.
You will get 50 new races, which will be completely new in the game! Game modes such as: Circuit, Sprint, Lap Knockout, Time Trial, Pursuit challenges.
Lots of races lets you choose how you want to roll. But be careful and don't crash your wheels!
Earn enough reputation to get into greatest global race against best racers in the town.


Find out more at:




====================
==== Requirements ====
====================

You'll need original NFS Most Wanted (2005) (v1.3, English US version) with no mods installed to run HPC!
Overall HPC requires a little more than what was needed to run original NFS MW (2005), but it does depend on what kind of setup you have. If you had problems running original game, it's going to get even more complicated with the mod. If you had no problems before, HPC is unlikely to cause any.

! Important note !
Due to Google and Microsoft not knowing about HPC and its files, they will flag it as possibly unsafe (NOT malware, but UNSAFE). That happens because those files (which include installer) are obscure to them, and they want to give a warning before you may continue.
HPC is never intended to be in any way a harmful software or even a malware, it is only a mod for a game. So you can trust it. If you think otherwise - that's understandable. No one forces you to continue, and you may refuse from this project if you feel like it.




==================================
======= Installation & First start =======
==================================

Note, you can see same installation process, but with demonstrations: https://sites.google.com/view/hot-pursuit-challenges/download

1. Run "Hot Pursuit Challenges - Setup.exe"
2. It's likely going to cause Windows once again warn you about obscurity and possible unsafety of the program. To continue, click on "More info", then on button bellow "Run anyway"
3. On each stage of installation it's recommended to read all the text before doing anything. Every stage is described in the way that you can easily understand what it's about and what you need to do
4. After you're done with installation, you can start launcher, where you can configure several game settings and start the game itself
5. To start the game click on "Play" button (It will take a time to start! About 5 minutes with high quality textures)
6. Create a new profile (MW05 ones won't work properly!)

That's it, enjoy!



===============
=== Support ===
===============

Q: My game doesn't launch through launcher!
A: That's sad, you'd have to launch game manually. Go into "game folder\TexMod" folder, launch "TexMod.exe" file, select your game executable "game folder\speed.exe", then select your retexture "game folder\TexMod\HPC_WorldRetexture.tpf", and then launch game.

If you still have issues with installation and launch of the game - consider joining discord server to ask question in public chat, where people can try to help you!


Important note: You may be denied support if it turns out that you didn't follow installation & first start instructions, and requirements of the mod.


======================
===== Current issues =====
======================


When starting any pursuit challenge, which is available at the start of the stage - introduction cutscene won't play

Some races have outro cutscenes, which unfortunately can't be natively played (current solution is to play them in seperate emtpy races)

Some cars 'lift themselves up a little bit' when they're enough away from you

Some races should have specific weather & time of day conditions, but currently that doesn't work

Some special cars such as NFS editions should have special gauges, but currently that doesn't work





===============
==== Credits ====
===============

- Vehicle work:
elaymm4
Alex Ka.
Miner
Red_Fire
Lexal
YochiThMaster333
GRIXAN99

- Game world retexture:
elaymm4
Alex Ka.
(Banner contest)
Ariso
r033
SRK

- Gameplay:
elaymm4
D4emon712
Edelgaspirat
TrackmaniaMatt
(Race tracks from contests as basis for some of the races)
P3rs0n4l1ty
SS 30th Thinking Division
RaTT
Nekkit
(next are: none of the work is featured in project, but contribution was here)
Cafy Legend
David
Goku
Ivan_Byckov
JustAnyone
Kryspa7
Patas De Pavo
quick
Red_Fire
Zyr3x (VectorX)
Unknown participant of contest

- Event description corrections:
SpeedyHeart
Pottis
Aero_
Shoori

- User Interface & HUD:
elaymm4
Xanvier (Xan1242)
LunicAura106

- Music:
Delta B
TMCharly
(next are: none of the work is featured in project, but contribution was here)
dezzert
Dz3n

- Other:
ThunderTHR (Voiceover)
darudnik (Initial render for keyart)
nlgzrgn (Special .asi script)
ASC (Main Menu new place)

- Everything else made specifically for the project:
elaymm4



==============
=== Thanks ===
==============

- Vehicle work:
SLZ Roadstar (Police vehicles)
Eclipse 72rus (Original BMW M5 E39 model + Ferrari F2004)
Robin'7t4 (Ford Model A)
Typhoons (Opel Speedster turbo 2.0L (2004))
Ark-X Stylizer (Chevrolet Corvette Z06 (C5); Mustang SVT Cobra R)
Gamer boy (Mercedez-Benz CLK GTR AMG (1998))
Dark Ritual (Original Dodge Viper GTS ACR (1999) model)
Miner (Fixed cop brakes models; Beta MW05 Helicopter)
379Felipe (Trailer support for some traffic cars)

- Game world retexture:
FDen (Modern Rockport v1.0 materials)
AMTxDRxRL (NFS UG1 Redux materials)
Heico (Vanilla world textures fixes)
Craigums (General help)

- Visuals & PostFX:
Aero_ (HD Reflections, Restored sunset shadows)
crosire (ReShade)
Xanvier (Xan1242) (NFS ReShade fork)
ThirteenAG (Xbox Rain Droplets)
PAIN (Initial spark texture)

- Gameplay:
nlgzrgn (Extra Options, Race Fixes, Unlimiter)
flomaster (Help with creating races, Rotation formula)
GrimMaple (MWFixes)

- User Interface & HUD:
LunicAura106 (Upscaled UI mod)
Aero_ (HUD Resizer, HD Content Support, X360 Buttons, PS3 Buttons)
nlgzrgn (HUD Adapter)
ThirteenAG (Widescreen Fix)

- Modding tools:
nfsu360 (NFS-VltEd, NFS-TexEd, NFS-Hasher)
MaxHwoy (Binary)
MWInside (ReCompiler)
berkay (RockportEd)
r033 (icebreaker)
RS (TexMod)
nlgzrgn (SATEditor)
Xanvier (Xan1242) (SkipFE)

- Other:
BadassBaboon (Help with replacing game audio)
r033 (Help with barriers)
ZapSplat.com (SFX resources)
Xanvier (Xan1242) (NFS Music Player)
ThirteenAG (ASI Loader)
LexPest (Installer, Launcher)
NTCore (4GB Patch)
Artur Alekseev (TexMod Loader)
Julian Smart, Robert Roebling et al (wxWidgets)
pulzed (mINI)
(a lot of people) (NSIS)



This project is distributed free, and is not made to be in any way commercial. All rights for the original game, NFS Most Wanted (2005), are reserved to Electronic Arts.
---
Comments
---
SIDEK (November 16, 2021 @ 13:29)
This is probably the best mod in NFSMods at the moment
Hot pursuit challenges is not nfsmw, it is a completely different game. Amazing
Uploaded at: November 16, 2021 @ 12:27
---
Download