Livery for normal cars (UV Fix!)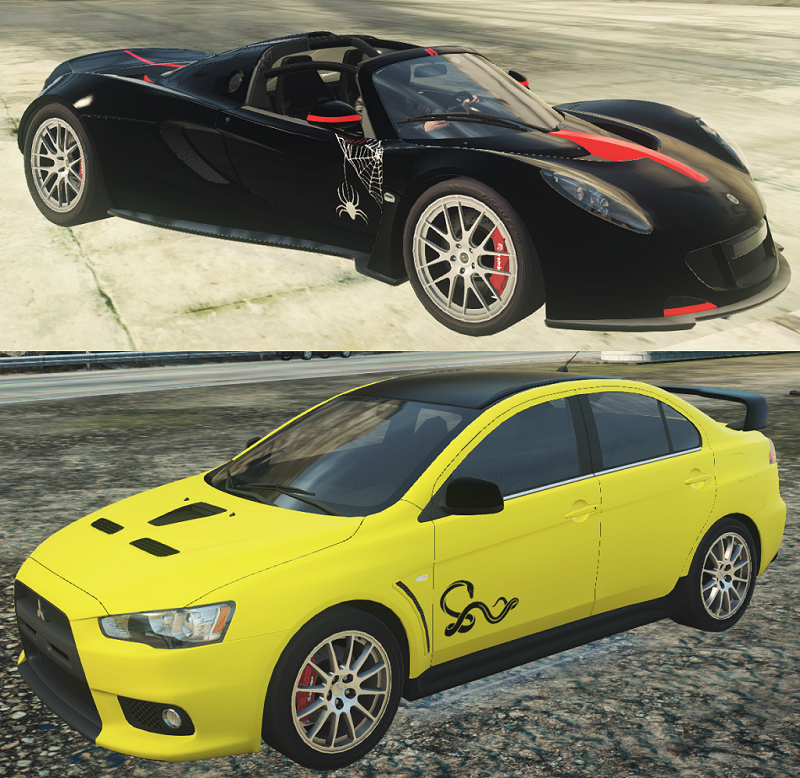 ---
(large file - external download link is in readme file)

I have found a way to make car UV maps useable, meaning liveries can be created on all cars.

Each car has a plain grey 2048x2048 livery texture for you to edit. UV templates included in zip.

Two versions:
V1 - Livery standard - car colours will not show and do not affect the livery in any way.
V2 - Livery with Body Paint - has FDPanther's Experimental 107 Car Colours Mod (https://nfsmods.xyz/mod/3685) applied and car colours can show through the livery if you include transparency. Metallic colours will affect its overall appearance. If you choose this option, the extra colours will only work in SP. You should install the LO BNDL/Vehiclelist BNDL/Gameplay BNDL from FDPanther's mod for MP use.

AVAILABLE CARS FOR NOW: (more to be added in future updates)
Aston Martin DBS
Aston Martin V12 Vantage
Audi A1
Audi R8
Audi RS3 (plus Powershot nitro dupe flame fixed) (NEW 16/11)
BMW 1M
BMW M3 E92
Chevrolet Corvette ZR1
Chevrolet Corvette Z06 Cop (HI and LO)
Dodge Charger RT (plus foglights enabled - standard livery only) (NEW 16/11)
Ford F150
Ford Fiesta (plus foglights enabled)
Ford Mustang (standard livery only. 107 Colours not available)
Hennessey Venom GT
Koenigsegg Agera
Lamborghini Aventador
Lamborghini Countach (plus foglights enabled)
Lamborghini Gallardo
Lexus LFA
Maserati GT MC Stradale
McLaren F1
McLaren MP412C (plus front bumper incorrect animation fix)
Mercedes SL65 AMG
Mercedes SLS AMG
Mitsubishi Evo (plus foglights enabled)
Nissan GTR Egoist
Porsche 911 Carrera S (plus DRL's enabled) (NEW 16/11)
Pagani Huayra
SRT Dodge Charger SRT8 (SlimJim)
SRT Viper GTS
Subaru Cosworth Impreza

HOW TO INSTALL:
1. Go to your game folder and open VEHICLES folder.
2. Make a backup copy of the car BNDL you want.
3. Copy the modded BNDL and overwrite.
4. Start game.

HOW TO CUSTOMISE:
1. Download NBTC and TexUnpacker
https://nfsmods.xyz/mod/229
2. Drag car BNDL file onto TexUnpacker
3. Open the folder that TexUnpacker created which contains the unpacked textures
4. Edit the grey livery texture. Save it as a DDS (DXT5) with MipMaps enabled.
5. Repack the BNDL with NBTC

You may freely release these models with your own design on it. That's the point!

HUGE THANK YOUS TO _mRally2 and FDPanther. Couldn't do this mod without their help. And yes I have permission to combine FDPanther's colours into this, in fact it was Panther's idea to do it xD

Note: These UV maps were salvaged from existing data in each car, straight from Criterion. They aren't perfect but they are useable. Some places may have minor texture stretching. If you find one particularly difficult to work with report it in the comments. I would have liked to to remap them from scratch but I don't have the time, patience or skill level.

---
Comments
---
Uploaded at: May 10, 2022 @ 15:17