Detailed Map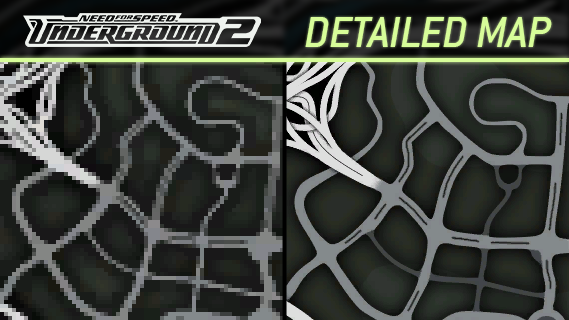 ---
This mod replaces the world map with an upscaled version (512px > 2048px) with added detail, like missing shortcuts and more. This includes all race and free roam maps used in the game. All maps also have a version featuring the beta tunnel, which can be restored with Redridesog's Beta Map mod.

Features:
- Separated highway ramps
- Highway dividers
- Accurate tunnel between Bayview and Beacon Hills


- Track maps accurate to the in-game courses


- Shortcuts and off-road sections marked in a different colour
- Missing shortcuts added
- One way shortcuts indicated with shading


- Beta map variation included


- Roads leading to the airport marked as a highway


- Unnecessary locations such as shops and parking lots are removed


- URL racetrack moved outside of the city


- Menu map zoom levels and offsets are fixed for various tracks


- Properly positioned Brad Lawless memorial



Installation:
1. Back up the TRACKS folder in your NFSU2 directory
2. Open "install.end" with Binary
3. Select the default or the beta map in the dropdown
4. Install and save files

Notes:
I did my best to improve and add detail to the map where possible. If there is anything I missed or if anything can be improved, let me know your suggestions and I will consider making an update.

Made using Vectorizer.io, Adobe Illustrator, and Photoshop.
---
Comments
---
Uploaded at: January 24, 2023 @ 20:16