Nissan 300ZX [Addon/Replacement]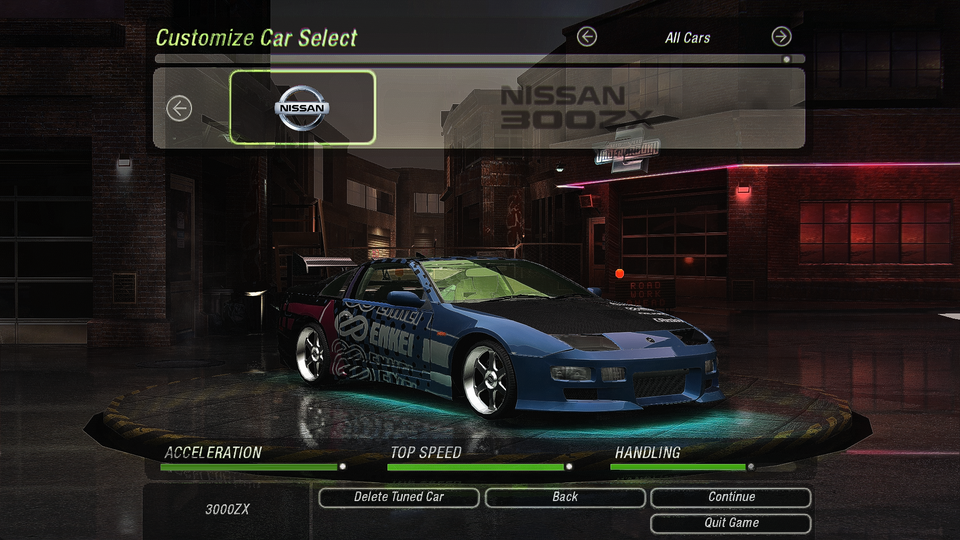 ---
Nissan 300ZX [Addon/Replacement]

Replacement Version replaces the 240SX.

Can be customized with:
𝗘𝘃𝗲𝗿𝘆𝘁𝗵𝗶𝗻𝗴

Some screenshots:




Bugs:
1. 0-100 value in dyno tuning shows a negative value for some reason for the addon version.
2. The rear window decals aren't linked to the trunk, which means they do not move along with the trunk if the trunk is opened.
3. The parts_animations of the split hoods are bugged.

Installation:
1. Make sure you have Car Sound Tuner and the latest version of NFSU2 Unlimiter installed.
2. Extract the desired version's (add-on or replacement) zip contents to a folder.
3. Use Binary v2.8.3 by MaxHwoy as administrator, click on "User Mode" (left big button) and open the Nissan 300ZX [Addon]/[Replacement] Installer.end file. Follow the on-screen instructions and save when prompted.
4. For addon version: create a new save game to use the car.

Used tools:
ZModeler 1.07b | Adobe Photoshop 2022 | NFS-CarToolkit | CV Injector | NFS-TexEd | Binary 2.8.3

Special Thanks to AJ_Lethal for teaching me modding.

Changelog:-
v1.0: First Release
v1.1: Added Split Hoods, Fixed exhaust positions on all kits, Revised part unlocks

DO NOT RE-UPLOAD IT ANYWHERE WITHOUT MY PERMISSION. IF YOU WISH TO INCLUDE THIS IN YOUR MODPACK, PLEASE DO CREDIT ME.
ALSO IF YOU ARE FURTHER INTERESTED TO MODIFY THIS CAR MODEL FOR MORE CUSTOMIZATIONS AND RE-UPLOAD IT, DM ME OR COMMENT ABOUT IT ON THE MOD TO LET ME KNOW. THANK YOU.








---
Comments
---
Antonio (March 17, 2023 @ 02:48)
You're of the few people who still do Replace versions 🥺
avail (March 16, 2023 @ 10:42)
Where have you converted this car from? credit where credit is due.
Uploaded at: March 15, 2023 @ 21:28