Fixed Taillight Textures Pack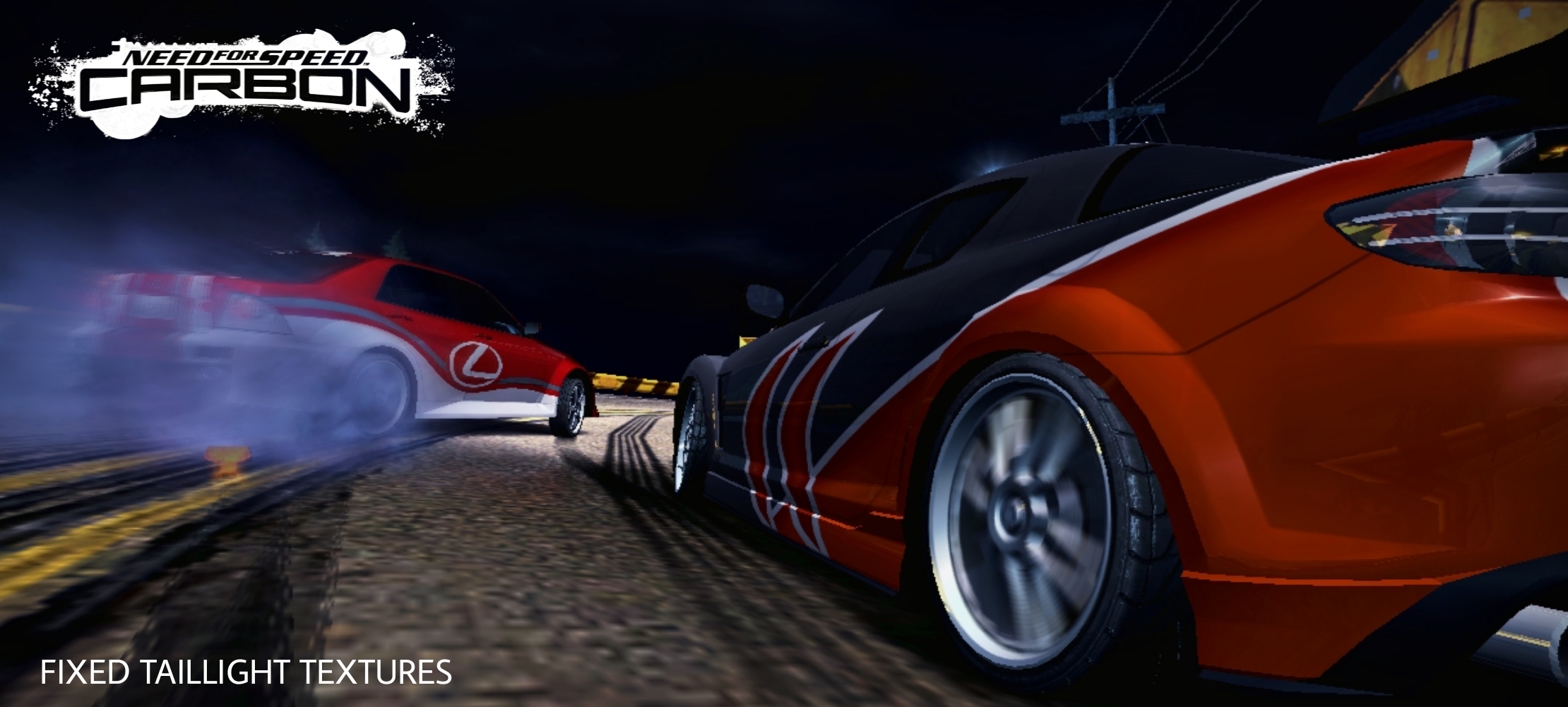 ---

This mod aims to improve a better experience in nfs carbon with changes and corrections in the texture of the taillights of a number of cars, which include:
(FYI: there's an "BETTER TAILLIGHT TEXTURES" folder included in your mod folder, that contains some updated textures for other cars)

1-Fixed BRAKELIGHT_ON Texture of BMW M3 GTR E46, the original one has weird and ugly black lines on top of the light when they're ON for braking.

2-Fixed BRAKELIGHT_ON Texture of Dodge Challenger Concept, which was previously used duplicated BRAKELIGHT_OFF texture instead.

3-Fixed both BRAKELIGHT_OFF and BRAKELIGHT_ON Textures of Lamborghini Gallardo, which was ridiculously used darkened BRAKELIGHT_ON Texture of Gallardo from NFSMW as the "LIGHT OFF" texture for this car before.

4-(Optional) Replaced both old BRAKELIGHT_OFF and BRAKELIGHT_ON Textures of Lamborghini Murcielago LP640-4 with new and accurate ones from NFSW (World), old ones has incorrect brakelight texture.

5-Fixed BRAKELIGHT_ON Texture of all Civic Cop variants.

6-Fixed HEADLIGHT_GLASS_ON Texture of FORD GT (because those fog light glasses are darkened and not visible for some reason)

7-Fixed BRAKELIGHT_GLASS_ON Texture and missing middle brakelight texture of Renault Sport CLIO V6

8-(Optional) NFSMW M3 GTR's both BRAKELIGHT_OFF and BRAKELIGHT_ON Textures but darkened like the original ones.

9- Fixed the Murcielago's BRAKELIGHT_ON Texture, which was incorrectly slightly darker than BRAKELIGHT_ON
(Optional) Fixed wrong and incorrect brake light position of Murcielago's BRAKELIGHT_ON Texture, now it's in right and correct position! the brake light was placed incorrectly in 4th light (from right to left) before, instead in 1st light (from left to right).

10-(Optional) Replaced both old taillight textures of ELISE (111R), the Lotus Elise in nfsc originally is the 111R "US-Spec" series but with incorrect early EU-Spec model taillights, now it uses new ones from NFSPS.

11- Fixed Nissan 350Z's missing middle (rear window) brake light texture in BRAKELIGHT_ON

12-(Optional) Replaced both old and "blured" BRAKELIGHT_ON and BRAKELIGHT_OFF Texture of Dodge Charger SRT-8 with newer and better ones from NFSW, all clean and better...

13-(Optional) Updated BRAKELIGHT_ON Texture of Chevrolet Camaro Concept with newer one from NFSPS.

14- Fixed Nissan 240SX's BRAKELIGHT_ON (center brake light) Texture.

and...

+Several cars has been "updated" and fixed with their BRAKELIGHT_ON and OFF_GLASS textures (see them in the "CARS" folder).

Installation is simple. before ruining your beautiful game without knowledge, please read the "README" for more instruction.

++Backup folder has been included!++

my recommendation is use the More770's ''Fixing Vehicles'' mod for better experience!

Give me credit if you want to use them in your mod pack...





























---
Comments
---
TheBadSina (October 19, 2023 @ 11:44)
@RestlessDreams91 ye
Hello
Just wanted to be sure - is your mo compatible with "Fixing Vehicles" and they works together?
Or i must choose one between two of them?
Thank you!