[NFS: MW] Twinsanity Car Pack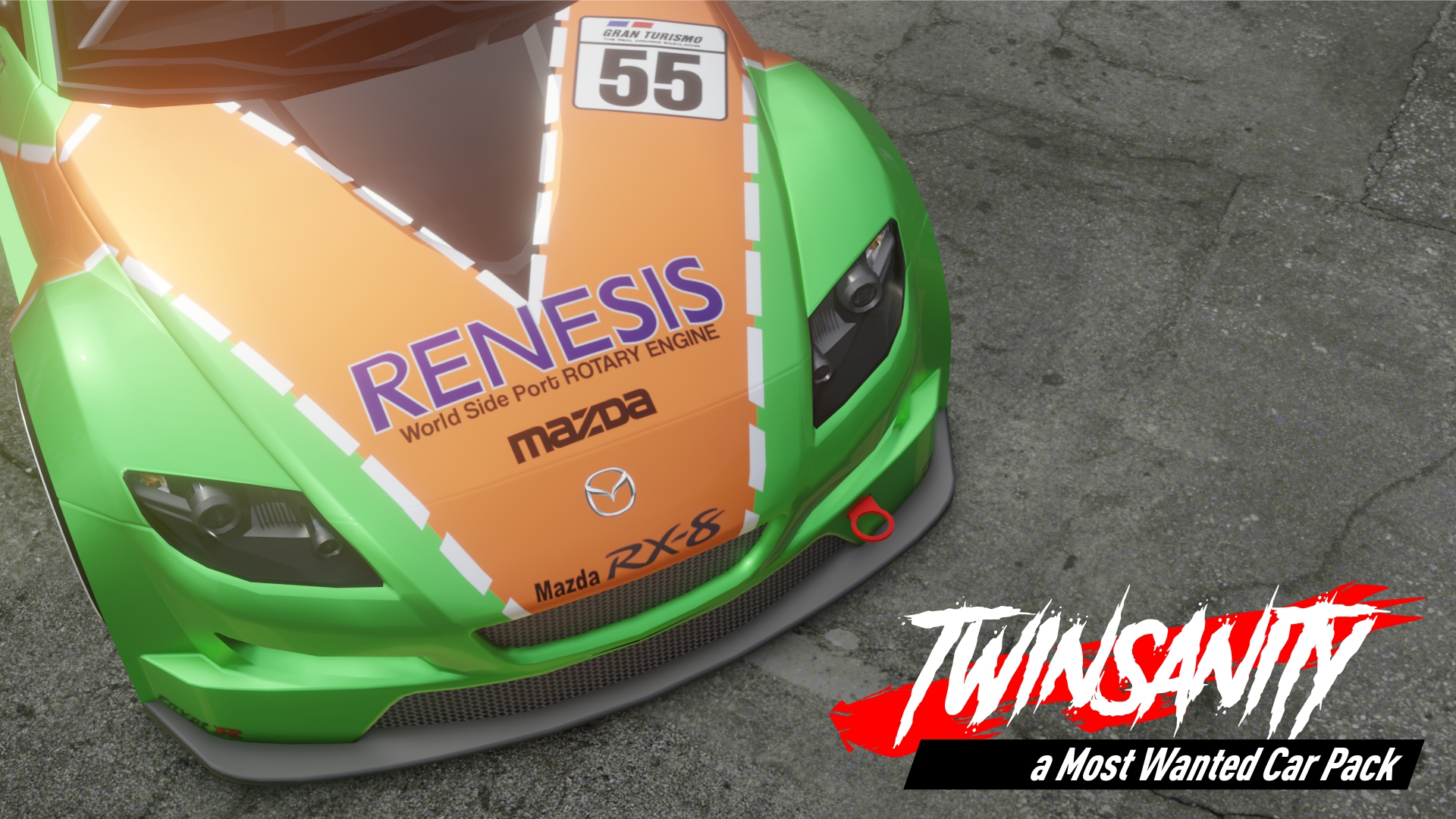 ---

Mazda RX-8 is a unique and distinctive sports car that garnered attention for its innovative design and high-revving rotary engine. It was the successor to the iconic RX-7 and stood out in the automotive world for its sleek, four-door coupe body style with rear-hinged "freestyle" doors, providing access to both the front and rear seats.

One of the most notable features of the RX-8 was its Wankel rotary engine, a compact and lightweight powerplant known for its smooth and high-revving characteristics. The RX-8 typically came equipped with a 1.3-liter rotary engine that produced around 232 horsepower, offering a thrilling driving experience with a distinctive engine note.

It's time for this beautiful machine to have an Extra Customization treament. Not only the regular RX-8, but also the cut Mazdaspeed RX-8!


Change Log
06-09-23: Released

07-09-23: Fixed corrupted mod file

07-09-23: Fixed conflicting strings for Bubblegum livery & minor script fix

08-09-23: I forgot the readme.txt lol

09-09-23: Fixed small things & update script

19-09-23: Fixed wrong exhaust marker placement on Genki kit

Bodykits: 31 kit (RX-8) & 30 kit (Mazdaspeed RX-8)

Spoilers: 29 custom spoiler (RX-8) & 28 custom spoiler (Mazdaspeed RX-8)

Hoods: 40 hood (RX-8) & 39 hood (Mazdaspeed RX-8)

Rims: 11 custom rim

Roofs: 5 custom roof

Brakelights: 6 custom brakelight

Headlights: 9 custom headlight

Attachment Slots
Slot 1: Driver Seat

Slot 2: Passenger Seat

Slot 3: Trunk

Slot 4: Vortex Generators

Slot 5: Rear Side Window

512x & 1024x vinyls

Full V4 Unlimiter support

Custom menu icon

38 custom livery

New performance data


To make sure you can experience this mod feature in fullest, Installing Unlimiter V4 is a must!
Tho, the installation is pretty straight forward

1. Open your Binary & select "User Mode"
2. Choose "Binary Data Install.end"
3. Select your MW folder
4. Choose the optional option
5. Save, but don't run your game yet
6. Open your Vlt-Ed and then import the "VLT Data Install.nfsms"
7. Choose the option & click install
8. Close the window & then save it


Q: Why there's some error popping up when isntalling the nfsms scrip?
A: If the error said "already exist", you can just ignore it ;)

Q: Modloader version when?
A: Never

Q: Why the archive is splitted?
A: I have a weak internet, so that's the only way for me to upload a "Big" file

Q: Can I use Ed & Binary car addon together?
A: You better install the Ed car mod manually using Binary

Q: Can I include this car to my modpack?
A: Yes

Desanosan24 and I tried to bring one of the cars from the "Race Nationality" comic called "Dream Killer" to Rockport. I handled the body kit, and Desanosan24 did the livery.




I know I recreate that on the wrong RX-8 gen. But yes, better than nothing xD...
You can read the comic here: Race Nationality

Here's a little back story of the Dream Killer

This Mazda RX-8 is called "The Dream Killer". It's based on the Mazda RX-8 R3. The engine was swapped with 13B with small modifications, producing 405 bhp with top speed around 180 mph, or around 300 kmh for normal measurement. The car is owned by "Ea", one of the character in the Race Nationality comic. Ea used this car to defeat all of his opponent in every races. This car has helped Ea gaining reputation and getting him famous around the higher class racer. The car was given the name Dream Killer because it's a lower class destroyer in every races, killing all the hopes and dreams of new racers.


RisaDriftR (Kit material and beta tester)

FlattoCatto (Kit material and beta tester)

CiPHER (Hoonigan livery, parts, kit idea, texture and beta tester)

Felixeur (Wheel fitment, dbmodelparts tweak and beta tester)

Valen2006 (New dbmodelparts & bug report)

KenjaMago (Performance data, livery and beta tester)

EllisRacing (NFSMW HD Car Model Overhaul part)

Valkyrie (Beelzebub itasha and Late-Night Cinderella livery material)

Zyphir (Drift handlig, livery and beta tester)

rnz (Unlimiter V4 info and beta tester)

nlgxzef (Unlimiter V4 info and beta tester)

Desanosan24 (R-Magic livery, Dream Killer livery, and beta tester)

Ameline Starkman (Import Tuner Challenge / Wangan Midnight PS3 livery material)

ANON (TXR stuff info)

ekomunthe48 (LoveLive livery material)

LunicAura (Blacklist graffiti)

elaymm4 (Blacklist graffiti)

Emosen (Liveries & juiced 2 kit video)

Ookami (RX-8 Z3RO 2K livery)

TMCharly (ProStreet sticker stuffs)

AttilaK (Livery)

Raffi Joe Amstrong (Dream Killer livery material)

KHN7 (Drift Spirits model)

nissanlover a.k.a Tarik (ITC Livery)

Frexellia (Beta teseer)

FLP (Beta tester)

THXAN_9 (Beta tester)

TORK98 (Beta tester)

Russl (Beta tester)

Zacc (Beta tester)

gamemodels.ru (RX-8 LM Concept GT PSP Model)

---
Comments
---
DALZER (September 08, 2023 @ 10:23)
Excellent job on that project