NFSC Unlimiter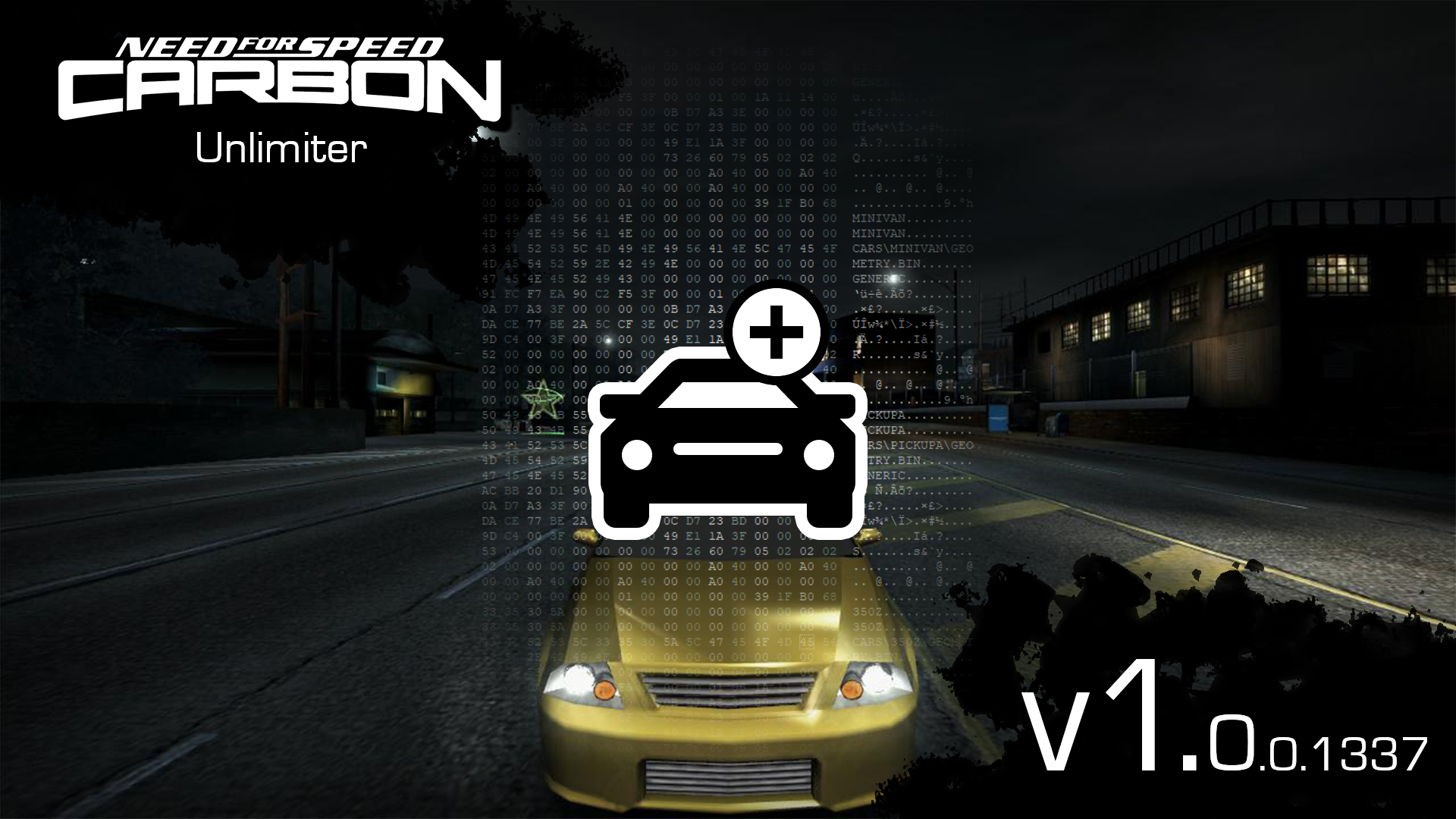 ---
NFS Carbon - Unlimiter
v1.0.0.1337

Source Code: https://github.com/nlgzrgn/NFSCUnlimiter/
------------------------------------------------------------------------------------------------------------
Description:

NFSC Unlimiter is a script mod which fixes some issues and makes some improvements for added cars.

Note:
NFSC Car Array Patch (https://nfsmods.xyz/mod/834) is an alternative of this, made by sparx.
Don't use both mods at the same time. Only use the one which works better for you.

Features:
+ Fixes visibility, missing parts, being unable to apply any vinyls and crash issues for added cars.
+ Fixes disappearing wheels issue.
+ Fixes online login crash fix for users with modded files. (Note: The user(s) you will play with should have installed the same mods.)
+ Fixes secondary logo issue for cars without manufacturer logo.
+ Allows users to use more than 10 cars in traffic patterns.
+ Can expand memory pools.

------------------------------------------------------------------------------------------------------------
Installation:

! Before installation, make sure you're using v1.4 NFSC.exe (6,88 MB (7.217.152 bytes)).
If not, just search "NFS Carbon NO DVD Crack UNLEASHED" on Google, Bing or any search engine you like.

Now you can install the Script. Just follow these steps:

1) Open the archive you downloaded
2) Extract "scripts" folder and "dinput8.dll" into your NFSC Installation Folder.

IMPORTANT: Delete any instances of Mod Loader (d3d9.dll, modloader.ini, etc.). This script isn't compatible with Mod Loader. Having both ModLoader and Unlimiter WILL cause issues.

------------------------------------------------------------------------------------------------------------
Changelog: (+ Addition, * Change, ! Attention, - Deletion)

v1.0.0.1337 (Build 1; Rev.00) :
+ Initial release.
------------------------------------------------------------------------------------------------------------
Credits:

Coded by:
- nlgzrgn



Thanks to:
- ArturoPlayerOne and 379Felipe for their successful attempts on adding cars.
- 379Felipe and Speedyheart for letting me know about the car limit in executable.
- Hex-Rays for IDA PRO.
- MWInside for Texture Compiler.
- Improvement Mod Team (379Felipe, GXP-10, Neon, sparx, SpeedyHeart and Xanvier) for testing and their great help.
- EA Black Box for accidentally adding symbols into NFSC Wii build.
------------------------------------------------------------------------------------------------------------

See ya!
©2019 nlgzrgn @ ExOpts Team - No rights reserved. ;)


Show More
---
Comments
---
Wolf (January 19, 2019 @ 19:37)
Can you make this unlimiter to not eat computer's ram memory it goes up to 2 gb in have only 4 gb and windows 10 eat half of them. The game crashes after 9 or 10 races even w/o traffic and 3 opponents.
Zieroar (December 31, 2018 @ 19:38)
I hope you do a Pro Street Unlimiter.
Slashur (December 30, 2018 @ 13:52)
How to add a new car, what should I do?
Uploaded at: December 29, 2018 @ 16:47