[NFSC] Extended Customization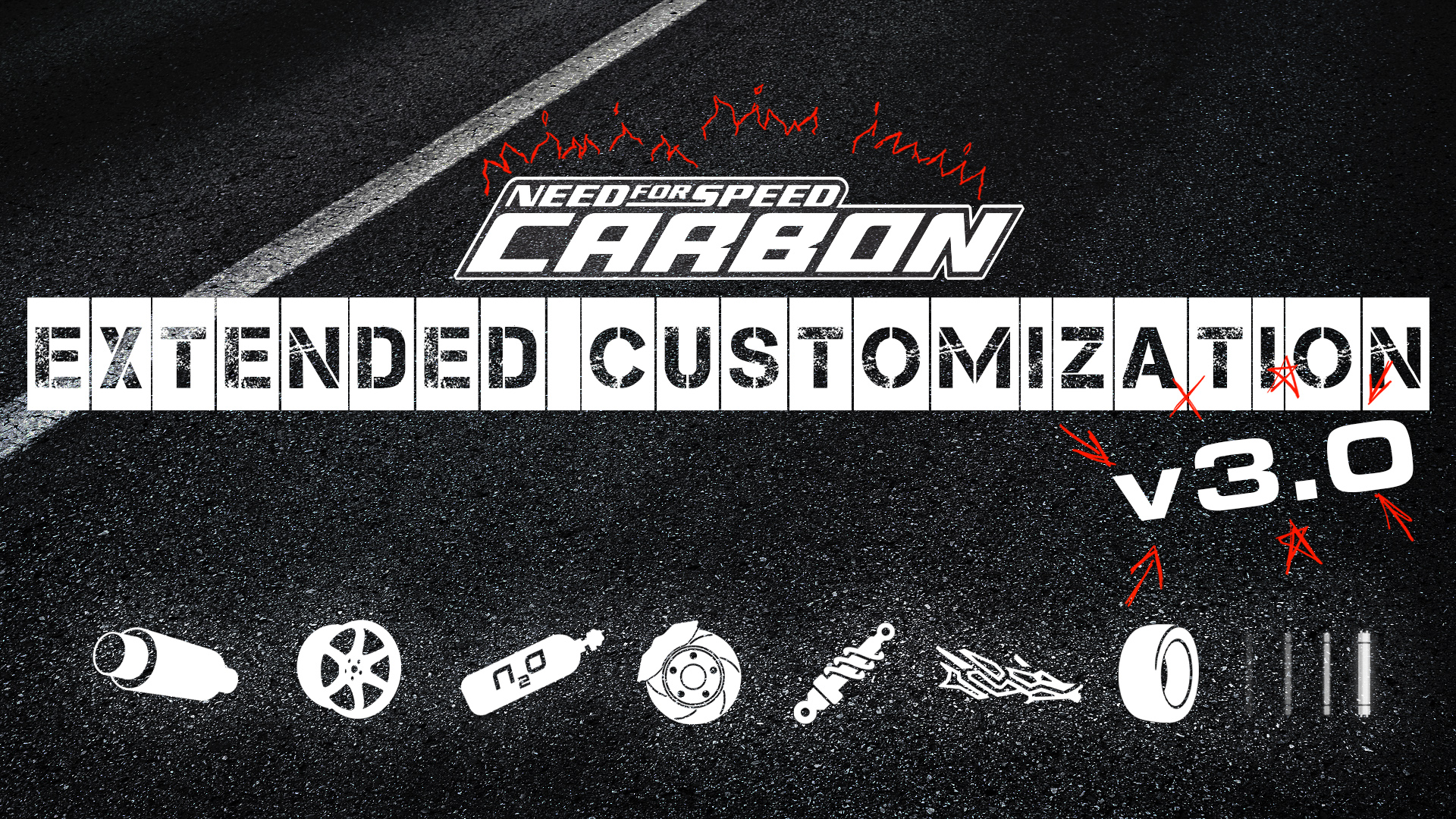 ---
NFS Carbon - Extended Customization

This mod aims to improve game's customization by providing more options and new ways to combine

Features:
- Neons
- Stance (including camber, track width and tire width)
- Animations
- Brakes & calipers
- License plates (now you can change text!)
- Generic Vinyls
- Rear wheels support
- More paints (wheels anr rims, calipers, hood and spoiler)
- All vinyls are mirrorable
- Decals are now properly mirrored
- Vinyls now move smother
- New exhaust models(with correct nos effects)
- Exhausts now shake in race mode
- Separate exhaust effect for NOS
- Brake disc glow
- Brakelight glow
- Wide body specific parts

Installation:
1. Install NFSC Unlimiter.
2. Run Binary in User mode and select install.end.
3. Import install.nfsms ModScript via VLTed.
4. Create a new Save Game.

If you'r game crashes when entering wheels menu, then you need to install the LATEST version of NFSC Unlimiter.

Distribution:
You are

NOT allowed

to distribute or reupload this mod.

For any questions and details on how to use - join my

Discord server

.

Thanks to nlgxzef, rx, MaxHwoy and Tekizyte for help.

Made by ARCHIE
Enjoy)

Update 3.0.2:
- Fixed wheel "shine" when stretched.
- Updated fix for caliper lighting.
- Added dual color neons.
- Custom brakes will now scale according to wheel radius.
- Added brightness slider for neons.
- Bots will now use more random parts.
- Added exhaust smoke effect.

Update 3.0.1:
- Fixed stock rims paint.
- Adjuisted ride height feature, now limit is removed only when bodykits has attribute.
- Reverted generic vinyls format.

---
Comments
---