Relentless Cops (MW)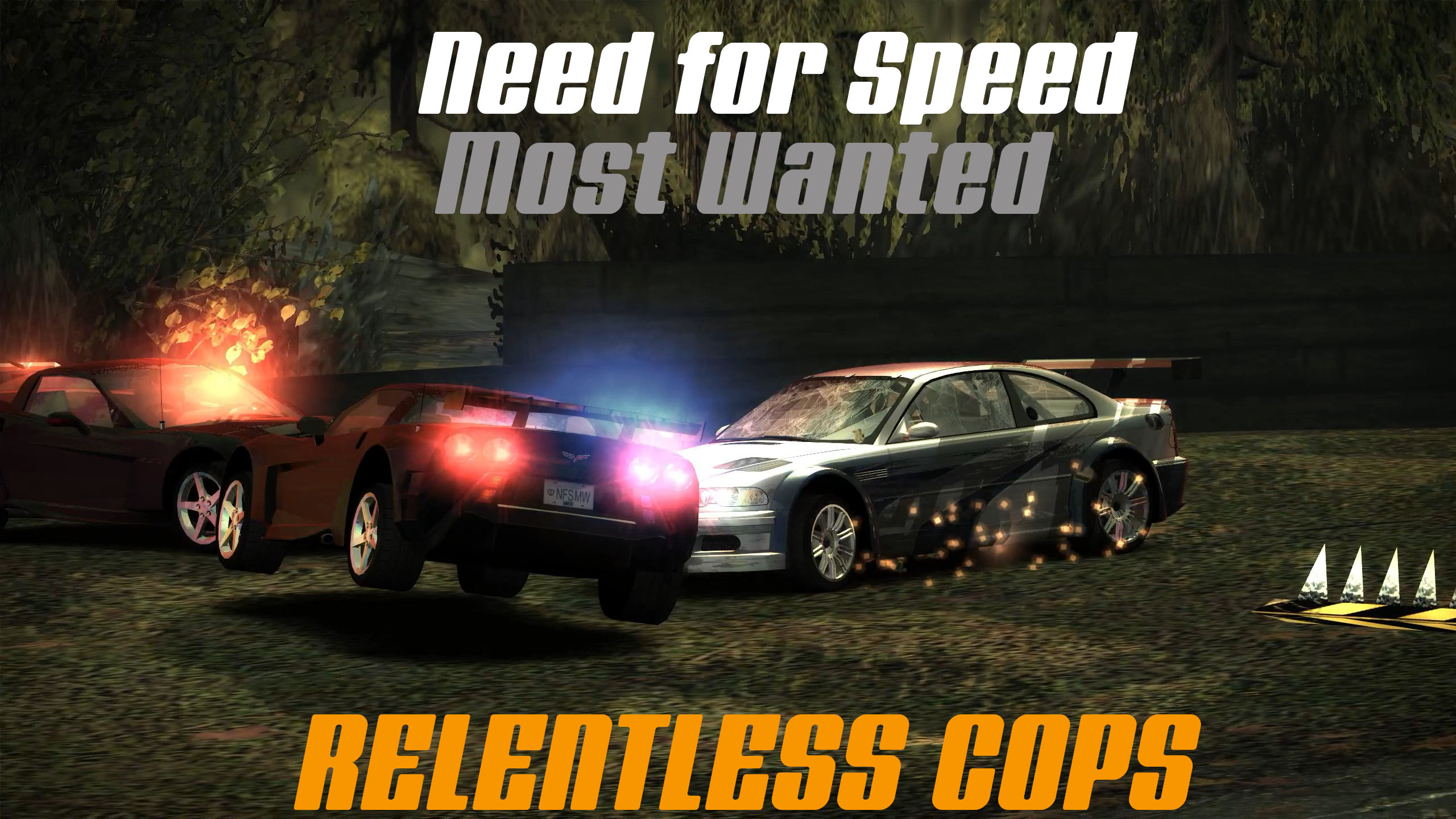 ---
Most wanted it's one of the beloved games by many people. Even though the cops were good at times, but it needs some more.

This is the Trailer

- The cops will call slower on low heat levels, faster on high heat levels
- Cross will appear earlier
- Cops will no longer fall back by modifying fullengagementradius
- Increase number of cops patrolling on the map in higher heat level
- New rap sheet record and Blacklist Requirements
- SUV Head-on Ram is spawn frequently on higher heat level
- Low heat level will do better on boxin you in
- *Version 2* Nerf the cops boxin and pitmanuver on lower threat level, along with the cops better at boxin you in now at higher threat level
- *Version 2* Changes to Roadblock Radius on search mode
- *Version 2* Removes the weight option in nfsms install script as it is not fun having that
- *Version 3* Removes the suspension choices, because it's not really interesting compare to undercover
- *Version 3* Added some of the units to unite together(Heavy SUV on heat 5, undercover and state patrol on heat 4)
- *Version 3* Modified accelerationmultiplier and MAX_AI_SPEED
- *Version 4* Modified collapseaggression for the cops able to make formations, ramming will be gone(aside from suv head-on ram, because that's different). It will be relentless only in other tactics and not ramming
- *Version 5* Added Support for Hot Pursuit Challenges(Easier difficulty are NOT supported, NFSMS Version only)

There is 2 version inside that:

- GLOBAL
- NFSMS Version

Steps for GLOBAL Version:

Copy the files from inside of GLOBAL Folder that you extracted and then copy to global folder in game directory

Steps for NFSMS Version:

1. Download latest version of VltED
2. Extract the archive
3. Open the NFS-VltED that you downloaded before
4. Click Open and pointed to NFSMW Directory
5. And then click file, hover over to import and click the "NFSMW_Relentless_Cops.nfsms" then install it

Build it on NFS-VltED 4.6/NFSMW 1.3 Black Edition

PROBLEMS:

- The body mesh of the car may go haywire when the weather is raining, No Chances other than try to remove WidescreenFixes.
- Higher chances of the game giving "Pure Function Virtual Call" Error and it exited out.
- May also had higher chances that the game is crashing(May not recommend to do challenge series with the mod due to unstability, you can try it out if you want, but don't RAGE it out).

IMPORTANT: To at least mitigate these crashes, you had to either choose Extra options or MWFixes by GrimMaple or install both.

Heat Levels:

1: Civic Cruiser(10 Backups, Backup Timer 120s, Cooldown 40s)
2: Civic Undercover cruiser and the regular(15 Backups, Backup Timer 100s, Cooldown 45s)
3: State Patrol,Cross(30 Backups, Backup Timer 90s, Cooldown 75s)
4: State Patrol and Undercover,Cross,Helicopter(35 Backups, Backup Timer 80s, Cooldown 90s)
5: Federal Unit,Heavy SUV,Cross,Helicopter(60 Backups, Backup Timer 60s, Cooldown 120s)
6: Federal Undercover,Heavy SUV,Cross,Helicopter(65 Backups, Backup Timer 60s, Cooldown 180s)
7: Heavy SUV,Cross,Helicopter(70 Backups, Backup Timer 60s, Cooldown 210s)
8: Federal Undercover and regular,Cross,Helicopter(75 Backups, Backup Timer 60s, Cooldown 240s)
9: State Undercover,Heavy SUV,Cross,Helicopter(80 Backups, Backup Timer 60s, Cooldown 270s)
10: Heavy SUV,Federal Undercover,Cross,Helicopter(100 Backups, Backup Timer 60s, Cooldown 300s)

Have fun street racing and beware of Cross.
---
Comments
---
Uploaded at: January 25, 2021 @ 14:40