Elongated Automobile Catalogue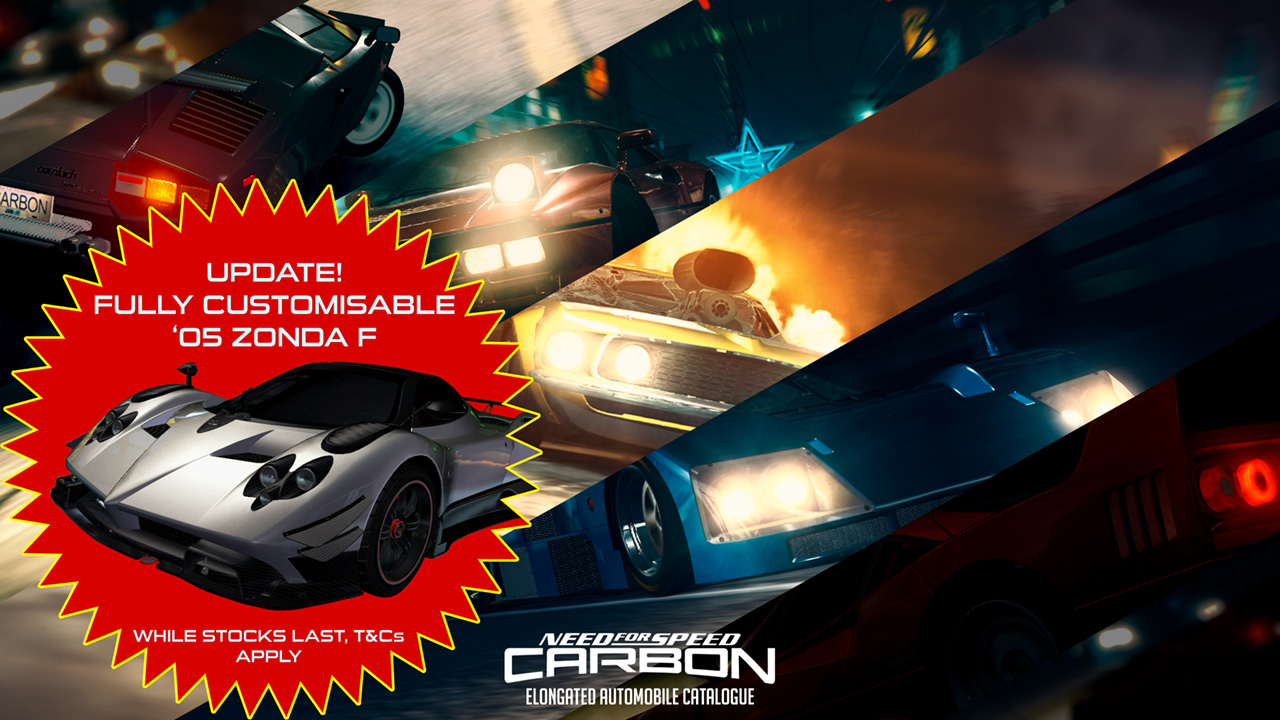 ---
Intro
---

Welcome to Elongated Automobile Catalogue, a set of standalone addons for Carbon, and an entity totally distinct from ECL and its ilk.
How it differs from its counterparts, is that you will never be forced to install cars you don't want or need, nor will the mod be figuratively closed-source and entirely incompatible with other releases, major or minor.
Ease of maintenance is the primary reason why all existing mods have been repackaged and submitted as a single pack.



Car list
---

- 2008 Bugatti Veyron 16.4
- 1991 Mazda 787B
- 1984 Ferrari 288 GTO
- 1985 Lamborghini Countach 5000 QV
- 1987 Ferrari F40 [DISCONTINUED]
- 1996 Nissan Skyline GTS-25t
- 2010 Ford Mustang RTR-X
- 2005 Ferrari FXX
- 1995 McLaren F1 GTR
- 1995 Lamborghini Diablo SV
- 2008 Koenigsegg CCXR Edition
- 2008 Lamborghini Reventon
- 1981 BMW M1 [E26] Procar
- 1969 Pontiac GTO "The Judge" * requires EC v2
- 1988 Ferrari F40 [remake] * requires EC v2
- 2005 Pagani Zonda F [update] * requires EC v2

Car selection may be expanded at any time and existing cars may be updated further.



Notable changes
---

- Binary and Vlted setups now include uninstall and reinstall options [Attribulator-compatible .nfsms scripts are coming soon™]
- all textures, including frontend logos, had their mipmaps removed
- some car parts were replaced or removed
- some cars received mesh fixes
- some textures were edited or replaced
- all cars were given fake emissive brakelights for better visuals
- most cars received shader tweaks
- some cars had their stats tweaked
- Diablo's SV vinyl is now a vector under the "stripe" category; check the car's readme for more information

For an exhaustive list of changes made betweem 10/11/2020 [last global hotfix] and now, refer to "pre-release changelog.txt".
Just like existing cars, new ones will have individual readmes containing general information, feature listing, notes and credits.



Install requirements
---

Carbon Unlimiter by nlgzrgn
Binary by MaxHwoy
Vlted 4.6 by smiley
Alternatively, if you know your way around Attribulator, get it HERE. Reameb wrote a user guide for the tool, which is available HERE

If a car has extra requirements, those will be noted next to it.

Once you have what's needed, download the mod archive, unpack it anywhere and follow the link inside "_EAC download.txt".
From there, pick a car, right click on its folder, select "download as ZIP", then unpack.



Quick instructions
---

- run Binary in user mode and import "binary_setup.end", save files when asked, don't run the game yet
- run Vlted, load NFSC database, Ctrl+I -> main -> "vlt_setup.nfsms" -> pick setup type -> click Install -> Ctrl+S, don't run the game yet
- if you're updating any of the existing cars, pick "Reinstall" as setup types and go through the frontend node cleanup afterwards, otherwise ignore this step
- cars are no longer unlocked from the start so either use Extra Options' "Unlock All" cheat or manually insert car unlocks through Vlted
- whatever you choose during setups, you will most likely need a new savegame

Detailed instructions are in the full readme.



Changelog
---


["EAC changelog.txt" will have more details]

03/09/2021 - EAC v1 released
30/09/2021 - new car: GTO Judge; few vlt tweaks to existing cars
15/10/2021 - few mesh/texture/script/setup tweaks to existing cars
23/10/2021 - F40 remade, TDF version discontinued
09/02/2022 - optional brakelight visual update
27/02/2022 - Zonda F overhaul
---
Comments
---
Uploaded at: September 03, 2021 @ 11:49