[NFS: C] Toyota GR Yaris (GXPA16)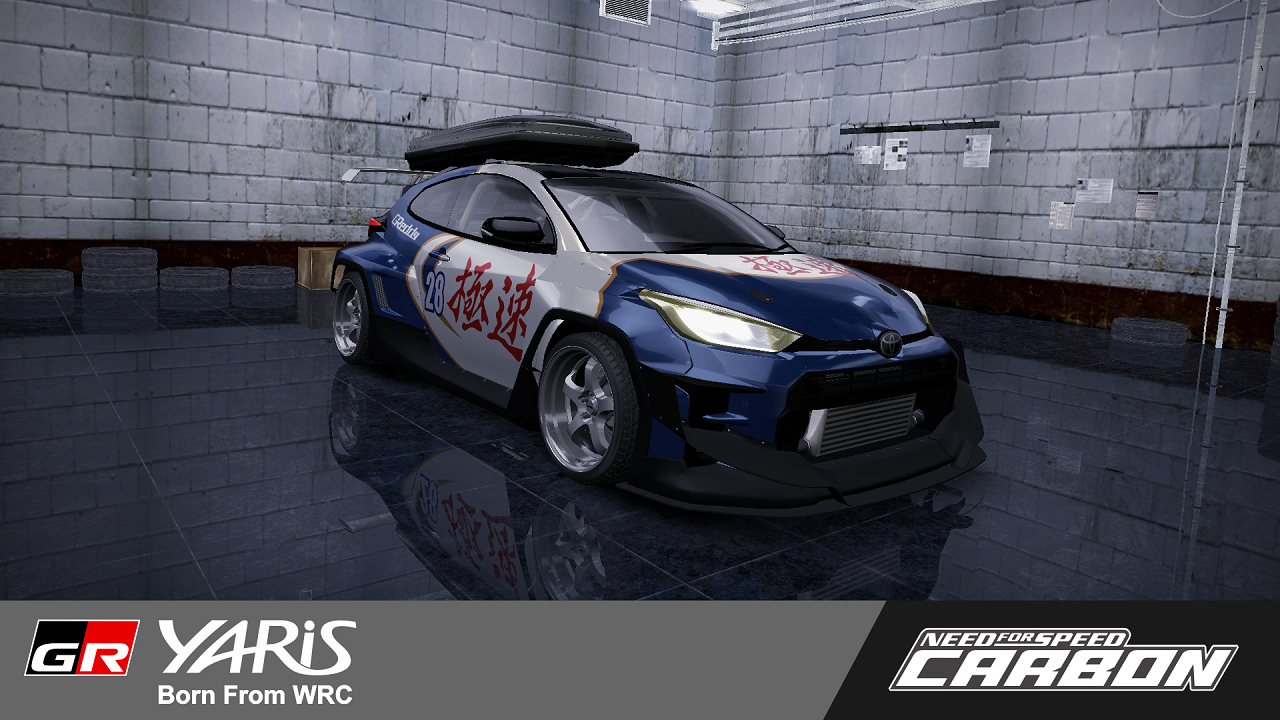 ---


Born From WRC

There is one thing that Toyota Gazoo Racing believes the most: Roads build people, and people build cars. It is certain that only from the most extreme, harsh, and challenging circumstances, the full potential of a car will appear.

That is why, Toyota Gazoo Racing's finest creation, the GR Yaris, was born from the most strenuous, savage, and demanding motorsport: The World Rally Championship (WRC).

The GR Yaris was developed through a collaboration between Toyota Gazoo Racing and one of the most successful WRC drivers of all time, Tommi Mäkinen. It is a sporty hatchback that is equipped with a high-performance engine specifically made for racing, but versatile enough to perform on an ordinary road.

That is why the GR Yaris was destined for only one thing: Winning. It consecutively won the WRC Manufacturers' Championship in 2018 and WRC Drivers' Championship in 2019.

Now, it is time for you. For you who want to feel the excitement. The excitement of leading, of dominating. The excitement to be superior, to be the winner. Unleash it all with the GR Yaris.



Bodykits: Stock + 3 Bodykit

Spoilers: Vanilla + 5 New custom spoiler (2 Autosculpt spoiler)

Hoods: Vanilla + 2 New custom hood

Rims: All Vanilla Rims

Interiors: Stock + 2 New Interior

Roofs: Stock

Brakelights: Stock + 4 New custom brakelight

Headlights: Stock + 1 New custom headlight

Mirrors: Stock 1 New custom mirror

Roof Scoops: All Vanilla Roof Scoops

Brakes: Stock + Extended Customization's brakes

License Plate: Stock + Extended Customization's license plate

Driver Seat: Stock + 10 NFS: Pro Street seat

Passenger Seat: Stock + 10 NFS: Pro Street seat

Custom Banner: HKS Racing Performer Banner



You have to install these mod first before installing the car

[NFS: C] Unlimiter
Download Here

[NFS: C] Extended Customization
Download Here


Steps


Open your Binary & select "User Mode"

Choose "Binary Data Install.end"

Select your NFS Carbon folder

Save it, but don't run the game yet

Open your Vlt-Ed and then import the "VLT Data Install.nfsms"

Press install then save it

Open the game & make a new save

MaxHwoy: Binary

nlgxzef: Carbon Unlimiter

ARCHIE: Carbon Extended Customization

Fridge: Animated texture guide

Thunderdrift: Stock interior model

ACMP: GReddy gauge

Vicius: Custom braeklight idea

AIMGEE R: Testing stuffs

RisaDriftR: Testing stuffs

nfsu360: VLT-Ed & CarToolKit


*This mod isn't perfect and may have some imperfections here & there.
**DM Vee#0875 if you want to add this car to your modpack







---
Comments
---
Uploaded at: May 31, 2022 @ 17:16