[NFS: MW] Honda NSX (NA1)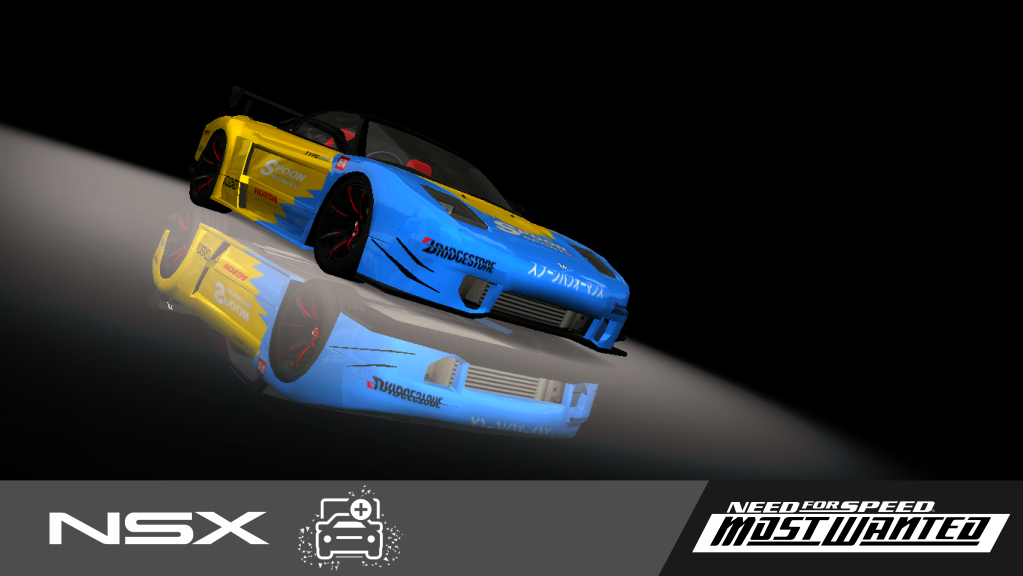 ---

The first generation Honda NSX (New Sportscar eXperimental) is a 2-seater, mid-engine sports car that was manufactured by Honda in Japan from 1990 until 2005. The prototype and eventual production model which was marketed as the NSX were designed by a team led by Honda Chief Designer Masahito Nakano and Executive Chief Engineer Shigeru Uehara.

The Japanese car maker's race track innovations and competitive history were further exemplified on the road by the NSX's ultra-rigid, ultra-light all aluminium monocoque chassis and front and rear double wishbone suspension, with forged control arms connected to forged alloy wheels. The car additionally boasted the world's first production car engine with titanium connecting rods, forged pistons, and ultra high-revving capabilities, the redline was at a lofty 8.000 rpm - all traits usually associated with track and race engineered motor cars. The NSX exterior had a dedicated 23-step paint process, including an aircraft type chromate coating designed for chemically protecting the aluminium bodywork and a waterborne paint for the base coat to achieve a clearer, more vivid top color and a smoother surface finish.

The car's strong chassis rigidity and cornering/handling capabilities were the results of Ayrton Senna's direct input with NSX's chief engineers while testing the NSX prototype car at Honda's Suzuka Circuit during its final development stages. The NSX was initially assembled at the purpose-built Takanezawa R&D Plant in Tochigi from 1989 to early 2004, when it was moved to Suzuka Plant for the remainder of its production life. The cars were assembled by approximately 200 of Honda's highest-skilled and most experienced personnel, a team of hand-picked staff with a minimum of ten years assembly experience employed from various other Honda facilities to run the NSX operation. After studying their main competitors such as Ferrari, Lamborghini and Porsche, Honda engineers designed the NSX in search of the "Perfect Balance" between usable power and reliability and thus produced a powerful naturally aspirated VTEC engine suitable for the extreme demands of both road and track.

One of the first magazine articles to offer NSX test data showed the lightweight 3.0L 270 bhp (200 kW) NSX (manual transmission) producing a best 0-60 mp/h time of 5.03 seconds and 13.47 seconds for the quarter mile. Also on a Ferrari 348 to NSX comparison, a 0-60 mph time of 5.2 seconds was recorded for the 1991 NSX.


Bodykits: Stock + 32 Kits

Spoilers: Vanilla + New Custom Spoilers

Hoods: Vanilla (Not all of them) + New Custom Hoods

Rims: All Vanilla Rims + 5 New Custom Rims

Interiors: Stock + 3 Custom Interior Style

Roofs: 12 New Roof Style

Brakelights: Stock + 7 Custom Brakelights

Headlights: Stock + 8 Custom Headlights

Mirrors: Stock + 5 Custom Mirrors

Drivers: Paul + 6 Custom Drivers

Roof Scoops: All Vanilla Roof Scoops

Brakes: You have to install nlg's NFSMW Leftover Brakes Fix

Attachment Parts
Slot 1: Driver Seat

Slot 2: Passenger Seat

Slot 3: Steering Wheel

Slot 4: Bottom Windshield Decal

Slot 5: Sun Strip

Slot 6: Roll Cage

Slot 7: Rear Air Vent

Slot 8: Brakelight Center Piece

Slot 9: Rear Badging

Slot 10: Accessories

Stock Color Option

512x & 1024 vinyls

Fixed Blacklist & other special vinyl name in Custom vinyl category

Custom liveries in Custom & Unique vinyl category

Working decals & numbers

Working brakelights

Working headlights

Working coplights

New performance data

Custom sound

Custom HUD included for ARCHIE's MW/C Custom HUD

NFS: MW Pepega Edition support


Make sure you already have Binary, VLT-Ed, & NFS: MW Unlimiter installed. The installation is very easy.

1. Open your Binary & select "User Mode"
2. Choose "Binary Data Install.end"
3. Select your MW folder
4. Choose the optional option
5. Save, but don't run your game yet
6. Open your Vlt-Ed and then import the "VLT Data Install.nfsms"
7. Scroll down to the bottom of the page & select which MW you're using
8. Close the window & then save it
9. Have fun


Q: Modloader version when?
A: Never

Q: Can I use Ed & Binary car addon together?
A: You better install the Ed car mod manually using Binary

Q: Can I include this car to my modpack?
A: Depends, ask me on Discord first, Vee#0875


AlbinoBuffalo_80 (Some kits, hoods, & spoilers)

Viper4K (Soppo driver & something else that I forgot)

Goodboygamer (Kakimoto kit)

RedCarDriver (NSX sound)

AJ_Lethal (ProStreet custom driver & UC driver)

Neon (Burnout paradise livery texture)

Zyphir (NFSAddons livery)

Ketsueki (NFSAddons livery)

ED (Kit idea & decal)

Emosen (Spoon livery & kit idea)

Vicius (Some custom brakelights)

LossTunes (Sticker pack)

DFZ (Some parts)

RisaDriftR (Beta tester)

Ramadhan03 (Beta tester)

copmidsize (Tester)

Goreseeker (Bug report)

RealRaptorReX (Bug report)

MaxHwoy (Binary)

nlgzrgn (Unlimiter, ExOpts, & other tools)

nfsu360 (VltEd)

ASC (nfstc_argb_dxt5)

Someone else that I forgot lmao

---
Comments
---
Uploaded at: July 19, 2022 @ 09:16