[NFS:MW] Mazda RX-7 - Extended Customization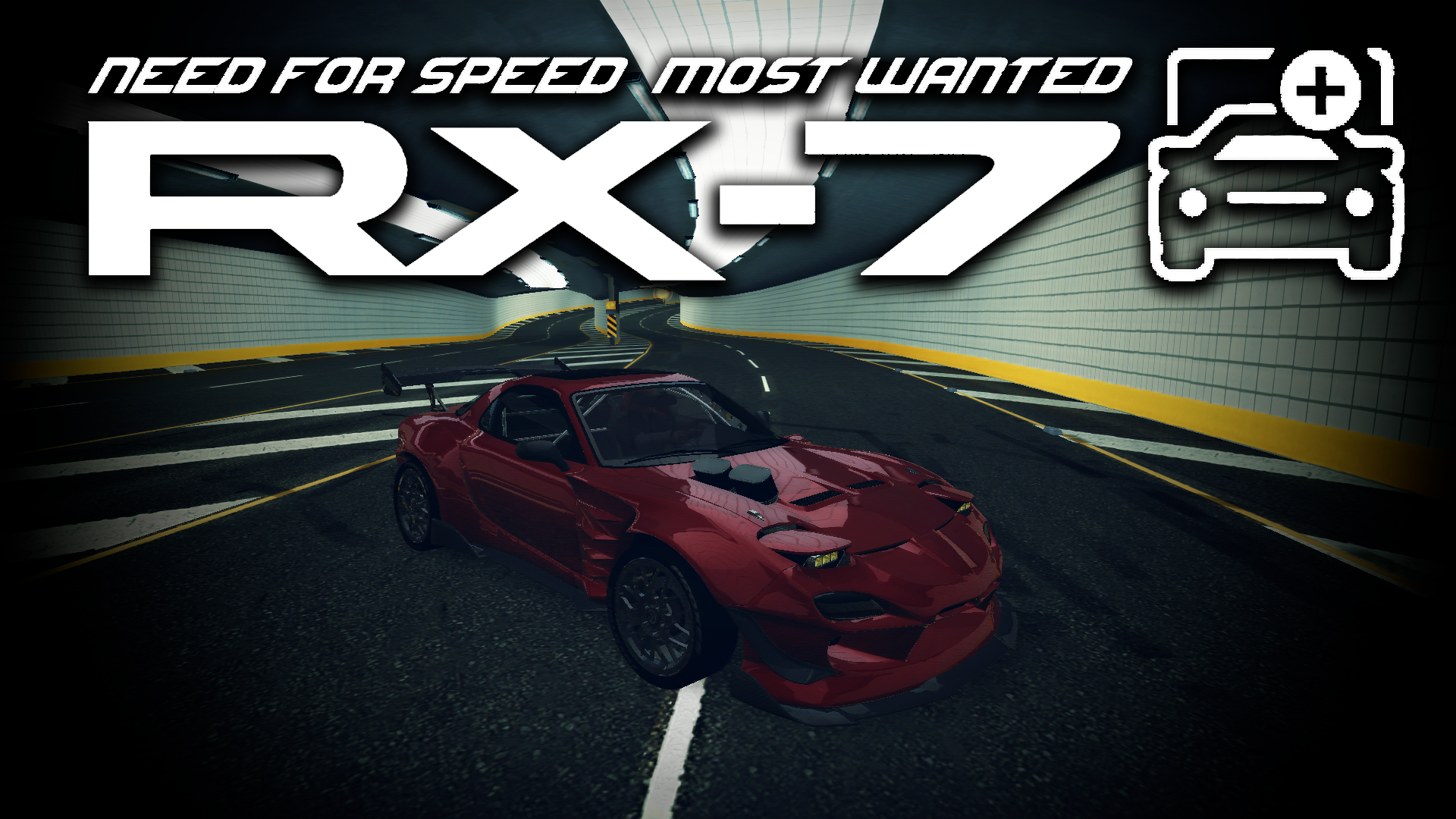 ---
!!! HOTFIXES !!!

If you encountered some of the bugs below, it's fixed already, re-install the mod with new files

- Fixed Veilside (KIT01) materials
- Changed vinyl installation method to Synchronize, in order to not to brake the older vinyl mods installed



2.0 CHANGELOG:


[NEW]
Added stock spoiler
Added Genki 7 bodykit, hood, headlights and taillights
Added G-Face TCP 1.0, Re-Amemiya GT300, OriginLab 2 bodykits
Added decals, paintable with window tint colors
Added front and rear window decals
Added Mad Mike spoiler, trunk and interior
Added Sleepy Non-LED headlights
Added vanilla vinyl support
Added Mad Mike, Raiden Shogun, Aki Kimura, Dominic Toretto liveries in Custom vinyl section

[CHANGED]
Moved Roofs into Attachment 2 section due to window decals incompatability
Changed it Wheel Offsets for all bodykits
Sorted carbonfiber and tinted part placement in customization menu
New Rocket Bunny bodykit
New Mad Mike hood

[FIXED]
Resolved issue with Bodykit 13 and Bodykit 14 polygon count
Taillights now renders with the brakelights at any circumstances (also in Frontend)
Removed old taillight glow effect from driver model, which caused weird rendering issues

[MISC]
Added proper naming for bodykits
Attempt to add proper naming for spoilers
Changed Binary string installing method in order not to confuse the user with errors :)

------------------------------------

This mod is an reconversion of Tekizyte's RX-7 - Extended Customization for Need For Speed Most Wanted. Replaces the original RX7 with a considerable amount of customization options.


Before installing the mod, make sure you have:



The mod features:

22 bodykits (includes 2 variations of Veilside Fortune 4 - Tinted and Painted)

11 spoilers (+Carbonfibre)

9 hoods (+Carbonfibre and both variations for Veilside Fortune - Tinted and Painted)

4 interiors

7 headlight types (+Carbonfibre and both variations for Veilside Fortune - Tinted and Painted)

Brakelights - Carbonfibre, tinted, painted stock, Veilside Fortune and Genki 7

4 side mirrors (+Carbonfibre)

5 roofs (+Carbonfibre and Tinted)

4 trunks (+Carbonfibre, Removed and more)

Tintable hood and rear stickers

Some custom vinyls

Screenshots:


Special Kudos:
Tekizyte - Port permission! Original mod creator, check it out!
Terminator_Vasya - Explaining extended customization diffirences between two games
Airoz - Custom vinyls
Prestige Mods community - Screenshots

Testers:
princess peepo panties
THXAN_9
P A I N
Sak
C I P H E R
Airoz

Graphical overhaul/Mods used in screenshots:
Plak Graphics - Designer Edition
Need For Speed: Raidmod Remix (mod WIP)
Retouch Graphics v9.1 / Reshade


Note

You are allowed to use the mod in your modpacks, just put Saint Raid and Tekizyte down in credits.
You are NOT allowed to reupload the model without a permission.

Have fun!






---
Comments
---
Uploaded at: January 29, 2023 @ 14:16