Heat Remix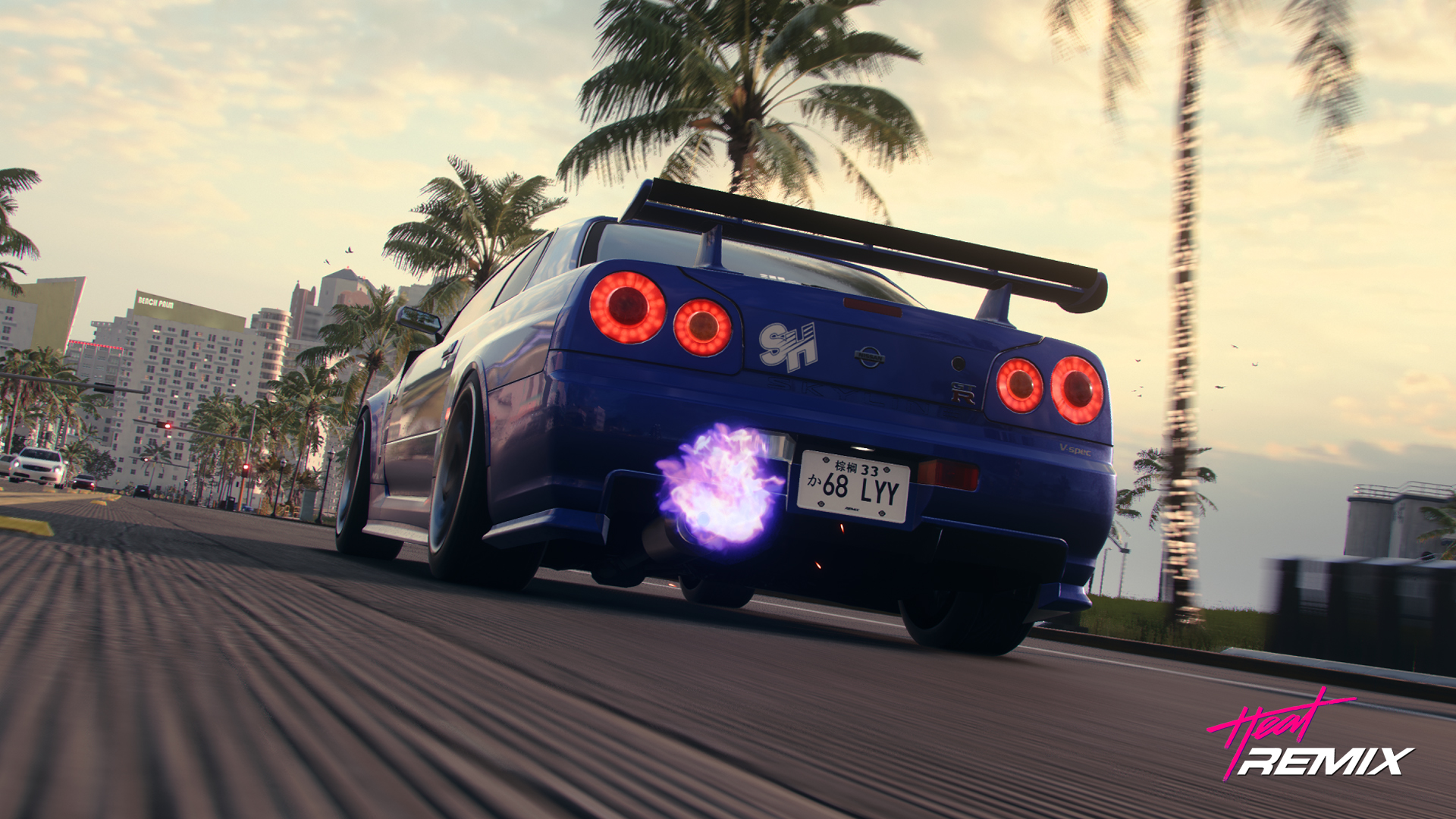 ---
Heat Remix is a game enhancement mod based on Need for Speed: Heat.
It mainly makes changes in visual and customization, and enhances the gameplay experience.
And also for a learning project for the Frostbite game modding.

Check 1.6 Launch Trailer Now.
------
CUSTOMIZATION:


in Heat Remix, we add some hidden parts on certain cars, including Nissan Skyline GT-R R34's Manits Kit from NFSUG, and Morohoshi-san's nero kit for Lamboghini Diablo SV.
New Engine Swap options are already scheduled for most cars, to recreate real-world engine swap build and to make vehicles more competitive in the race.
And a new engine: 2JZ-GE, a common version engine of 2JZ, but you can swap in to some JDM cars or some car that can be fit, and build to 900HP beast.
but, if you are the wrap enthusiast, check out the new mirroring feature we've added to the wrap editor, you will be like it.

Also, Removeable Parts, Unrestricted Customization, Automatic camber removal, Unlocked hidden Clothes, Custom License Plates, Custom Tirebombs is standard features for Heat Reimx.
------
VISUAL:


we changed most of the visual stuff of the game, such as street lights pole are now able to cast dynamic shadows, Ambient Occlusion re-work, and some weather presets change:

Midday: we still keep the original game style for the midday, but this time will look more "next gen" with Ambient Occlusion re-work and other change.
Overcast: we changed the overcast effect to a more natural environment effect and removed the purple-blue hue of the original game, still WIP in heat remix 1.57 but now you can preview it.
Sunset: thanks to the elaymm4, The author of heat roboto, now we make sunset ve more like the promotional screenshots of the game, and re-touch the skybox for better results.
Night: the color hue at night is more Florida-ish, and more darker that original game, but it still retains the flavor of the original game.

Also, the Virtual Space have change to Gran Turismo Sport/Gran Turismo 7 Style, and day to night transition is change to deluxe cover Style.
------
GAMEPLAY:


For the gameplay, we enhanced the difficulty of pursuit, and give the police car new look, from Miami PD to FHP, even VRT from NFS Rivals will join the pursuit and take you down, whether during the day or night.
for this, you can take your ride with TurboZino & Trashmaster J's Handling Overhaul. The handling is tuned to be as consistent as possible, improving overall drivability and survivability at night, except for the 911 RSR, we don't like that car.
with the new high-quality engine sound from the old NFS Game, and better handling, wake up driver, you have a city to burn.
and more quicker game AI with new livery, they say it pays the cost to be the boss, time to show'em who's in charge.

By the way, now you can take a ride with Red Bull 370Z, and will not be taken back.
------
STORY:


We make Heat Remix to Story Compatible, so jump in to the Polestar 1 and back to 2019, and re-experience "Hustle by day, risk it all at night." for NFS Heat with more advantage, such as new starter car style.
And taking down Lt. Mercer and his High Speed Task Force one more time.

We've added some changes to the story mode, like making Danny Shaw crash-resistant, rework car unlock level, or keep the police car warp still looks in original game so you won't think look odd in cutscenes.
------
ADD-ON / MISCELLANEOUS:


In addition to the things described above, more thing you can do with add-on, like:
-Drive the Police Vehicles
-High-quality Livery
-More Hard Police
and more......

we also change memu scrolling speed, HUD Style, Car name correction......so much of this it can't even write down here.
------
At the end, this mod will continue to be updated to the NFS Unbound release in December 2022, so please pay more attention in the future!
Special thanks to:
7ndrew (author of Refreshed Car Audio): HP/MW12 engine sound export assistance
Cade (Frosty Editor developer): development tools of this mod.
Clxbsport: Function assistant
Charli501: New "Remix" Logo Design, new speedo design.
elaymm4 (author of Hot Pursuit Challenges and the HeatRoboto): Authorized use the Weather preset
GZILLA (author of HEAT+): Suggestions for this mod, Early Florida License Plate
Jzborder: Function assistant
lactate (author of Heat Custom Turbos): Turbo change assistant
Laurabodewig (author of Reckless Reborn): Police enhancement assistant
SRK (Founder of PROJECT UNITE): Dynamic shadows assistance
Yorpie (Modder of PROJECT UNITE): Police enhancement assistant
TurboZino & Trashmaster J(authors of TZ&J's Handling Mod):Authorized use the TZ&J's Handling Mod
wannkunstbeikor(Frosty Editor plug-in developers):language strings assistance
一般路过哈扎德:Night time preset














---
Comments
---
Antonio (July 01, 2023 @ 06:10)
Came up with this few days ago; hope you're interested.
What about renaming "Heat Remix" to something else like "Heat Meltdown"?
Since "Remix" is way more suitable for Unbound, due to its artistical atmosphere (Hip-hop culture, underground mixtapes and that stuff), that's what I've thought for Heat.
Djet0954 (March 15, 2023 @ 07:39)
Where's the soundtrack mod?
Uploaded at: June 02, 2022 @ 20:34