Heat Remix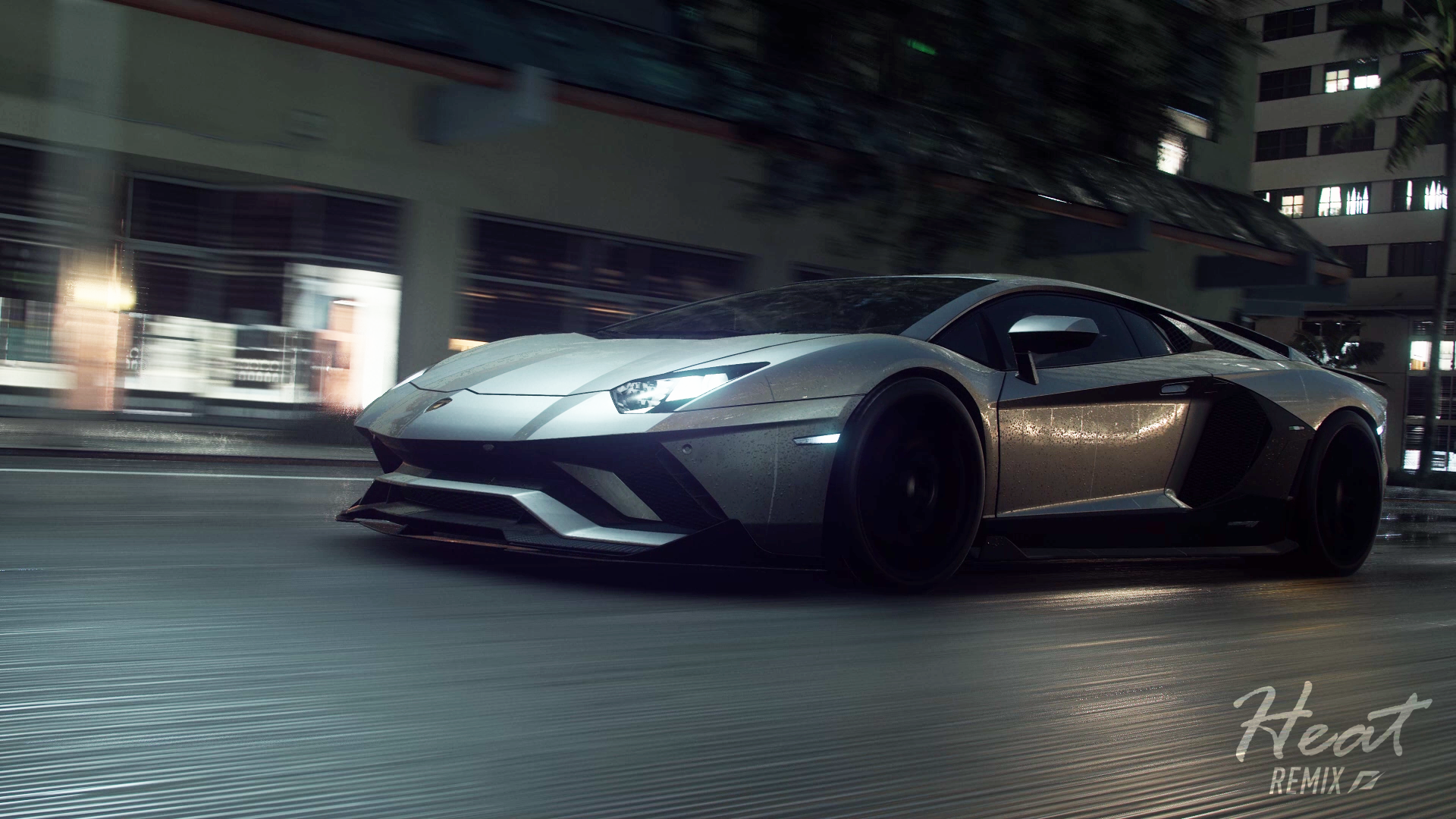 ---
Check out the launch trailer right now, I SAID RIGHT NOW!!
Heat Remix is a game enhancement mod based on Need for Speed: Heat. It mainly makes changes in visual and customization, and enhances the gameplay experience.
And also for a learning project for the Frostbite game modding.
For more info and update, you can join our Discord Server !
--------------
1.56 quality update (1.56 update 2):
Check out the update trailer here
Gameplay:
Now, when the police in pursuit, they will not be able to reinforcements too quickly
Removed the non-painted Ford Explorer police car, which was supposedly retired when Mercer dead
FBI's Vehicle Response Team (VRT for short) will now take over the pursuit at the highest heat level, VRT livery Camaro Z28 and VRTlivery K.S C7 police cars joined the chase
Police cars will no longer suddenly die on jumps, but you can still use other escape techniques
Fixed "POLICE" in front of the FHP Camaro Z28, it should be mirror flipped
Driver AI: A fast AI driver vehicle has been replaced
Engine sound replace: Pagani Huayra BC rework
Warp editior: gives you the ability to mirror decals on top of car
Engine swap options: This update adds new engine swap to the following vehicles
> Land Rover Defender 110
> Land Rover Range Rover Sport SVR
> Lotus Exige S
> Mazda MX5 2015
> Mazda MX5 1996 (NA)
> Mazda RX-7 Spirit R Type A (FD)
---
Visual stuff:
All police car liverys resolutions have been reduced, it doesn't really affect anything, but being too clear will affect the loading of the game
The LOD load distance has been reworked and is now twice the original LOD load distance
The health on the dashboard was redesigned
HDR mode is now automatically turned OFF when you start a new save. and set Texture Quality defaults to "High"
(The former is because the HDR designed for the original does not match after the game has changed the environmental effects, while the latter is an issue with GHOST GAMES, where the tile "high" is the highest texture quality)
---
Optional file / miscellaneous:
BMW M3 Deluxe (NFS2015): Now the license plate will no longer revert to the default "HEAT" when the game is connected to the network after being purchased by the dealer or exiting the garage
The Credits List now automatically changes to the credits list for this MOD when you install the language pack
(Originally, I wanted to keep the original credits list, but as long as the change, only a few lines can be retained, there is no choice but to delete all the new one)
--------------
1.56 quality update (1.56 update 1):
Engine sound replace:
Adjusted the new engine sound loudness
---
Gameplay:
Now you can earn banks for night events.
New palm city police car livery.
4K Livery resolution is now effective on Ford Crown Victoria.
Fix the stock car stance of BMW X6 M, Chevrolet Corvette C7 GS, Ford Mustang GT '15, Mercedes-AMG C 63
---
Dealership:
recategorize Nissan car list
Replace the thumbnail of Mercedes-AMG
Optimize the following car name:
Buick Grand National → Buick Grand National X (GNX '87)
Plymouth Barracuda → Plymouth 'Cuda 440 Six-Pack
BMW M3 E46, M3 E92, M4 F83 Add part of the original car name → Coupe
Nissan GT-R '17 name correction
Chassis identification is added to the whole Nissan Skyline GT-R series
More detailed names have been added to Mazda RX-7, Nissan Silvia S15, Pontiac Trans AM, Nissan Fairlady 240ZG and Lamborghini Countach
---
Bug fix:
Removed "Part set" that should not exist in BMW M3 E46
Added missing ZR1 splitter of Chevrolet Corvette C7 GS
Repaired the canards parts that should exist in Ferrari F40
---
World Environment:
Updated some billboard information
--------------
NEW CAR:
Heat Remix provides two new cars that can be driven.
Dodge Charger SRT8 2013 (Civilian)

Ford Crown Victoria Police Interceptor (Customizable)


And a car for console dlc exclusive: Nissan 370Z RedBull Edition, which can be freely purchased/driven now
--------------
Visual Customization:
– Additional Parts + Additional Interaction Points (except Roadsters)
– Icon Car Customization (except some car)
– Removeable Parts (except some car)
– Unrestricted Customization
– Automatic camber removal
– Unlocked hidden Clothes
– Custom License Plates
– Custom Tirebombs
– Decals Replace ※Optional※
– ADD:"Part set" for hidden part


--------------
Game Environment:


In Heat Remix, we use the weather presets by elaymm4, the author of Hot Pursuit Challenges and the HeatRoboto
At the same time, Heat Remix also enables dynamic shadow casting at night, which makes NFS Heat return to the game should be. (special thanks to SRK, the founder of Project Unite)
and...
– Added some real-world advertising
– Disabled sense-of-speed particles
– Photo mode Revamp
– Road surfaces from NFS 2015
– Reworked night (By 一般路过哈扎德)
– NFS Heat Deluxe Edition style Day to Night transition
– New showroom, close to the style of the vehicle selection picture in the original game
– 4K Livery ※Optional※
--------------
Gameplay/Miscellaneous:
In Heat Remix, the difficulty of the police chase is increased


Now, the Chevrolet Camaro Z28, Ford Explorer and SWAT Rhino join the pursuit, and the speed of all police cars can reach more than 300KM/H
All the police cars have been replaced with new livery made by Siderun Racing team, which is inspired by Miami PD and the FHP
We also have
– Unlock all cars (Except story mode)
– Vehicle stock color change (Offline game only)
– Redesigned Speedo
– Dealership recategorize (A-Z)
– All engine renames
– Rename some rims
– Game language modification
– Rename some cars
– New Nos (Solo game only)
– Speed Limiter Remove
– Change some Active/Passive item
– Fix some bug about some cars
– Better engine sound for some cars
--------------
At the end, this mod will continue to be updated to the latest NFS release in 2022, so please pay more attention in the future!
Special thanks to:
7ndrew (author of Refreshed Car Audio): HP/MW12 engine sound export assistance
Cade (Frosty Editor developer): development tools of this mod
elaymm4 (author of Hot Pursuit Challenges and the HeatRoboto): Authorized use the Weather preset
GZILLA (author of HEAT+): Suggestions for this mod,Early Florida License Plate
SRK(Founder of PROJECT UNITE): Dynamic shadows assistance
TurboZino & Trashmaster J(authors of TZ&J's Handling Mod):Authorized use the TZ&J's Handling Mod
wannkunstbeikor(Frosty Editor plug-in developers):language strings assistance
一般路过哈扎德:Night time preset





---
Comments
---
No comments, be the first one to leave a comment!
Uploaded at: June 02, 2022 @ 20:34