Xbox360 stuff pack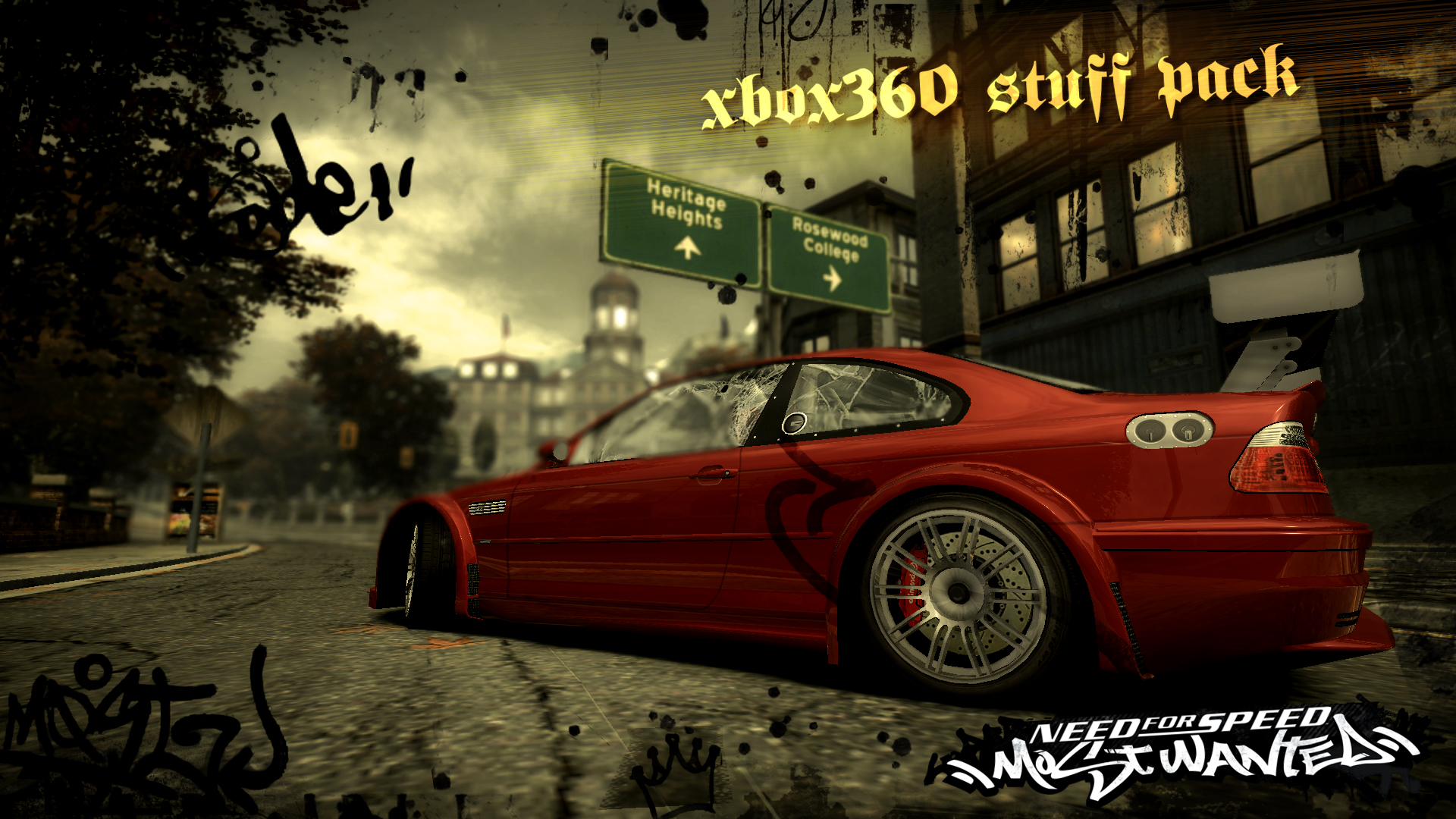 ---
======== Need for Speed: Most Wanted (2005) - Xbox360 stuff pack ========

>> Authors: elaymm4 and osdever
>> Description:
"This pack of 'X360 stuff' will improve your game's visuals and will make it look like Xbox 360 version of the original NFS:MW (2005). It contains various things, and you can choose how you'll install this pack."

>> DOWNLOAD: Google drive link
>> TUTORIAL: YouTube video link
>> SOURCES: Google drive link

>> SCREENSHOTS: Imgur link

ATTENTION: This pack does NOT work with ModLoader!
==== WHAT THIS PACK CHANGES ====
>> Main changes:
"Time of day lighting" and the screen filter value ported from X360 files by osdever.

Car part materials from X360 version of the game.

Patched the game's executable with Car and Sky shaders, ported from X360 version of the game and re-written by osdever with help from SpeedyHeart.

A special .asi script which changes motion blur to more X360-like, among other things.

>> Re-texture, main part:
X360 road and some ground/wall textures, including 4 remakes of 4 missing textures from X360's STREAML2RA_perm.BUN file.

Trees and grass brightnesses are toned down because that's how they look on X360 for most of the time.

>> Re-texture, bonus part: [OPTIONAL]
The car headlight flare texture is a mix of 3 light textures from NFS Carbon.

Car brakelight changed to more X360-like one.

Barrier textures edited to make them look like on X360 (On X360 they are more transparent).

Sun and Cloud textures were replaced with their uncompressed versions from X360 files.

Normal map for car damage texture, applied on the damage texture itself.

Normal maps for tires, applied on their own textures.

Reflection texture was a bit edited to make it look like X360 one.

Water textures are taken from "Modern Rockport v1.0".

Fake uncompressed version of title screen (Fake because it's a mix of X360 splash image, and an uncompressed version of WSSPLASHSCREEN, which gave almost noiseless texture).

>> Other:
ReShade config which adds a bit more of levels and fake DOF effect (Quite buggy, but that's because it's PostFX). [OPTIONAL]

Road reflection power was reduced to half, because on X360 when there's rain, roads does not that much reflect world.

"Cheat Engine" table, with it you can enable motion blur in in-game cutscenes (Good example is BL #9 intro). [OPTIONAL]

X360 style button icons were added, because ws_fix ones are not canonic. [OPTIONAL]

==== CHANGELOG ====
> > VERSION 1.1.1 < <
Removed Aero_'s "NFSMW Console HUD Size" (now called "NFSMW HUD Resizer") script because now it's a separate mod. See "BONUS" category to get it.

> > VERSION 1.1 < <
Some changes in .bat installer.

Added memory-patched files in case if pack will be installed on the clean game.

Added Aero_'s "NFSMW Console HUD Size" script. [OPTIONAL]

> > VERSION 1.0 < <
==== CURRENT BUGS ====
Some textures with alpha (such as yellow barriers and wires at the docks) can visually disappear in the sky.

Something in the .asi script heavily reduces performance, it probably shouldn't work like that.

Getting cops in race will result in a stuck blue filter after the race. Game will fix itself after activating action camera (hitting roadblock / breaking pursuit breaker), or going to the garage.

Shadows are not getting rendered on the cars.




==== HELP ====
If you have troubles with this mod, contact us:

>> DISCORD:
elaymm4 - elaymm4#9944
osdever - osdever#4170 (Don't complain if I'm in a bad mood and tell you to fuck off though. –osdever)

>> VKontake (Russian's preferred option):
elaymm4 - https://vk.com/id344864894
osdever - https://vk.com/osdever


==== THANKS ====
SpeedyHeart - Help with shaders
(Unknown author) - BIN/BUN Tools
nfsu360 - NFS-VltEd, NFS-TexEd
FDen - Modern Rockport v1.0 re-texture
Dark Byte - Cheat Engine
crosire - ReShade













---
Comments
---