Xbox 360 Stuff Pack [v 2.4 Beta]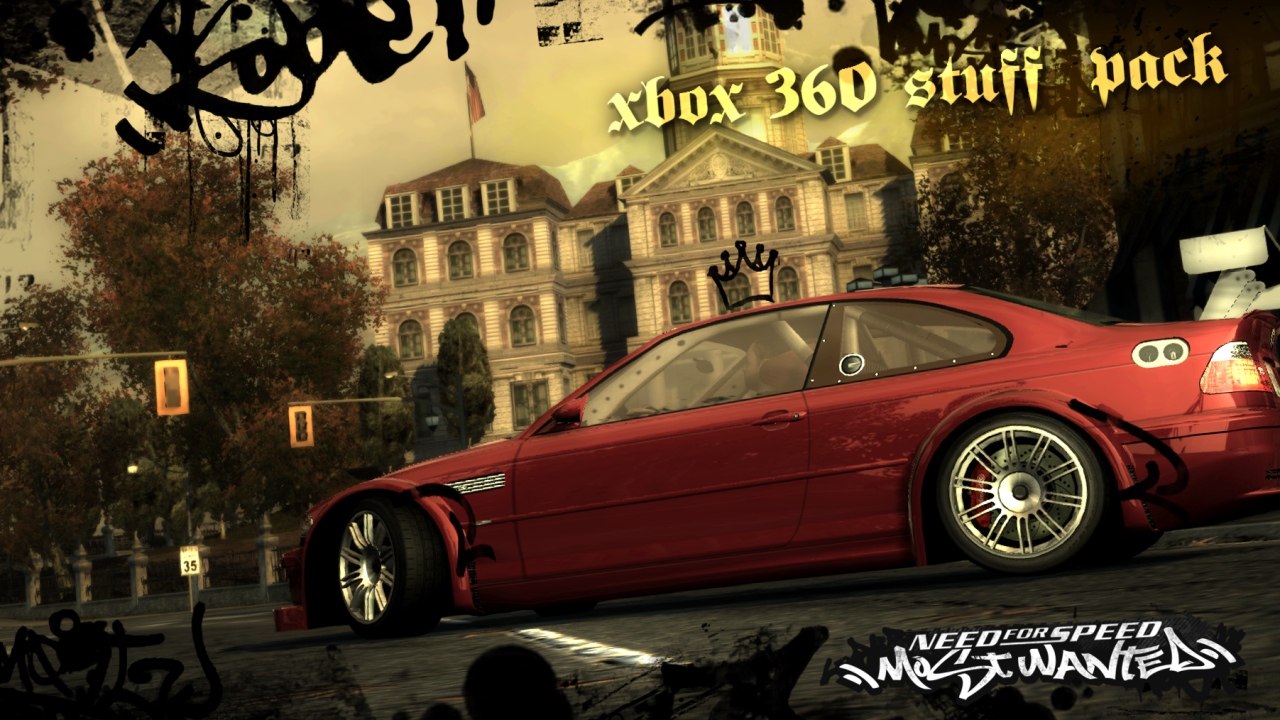 ---
NFS Most Wanted (2005) - Xbox 360 Stuff Pack
Version 2.4 Beta

This mod will try to make your game look more like Xbox 360 release of NFSMW (2005). This is beta release of new version, meaning that something may not look or work exactly as intended.

ATTENTION: This pack does NOT work with ModLoader!
NOTE: It's recommended, that the path to your game folder does not contain any cyrillic letters, or any symbols like dot, and your game is not on a system drive.

This mod is compatible with (and is recommended to be used with):
- Widescreen Fix
- HUD Resizer
- HD Reflections
- Front-End Shadows
- Xbox 360 Recompiled vinyls
- Xenon Effects
- Xtended Input (if you're playing with controller)


>> Download Easy Installation: Google drive link
(The fastest and easiest method to install this pack. Install on a clean game or else you will probably break it.)

>> Download Complex Installation: Google drive link
(This option will take more time to install, but will allow you to customize some of the things. Also gives much better compatibility with any other mods, but that may not be always the case.)

>> Sources: Google drive link
(Attention: does NOT include shader & asi script sources)



>> Screenshots: Imgur link

======== BUGS/ISSUES ========
Something heavily reduces game performance, it probably shouldn't be like that

Getting cops in race will result in a stuck blue filter after the race. Game will fix itself after activating action camera (hitting roadblock / breaking pursuit breaker), or going to the garage

Main Menu platform place is darker than need to be

There's a slight greenish tint on the sky at sunset time of day

Visual filter shader isn't giving a proper look [currently that was fixed by adjusting timeofdaylighting configs + recommended to use ReShade preset]

Car reflections in menus don't use alpha channel

During overcast weather sky texture doesn't change to right one

Shadows casted by car onto itself sometimes appear noisy

No dynamic shadows in career safehouse except for car only

No underroof dynamic shadows in customization shop

Shadows near rosewood's golf club entrance tend to randomly bug out

Textures with mixed surface (example: road to grass) seem to not have normal map enabled [currently that was fixed by adjusting diffuse textures]

Mod is completely broken on AMD GPUs (currently it requires to use a Vulkan DX9 wrapper to make it work)





======== CHANGELOG ========

==== VERSION 2.0 Beta - 2.4 Beta ====

Even more shaders were ported from X360

X360 water

Car body paint now has noisy flake

Now cars projects shadows also on itself

Proper car light flare textures

Even more HQ textures were ported from X360

Now new textures are applied automaticly

Restored X360 car reflections in garage menus

Ported FrontEnd platforms (this is different from nlgzrgn' one, since it includes textures with less heavier color limitation)

Restored dynamic shadows in garage menus

ReShade preset was re-done

ReShade preset now runs at special version of ReShade, which allows to bypass HUD and UI before applying effects

Added an option to return motion blur back to vanilla PC version

Added additional script by Aero_ to make black bloom effect more close to X360 version (increased resolution)

(2.2 upd) Xanvier's Shader Loader is used to patch executable's shaders, so the process became automatic & dynamic

(2.2 upd) More textures were ported from X360, thanks to MaxHwoy's "MWCX360" dump

(2.3 upd) Some issues with textures were corrected

(2.3 upd) ReShade preset was altered a bit to get rid of "washed out" colors

(2.3 upd) Extra tire smoke from X360 was restored

(2.4 upd) Even more HQ X360 textures were ported from MaxHwoy's "MWCX360" dump

(2.4 upd) Added dummy over bright shader that does nothing to final image (aka if you enable Over Bright in settings, it won't affect visuals in any way)



==== VERSION 1.0 - 1.1.1 ====

"Time of day lighting" and the screen filter values ported from X360 files by osdever.

Car part materials from X360 version of the game.

Patched the game's executable with Car and Sky shaders, ported from X360 version of the game and re-written by osdever with help from SpeedyHeart.

A special .asi script which changes motion blur to more X360-like, among other things.

Re-texture, main part:

X360 road and some ground/wall textures, including 4 remakes of 4 missing textures from X360's STREAML2RA_perm.BUN file.

Trees and grass brightnesses are toned down because that's how they look on X360 for most of the time.

Re-texture, bonus part:

The car headlight flare texture is a mix of 3 light textures from NFS Carbon.

Car brakelight changed to more X360-like one.

Barrier textures edited to make them look like on X360 (On X360 they are more transparent).

Sun and Cloud textures were replaced with their uncompressed versions from X360 files.

Normal map for car damage texture, applied on the damage texture itself.

Normal maps for tires, applied on their own textures.

Reflection texture was a bit edited to make it look like X360 one.

Water textures are taken from "Modern Rockport v1.0".

Fake uncompressed version of title screen (Fake because it's a mix of X360 splash image, and an uncompressed version of WSSPLASHSCREEN, which gave almost noiseless texture).

ReShade config which adds a bit more of levels and fake DOF effect (Quite buggy, but that's because it's PostFX).

Road reflection power was reduced to half, because on X360 when there's rain, roads does not that much reflect world.

"Cheat Engine" table, with it you can enable motion blur in in-game cutscenes (Good example is BL #9 intro).

X360 style button icons were added, because ws_fix ones are not canonic.

Added memory-patched files in case if pack will be installed on the clean game.





======== CREDITS ========
Credits:

osdever (Most of the mod)

SpeedyHeart (Help with shaders)

r033 (Help with shaders & textures)

Aero_ (FE car reflections, FE platforms, additional asi script)

elaymm4 (Porting X360 world textures, releasing mod)




Thanks:

nfsu360 (NFS-VltEd)

(Unknown person)(BIN/BUN Tools)

FDen (Modern Rockport v1.0)

Dark Byte (Cheat Engine)

crosire (ReShade)

MaxHwoy (Binary, MWCX360 dump)

Xanvier (NFS version of ReShade, Shader Loader)

---
Comments
---