Much Accurate Car Names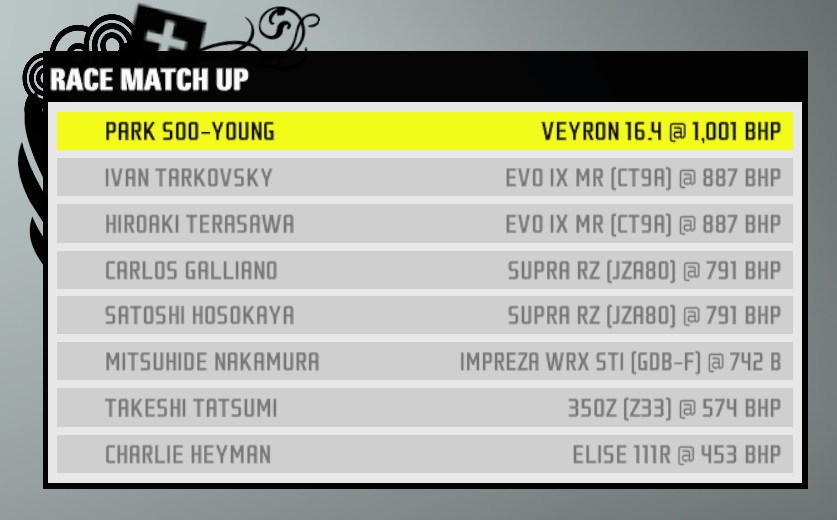 ---
A fairly small cosmetic mod I made to fix the car names.

Features:

Includes model year and trim level for each car.

Short version of car names includes chassis codes (not all cars have them, like the CCX)

̶S̶u̶p̶p̶o̶r̶t̶s̶ ̶R̶a̶T̶T̶'̶s̶ ̶O̶v̶e̶r̶h̶a̶u̶l̶ ̶m̶o̶d̶.̶ ̶(̶f̶i̶x̶e̶s̶ ̶A̶4̶,̶ ̶E̶V̶O̶8̶,̶ ̶a̶n̶d̶ ̶G̶A̶L̶L̶A̶R̶D̶O̶ ̶n̶a̶m̶e̶s̶)̶ Removed on V1.2 update, changes vanilla cars only instead. I do plan on making an update for Ti-Sonic's addon cars though.

ONLY supports English, I probably won't bother making a version for other languages.



Requirements:

NFS ProStreet with V1.1 Patch installed.

that's it lol



Bugs:

The Gallardo Superleggera and Evo IX names in the car lot doesn't fit well, because their names are VERY long. Nothing I can do about that, really.



Version History:
V1.0
- Initial Release
V1.1
- Fixed Golf GTI and Golf R32 names.
V1.2
-Fixed a few strings with wrong info.
v1.3
-Fixed more strings.
-Now uses Binary 2.5.5 to replace text strings instead of deprecated Labrune method.


Credits:

nlgzrgn for creating Labrune.

MaxHwoy for creating Binary.

me for putting effort into this mod lol.

NFSWiki and Wikipedia for supplying information.

YOU for downloading my work.

---
Comments
---