Revamped Pursuits (Carbon)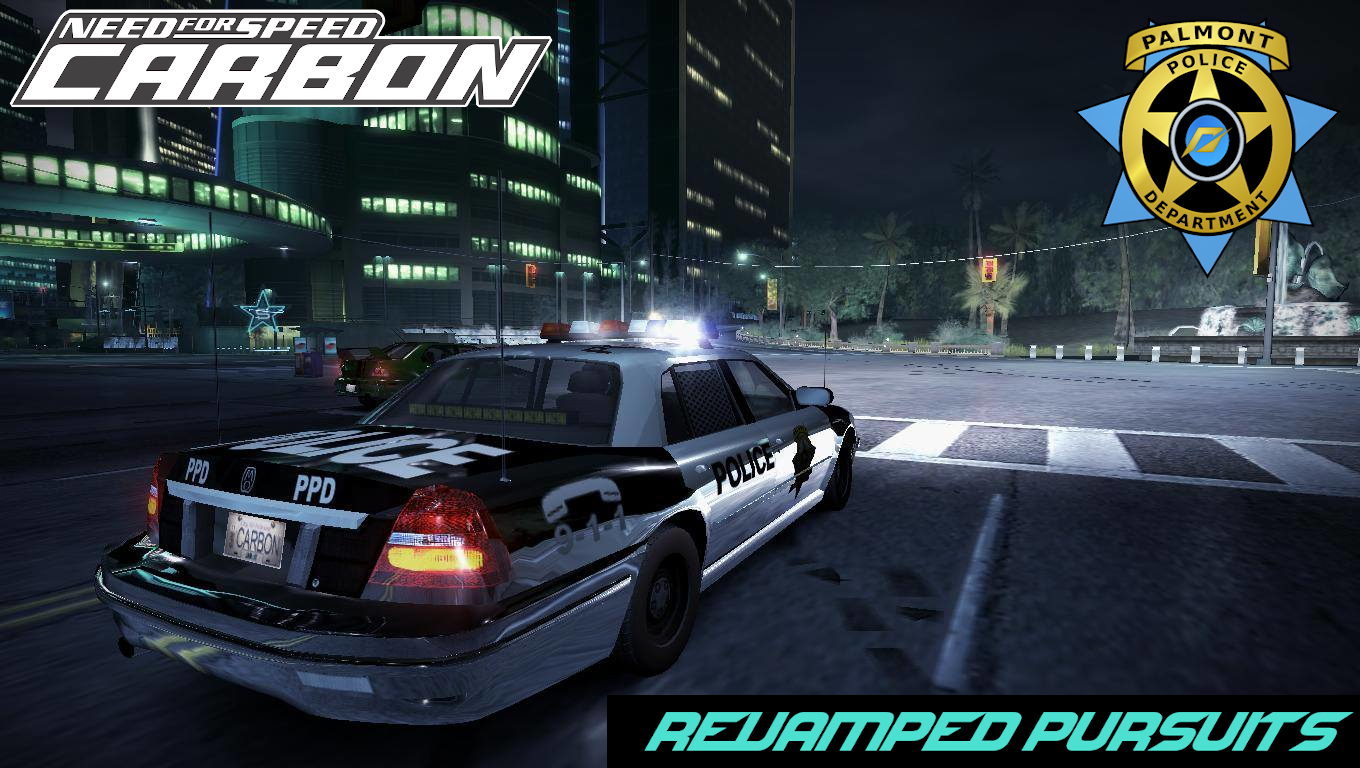 ---
The Revamped Pursuits of MW is now in Carbon!
Just like my last mod, it aims to make the pursuits in-game more challenging and engaging than the Vanilla version.
Balance is still in check to make sure the Police won't be overpowered. Cops will use diverse vehicles as you progress through heat levels.
There are slight buffs in some areas of the Pursuit System than the MW version to compensate for the lack of Air Support Units. Changes were also made in later Heat Levels to distinguish the Palmont PD from the Rockport PD.

Compatible mods:

Vanilla (Clean version of the game)

Ultimate Mod

Endgame Mod

Improvement Mod

Improvement+Endgame Mod

Carbon Battle Royale

Any non-pursuit mod (not 100% certain)


Heat levels: (Improvement mod versions not affected)
1: Civic Cruisers
2: Undercover Civic Cruisers & Light SUV Rhinos
3: State Cruisers, Light SUV Rhinos, & Heavy SUV Rhinos (Roadblocks & Head-on Ram only)
4: Undercover State Cruisers & Heavy SUV Rhinos.
5. Federal Cruisers & Heavy SUV Rhinos.
6: Civic Cruisers, Undercover Civic Cruisers & Heavy SUV Rhinos.
7: State Cruisers, Federal Cruisers & Heavy SUV Rhinos.
8: Undercover State Cruisers, Undercover Federal Cruisers & Heavy SUV Rhinos.
9: Civic Cruisers, Light SUV Rhinos & Heavy SUV Rhinos
10: Federal Cruisers, Undercover Federal Cruisers, & Heavy SUV Rhinos.

Notes:

For Improvement mod users, only some areas of the Pursuit System are tweaked. Heat levels are still the same for that mod except heat level 10 since it was still kept vanilla on that mod.

For Endgame and CBR users, you can opt to switch between heat level 10 of Revamp mod and those respective mods. More will be explained inside the zip.

Ultimate mod users can also switch between heat level 9 of Revamp mod and Ultimate mod. More in the zip aswell.


Even with each mod compatibility now containing an Uninstall script, I still advise backing up your GLOBAL folder just in case.

Remember, Vlted 4.6 is required for installing the mod.
Extra Options for Carbon is also required for the full experience. Just like MW, set the values HeatLevelOverride and PursuitActionMode to 1.
I recommend installing Avalanche's Cross Pursuit fix mod as well since he'll still spawn in later heat levels in this mod. Make sure to leave the 2nd optional feature unticked since his spawn rate is already modified. Also, leave the 3rd optional feature unticked since it'll replace the federal cruisers in heat 10 unless you're alright with it.

Optional features: (they can be found within each mod folder)

Slower Cop Bust - simply takes the cops more time to bust you. For players who wants to mess around during the pursuits without getting busted immediately . Don't get too comfy though, they can still bust you if not careful.

Cross in Heat 10 - makes Cross part of the Heat level lineup similar to Frexellia's pursuit mod. Replaces Heavy Rhinos upon installing.

These features can be uninstalled and reverted back to mod defaults.

Bug encountered:

In challenges where Rhinos are the target for takedown, it'll only count the ones going for you in a Head on Ram and in some roadblocks, the ones chasing you will not count.


Changelog:
1.4
- Some tweaks to the cop's catch-up.
- Added optional features for this mod.
- Last update for awhile until further notice.

1.3
- Replaced State Cruisers with UC Civic Cruisers in Heat level 6.
- Fixed the issue of Light Rhinos leaving the pursuit in heat level 3. But expect Heavy ones gunning at you head-on and appearing in roadblocks.
- Frequency of head-on rams in Heat level 5 nerfed (CBR version only)
- Chances of encountering Rhino-only roadblocks now possible in levels 6 and up.
Note: No changes with the Improvement versions.

1.2
- Frequency of spike strips in heat levels 8-10 increased. (All versions affected)

1.1
- Added few missing features to Improvement versions.
- Uninstall scripts reworked, it should completely revert it to default settings depending on the version.
- Compatibility for Carbon Battle Royale mod added.

1.0
- Initial Release.

Credits:
nfsu360 for Vlted
ExOpts Team for the Extra Options.
Frexellia for the functional Light SUVs.
RaTT and his team for the Ultimate mod.
maxhwoy & his team for the Endgame mod.
379Felipe and the Improvement Team for the Improvement Mod.
CBR Team for the Carbon Battle Royale mod.
Avalanche for the Cross Pursuit Fix.

If you experience any issues with the mod, message me here or find me thru Discord and DM me there.
---
Comments
---
Splash45 (May 19, 2020 @ 15:56)
@Johnlong I'll get into that at some point.
Johnlong (May 19, 2020 @ 13:49)
Make Undercover Edition?Undercover Pursuit Very Stupid