Maximum Cop Probability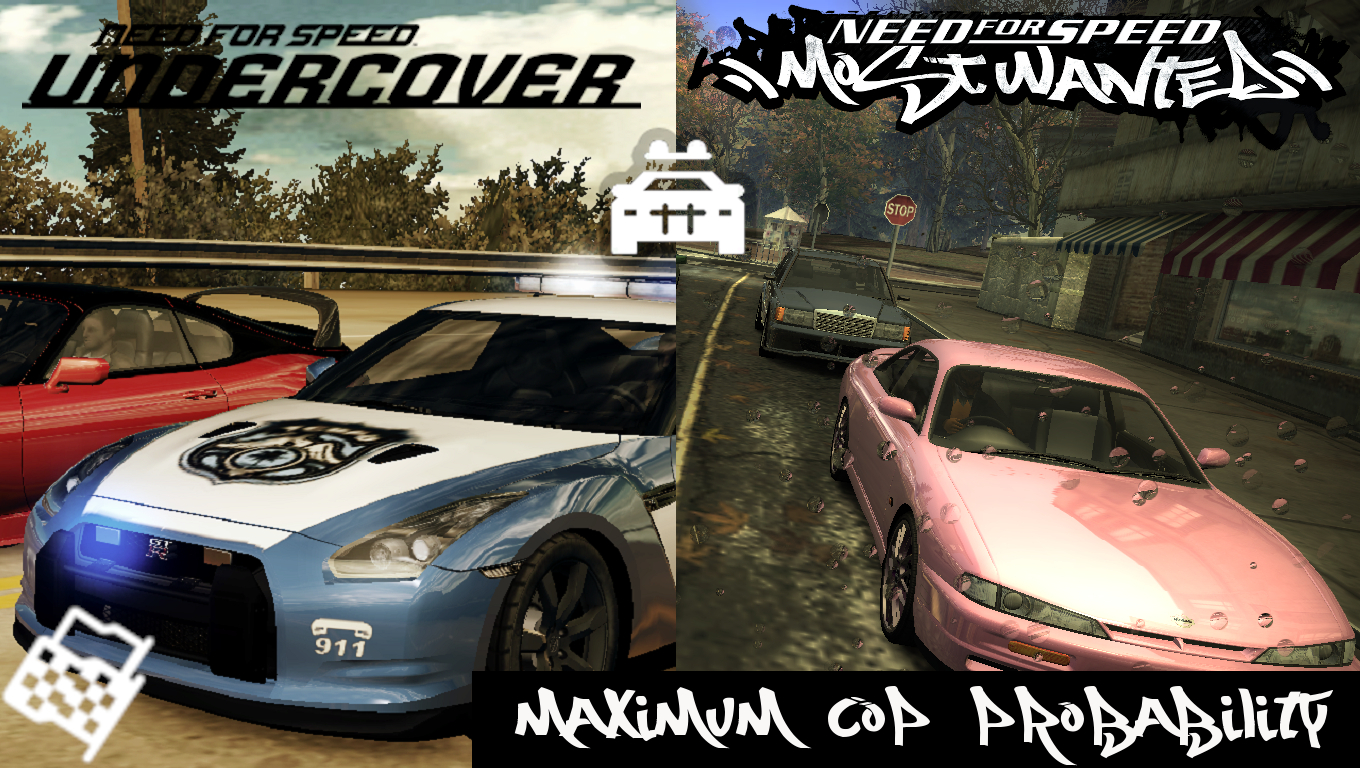 ---
For the thrill-seekers. This mod simply enable cops patrolling in almost ALL Race Events in Career mode, putting the 'Wanted' in races! Expect some cop action in each and every one of them!
Originally intended only for Most Wanted, but decided to add Undercover version as well.
Best used with pursuit mods like Revamped Pursuits of MW and Undercover or Frexellia's Rebalanced Cops System for MW, your choice.

Remember to back up your GLOBAL folder, even though an Uninstall Script is available, just in case.

Vlted 4.6 is required for installing this mod for both games.
Make sure to set the value on PursuitActionMode to 1 in Extra Options (MW) for an added layer of action.
Both tested in their latest patches, MW (v1.3) and Undercover (v1.0.1.18)

Notes for Most Wanted:

Compatible with Luqgreg's MW Cut Races. It already has cops enabled so no changes there.

Drag Races are not modified as their events are too short to initiate pursuits. Same goes with prologue races for story purposes.

No changes with the Blacklist races. If you wish to add them as well, install Fierelier's Pursuits in blacklist boss races. There is no uninstall option however so I made one as an optional in my mod's 'Uninstall' script.

It's only meant to modify existing career races in the game, new tracks from other mods will be unaffected.

Will NOT work with modloader!

Notes for Undercover:
All career race events will have cops patrolling in it.

Roadblocks and Helicopters aren't added due to lack of pursuits afterwards.

The amount of cops will be reduced due to game limits except in Checkpoint races.


Credits:
nfsu360 for Vlted
Exopts for the Extra Options
Fierelier for Pursuits in blacklist boss races mod.
Luqgreg for MW Cut Races

Other mods in Screenshot:
- Nissan 200SX (S14a) by AJLethal
- Addon Car Pack by Eclipse72rus (Mercedes-Benz 190E)
- [MW] Project Overhaul by BadassBaboon

If you experience issues with the mod, send me a message here or DM me thru Discord. Splash45#7455
---
Comments
---
Splash45 (June 23, 2020 @ 12:54)
@Fuckoffwithyourname No idea tbh, that's how it really works in the game files. It's either cops or no cops in events.
Uploaded at: June 23, 2020 @ 10:17