Revamped Pursuit System (MW)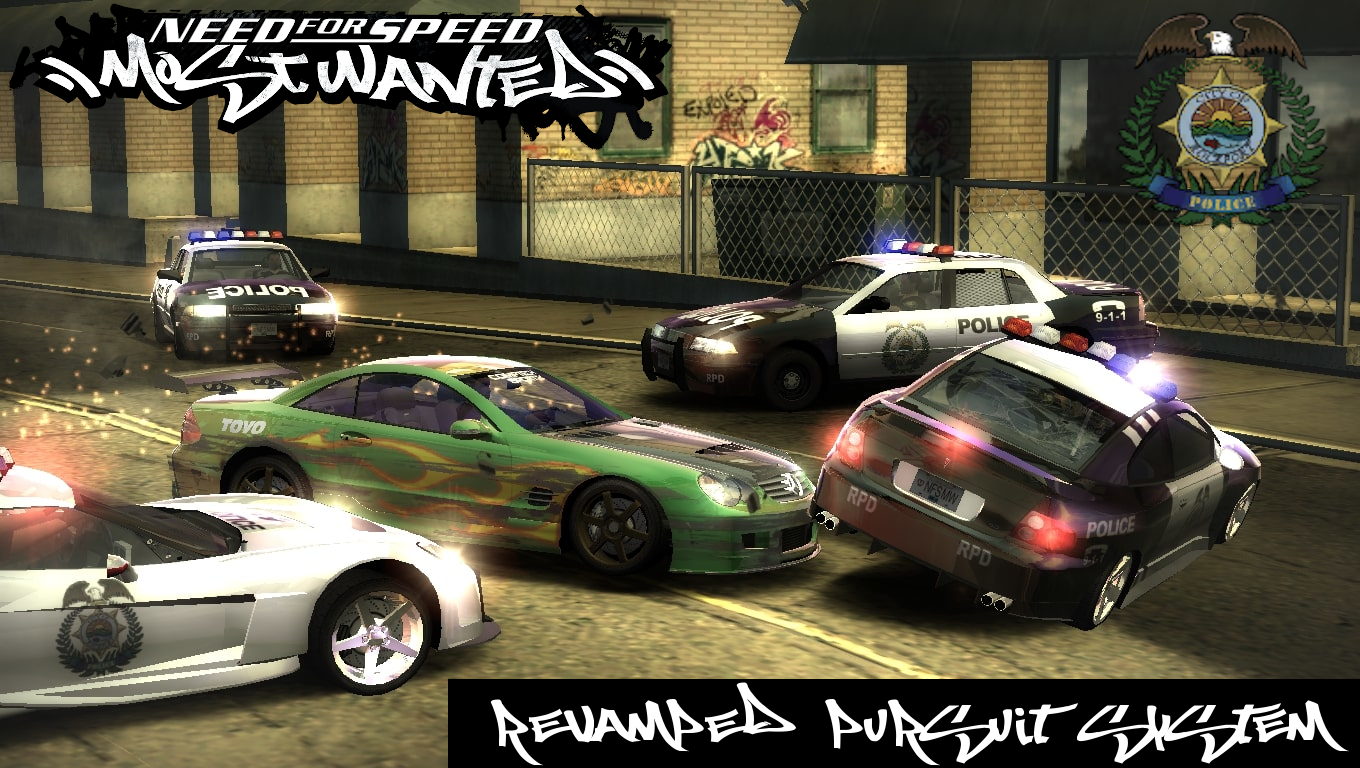 ---
This mod aims to improve the Pursuit System of the game by making chases more engaging over the Vanilla counterpart. Difficulty is increased, but with balance still in check to keep the Police from being overpowered.
Full Credits goes to Frexellia , giving me permission to use his v0.6 mod as a basis which can be found here: Link

Even with an uninstall script included, I still recommend backing up your GLOBAL folder.

Notes:
- Not recommended using this alongside with Beta Content Mod or any other major mod that also overhauls the Pursuit System completely. May lead to bugged results.
- Tested and confirmed compatible with KryZee's Redux mod.
- Will NOT work with modloader.

Features:
- Shorter backup time, longer cooldown time.
- Faster catch up of cops even at lower heat levels.
- Roadblocks and spike strips are much more common than before.
- Increased units engaging per heat level.
- Increased cop patrols roaming around the city.
- Faster response time upon starting a pursuit.
& many more!

Heat Levels:
1: Civic Cruisers
2: Undercover Civic Cruisers
3: State Cruisers & Light SUV Rhinos
4: Undercover State Cruisers, Heavy SUV Rhinos & Air Support Unit.
5: Federal Cruisers, Heavy SUV Rhinos and Air Support Unit.
6: Civic Cruisers, Heavy SUV Rhinos & Air Support Unit. (To match with the final cutscene)
7: Undercover Federal Cruisers, Heavy SUV Rhinos & Air Support Unit.
8: Civic Cruisers, State Cruisers, Federal Cruisers & Air Support Unit.
9: Undercover Civic Cruisers, Undercover State Cruisers, Undercover Federal Cruisers & Air Support Unit.
10: Federal Cruisers, Federal Undercover Cruisers, Heavy SUV Rhinos & Air Support Unit.

Vlted 4.6 is required for installing the mod. Get it here: Link
Extra Options for MW is also required for full experience. Set the values HeatLevelOverride to 1 and PursuitActionMode to 1. Get it here: Link

Optional features:

Slower Cop Bust - simply takes the cops more time to bust you. For players who wants to mess around during the pursuits without getting busted immediately . Don't get too comfy though, they can still bust you if not careful.

Cross in Heat 10 - makes Cross part of the Heat level lineup similar to Frexellia's pursuit mod. Replaces Heavy Rhinos upon installing.

NIS Cruisers in pursuits - adds cruisers only seen in busted cutscenes to Heat levels 1-3. It doesn't replace any cop vehicles in the lineup. Best used with Miner's Beta Cop Cruiser Recreations (replacement version).

These features can be uninstalled and reverted back to mod defaults.

Updating the mod:
If the previous version of the mod is already installed, select the Update option in the main script.

Bugs:

Air Support in Heat levels 8-10 will only spawn during cooldown mode due to game limits. But it does chase you down when spotted.

Cop blips on radar sometimes tend to disappear due to game limit of blips, it's more noticeable in levels 8-10.

Due to the nature of the mod, chances of getting 'Pure Virtual Function call' error will be increased during pursuits. I highly recommend installing GrimMaples' MWfixes script. Get it here: Link
If crashes still occurs, you can run the Mwfixes crash fix included in the zip. Note that this will disable the semi trucks ingame except in drag races.

Changelog:
2.1
- Restored Unused Cops Data included in this update (Thanks Frexellia)
- Major overhaul to the scripts themselves, should be more user-friendly than before.
- Optional Features can now be installed and uninstalled within their script, not separated anymore.
- Installing or updating the mod can be found on the main script itself
- Bounty values for Light SUVs has been decreased. (by Frexellia)

2.0
- Added new optional feature for the mod.
- Total number of cops for Heat 7 increased.
- Adjustments with the roadblocks during cooldown mode for Heats 8-10.
- Cop support tweaked, expect 1-2 cops joining during backup countdown even on lower heat levels.
- LOS values tweaked.

1.7.7
- Added two optional features for the mod
- No changes with the main mod. The 'Update' script is still for users having the 1.6 version.
- Added and updated .txt files to abide with the new mod rules (6/11/2020)

1.7.5
- Compiled 1.7 and 1.7.1 versions into one.
- No additional changes.

1.7.1
- Added a missing line for the catch-up. My bad

1.7
- Cops now have Carbon's catch-up, w/c means they won't be left behind easily as before.
- Stability tweaks for Light SUVs.
- Increased cops engaging at a time for heats 1-2.
(Heat 1: 5 units instead of 4, Heat 2: 6 units instead of 5)

1.6
-Shorter cooldown time for heat level 9 has been fixed.
-Added uninstall script for the mod.

1.5
- Added more cop patrols at higher heat levels.
- Cop formations tweaked at levels 8-10, they'll follow a bit closer to the player than before.
- Stability fixes.

1.4
- Air Support units can now spawn at Heat levels 8-10.
- Made some tweaks for Search Helicopters during cooldown.
- Added a text file about adding minor pursuit mods into this mod.

1.3.1
- Fixed an issue where Air Support Units would still leave early in the pursuit.

1.3
- Minor tweaks at heat level 7.
- Fuel for Air Support Units has been increased.

1.2
- Minor tweaks to cop behavior at higher heat levels.
- SUV Rams can now be encountered at levels 9 & 10.
- Cross will now join pursuits at levels 5 and up. Originally appears only at levels 5,6 & 9.
- Cops can now properly box the player at levels 8 and up.
- Spike strips entirely removed from levels 1 & 2.

1.0
- Initial Release
- Formerly named as 'Reworked + Diverse Pursuit System'

Credits:
nfsu360 for Vlted
Frexellia as mentioned above.
Yorpie for the removal of semi trucks in-game as a method for R6025 error fix.
GrimMaple for the MWfixes script.
Avalanche for providing useful values for the mod.
ExOpts Team for the Extra Options.

Other mods shown in screenshot:
- Fixed Cop Models for MW & Beta Cop Cruiser Recreations by C0mmunityMindedMiner
- NFS Most Wanted Addon Tuning by Rsracerp60 (Mercedes-Benz SL65 AMG)

If you experience issues with this mod, send me a message here or DM me thru Discord. Splash45#7455
---
Comments
---